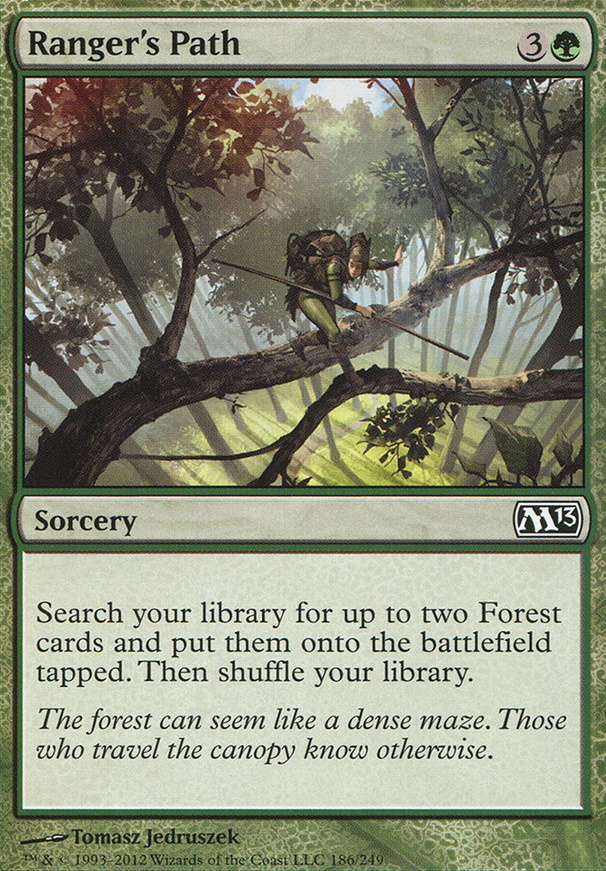 Ranger's Path
Sorcery
Search your library for up to two Forest cards and put them onto the battlefield tapped. Then shuffle your library.
Browse Alters
Legality
| | |
| --- | --- |
| Format | Legality |
| 1v1 Commander | Legal |
| Block Constructed | Legal |
| Canadian Highlander | Legal |
| Commander / EDH | Legal |
| Duel Commander | Legal |
| Highlander | Legal |
| Legacy | Legal |
| Leviathan | Legal |
| Limited | Legal |
| Modern | Legal |
| Oathbreaker | Legal |
| Pauper | Legal |
| Pauper EDH | Legal |
| Unformat | Legal |
| Vintage | Legal |
| Casual | Legal |
| Custom | Legal |
| Quest Magic | Legal |
Latest Decks as Commander
Ranger's Path Discussion
1 month ago
Hey Walrighti, +1!
Congrats on your first deck! You have a lot of fun cards in here and it looks great! I imagine you want to tune and make it even more efficient so here are some ideas...
Add 3 categories: #Combo, #Lifegain, and #Evasion; and then sort your maybeboard the same way you've done your mainboard to easily rank your choices within a category (By "combo" I mean all your "if-then" cards like Trudge Garden that are slower and don't work by themselves). Remove #Creatures (most of them are #Combo).
Avoid most cards above 4 cmc... Willowdusk is fast and fragile, so play into that... Also, prioritize cards that can do 2 or more things or that give value on ETB... If you have pet cards that don't really fit and that hurt to cut, put them in a "I'll build that theme later" list.
...Always play at least 10 ramp spells under 3 cmc.
...Playtest and make sure Willowbark consistently makes a fatty (with evasion) before turn 6-7.
Here's another Willowdusk thread.
Happy building :)
4 months ago
Mana base: I see you're running a lot of modal lands, I'd recommend switching these out for basic lands or more named lands (Forest, Plains etc). The modal lands aren't searchable off of your ramp spells like Spoils of Victory or Farseek. I really like having a named land focus in Esika's mana base - shock lands ( Overgrown Tomb , Sacred Foundry etc.) should replace the snow dual lands if your budget allows for them. If not (understandable, shock lands for a 5 colour deck eat your wallet) then I'd play all 5 Triomes, and all 5 named lands that enter untapped if you control 2 or more basic lands ( Prairie Stream , Smoldering Marsh etc.) along with 2-4 of each basic land and some basic land ramp alongside your named land ramp such as Rampant Growth , Cultivate & Kodama's Reach . Land Tax is also a solid option if you run at least a couple of each basic land as it can colour fix you very early on so you can play The Prismatic Bridge asap. I know you're running counter increasers like Vorinclex, but I'd also remove the 2 counter based lands you have as well, without something like Vorinclex or Doubling Season out they're sub-optimal.
I'd take out the mana rocks you have in there, and replace them with more ramp sorceries like Three Visits , Ranger's Path , Skyshroud Claim , and Nature's Lore . Yes, they search specifically for Forests, but with enough named dual lands or Triomes they'll still allow you to search for the colour you need. If you didn't want to add in more ramp sorceries, low cmc legendary creatures that you can tap for mana via Esika's ability are viable (this would require you to have cards that allow you to bounce Esika back to hand ideally so you could cast her enchantment side when needed). Kinnan, Bonder Prodigy is an absolute beast in this deck, even if you whiff on his ability a lot being able to tap any legendary creature for 2 mana of any colour from turn 2 onwards is dummy strong. If you go down this route untap cards like Derevi, Empyrial Tactician , Dramatic Reversal , Samut, Voice of Dissent and Kiora's Follower can help to give you buckets of mana each turn.
Planeswalkers/counter generation: Unless you decide to add flicker/sac & reanimate/ability copyers, I'd cut Deepglow Skate as it's a one-time-only version of Doubling Season for the same mana cost. Pir, Imaginative Rascal is brilliant in this kind of deck as his ability a) increases both starting loyalty and uptick loyalty gain and b) stacks with Vorinclex & Doubling Season. Having Pir & either Doubling Season or Vorinclex out will turn a +1 uptick into +4, a starting loyalty count of 5 becomes 12. Inexorable Tide & Contagion Engine are worth considering too, I can understand not adding Tide as you're free-dropping a good chunk of your Planesalkers/creatures with The Prismatic Bridge rather than casting them, but Contagion Engine is non-targeted creature removal as well 2 instances of proliferate per turn (Pir & proliferate = happy Planeswalker noises). Estrid, the Masked

, Oath of Jace & Sphere of Safety would be a good group of cards to add - Estrid allows you to untap any enchanted permanent, her second ability will let you enchant any permanent (not just creatures) and increase your enchantment count for Sphere of Safety, and her ult is one of your only ways of recurring enchantments should they get destroyed (this won't allow you to recur The Prismatic Bridge though). Oath of Jace is great for filtering through your topdeck during your upkeep to choose your Bridge targets. Kaya the Inexorable is incredible in a superfriends deck - with your counter generation you'll have no problem getting her ult off straight away, which will allow you to free cast any legendary card once a turn, so if people kill (or even exile) your Planeswalkers or important legendary cards like Vorinclex/Chain Veil etc. you can always get them back. She also has removal, and recursion for your creatures. Samut, the Tested . Samut, the Tested . Samut, the Tested . For the love of all that is holy, play Samut because dropping her with Doubling Season or Vorinclex out can end games there and then. I have a combo in my Esika deck that will guarantee you first place unless Samut gets countered on the stack. Lithoform Engine , Strionic Resonator & Rings of Brighthearth will help you capitalize on important abilities like Planeswalker ults, The Prismatic Bridge and proliferate. Getting off an emblem and then going Lithoform Engine > Rings of Brighthearth to get 3 of those emblems instead of one is pretty explosive.
Creatures: Captain Sisay would work quite well here as she can search any legendary card in your deck which is invaluable in Esika and isn't as pricey/colour dependant as Sisay, Weatherlight Captain (I'm not saying cut her, but 2 Sisays are better than one). Kodama of the East Tree will let you chuck out Planeswalkers like nobody's business, The Prismatic Bridge now doubles its usefulness per turn. Varragoth, Bloodsky Sire is a great tutor in Esika as he's cheap, he can swing without tapping due to Esika giving him Vigilance, search something using his boast ability and put it on top of your library (something something Prismatic Bridge shenanigans) and then tap for mana in your 2nd main phase.
I hope what I've said helps, I love building Superfriends and all the whacky stuff you can do with it
6 months ago
Alright here are a few things I notice that will help tune up the deck to help speed it up, as well as improve consistency overall.
Cards to remove-
Tearamorphic Expanse
Rocky Tar Pits
Tapped lands are the bane of any deck as far as speed goes. Switching these out for lands that enter untapped will speed things up as well as provide better consistency for color fixing. If you are going to include a tapped land make sure it provides insane value (Valakut for example, or Mosswort Bridge in big creature heavy decks) so the drawback of the ETB tapped is worth it in the long run.
Nesting Dragon- Not a bad card but Dragonmaster Outcast is cheaper and will provide you with more consistency in the mid to late game.
Scroll Rack- A good card, but you have no real way to abuse it, and it is really nothing more than a replacement effect since your top deck manipulation is based off of high CMC creatures. Damnable Pact would provide you with a better way to refill your hand, and you seem to havew enough lifegain scattered through out to offset the life loss.
The Mending of Dominaria- It is a high CMC card that is fairly easy to remove, keeping you from getting the third trigger off and negating the power of the card... I would suggest Abundance since you are running Sylvan Library. This will allow you to replace the downside of Sylvan Library (pay 4 life to draw extra cards) and help you sculpt your hand for what you need in the moment. (Basically those two cards together read- At the beginning of your up keep draw three cards, naming land or non land for each draw. It is an awesome replacement effect need to be running Abundance)
Ranger's Path- It costs 4, and the lands enter tapped. You have a decent enough ramp package going already and i don't feel like you need the redundancy here. I would suggest adding Blasphemous Act or Black Sun's Zenith to give you another board wipe since you are running slightly light on those. Both are good cards just depends on which style you might need... Black suns will get around indestructible, while Blasphemous will normally only cost you one mana. Or run both if you play against mainly casual (ie big creature) decks.
The only other big thing i notice is a lack of single target interaction for Artifacts and Enchantments. Cards like Vandalblast, By Force, Force of Vigor, Return to Nature, and even Caustic Caterpillar are great removal if you find yourself wanting to increase your interaction.
Overall I dig the deck for what you are going for. Let me know if you have any questions about my suggestions are anything overall. Hope this helps some
7 months ago
Everything looks really quite good except you have really low ramp. You have a few cost-reducers and two mana rocks, one of which doesn't necessarily come out early. Personally, I aim for at least eight pieces in all my decks. For an expensive deck like this I might go for ten. Land is queen with Zacama so I'd recommend the classics like Rampant Growth, Cultivate, Kodama's Reach, Thunderherd Migration, Explosive Vegetation, Migration Path, Nissa's Pilgrimage, Sakura-Tribe Elder, and Vastwood Surge are all good choices that aren't too expensive. Ranger's Path is good too since you have lands with multiple types. Nissa's Renewal might be good in this deck, since it's budget and getting to nine mana is indeed a goal. Frontier Siege is good on a budget too.
You don't have much in the way of card-draw or card-advantage either. Look into Harmonize, Return of the Wildspeaker, Soul's Majesty, Elemental Bond, Colossal Majesty, Lifecrafter's Bestiary, Shamanic Revelation, Bonders' Enclave, and Garruk's Uprising in particular. Adding a few of these will smooth out your games for sure. Draw also helps with land drops.
Keep up the good work and happy planeswalking!
7 months ago
Potential Non-Boros Commanders: Show
8 months ago
Sorry for the delay with this post, and the pending update. My wife and I just welcomed a new addition to our home, so needless to say things have been a bit busy. I will also be moving to a new house next week so It might be a week or two before I get to the update. For now I will at least give you my thought on the comments, as well as the deck changes that I have landed on!
I think I will start with the changes that you will see in the update because that is the core of the conversation right now.
With all of this being said, Zendikar Rising has been an amazing set for us! The main problem is that the deck list is insanely tight now! Making cuts in the future is going to be a real headache! Also, the creature count is reaching a record number for us! If Wizards gives us a couple more creatures it might be worth considering different cards. Also, many of you likely noticed that I decided not to cut Genesis Wave, it has won me far to many games, and you guys talked me out of it haha.
Now for some of the comments that I didn't already address with my deck changes.
BenWin: I have to be honest, the Sekki, Seasons' Guide combo does not interest me at all. I don't like combos that include dead cards when you draw into them. I also am not a big fan of infinite combos, and my meta isn't either. Nevertheless, I definitely this the combo is powerful and you should add it to your list if it is your thing!
I think Skullclamp thrives more in decks that make small creatures that die on equipping. Having to rely on another card makes it much weaker.
Sylvan Scrying likely won't be coming back. Sure, is is nice to find Cradle, but I don't need it to win the game, or any other land for that matter. I have almost considered removing more non-basics to increase to total basic land in the deck. I haven't gotten to that point get though.
This might cause an uproar, but Sensei's Divining Top is overrated in my opinion. It is amazing in the right deck, but way to many people play it as the greatest draw card ever (maybe it is for Red and White decks). I have taken mine out of most of my decks and been trading them away at their overpriced $50 price tag little by little lol.
Daedalus19876: The Ashaya, Soul of the Wild combo falls under the same concept as the Sekki, Seasons' Guide combo for me. I think you could easily turn this deck into the Tooth and Nail and I win deck, but that is not what I am really aiming for here. If you build that type of deck fill free to post it here and share! I would definitely like to see how that looks!
_Arra_: I think Lithoform Engine is a good card an all, but not at all what this deck wants. This deck thrives off of the mass amount of triggers and activations we get, and doubling a single one will really not do much for us. All we need to do instead is pay an additional land.
TraceT: I actually do think Scute Swarm is right at home in this deck, but is unfortunately under the power threshold to even be considered for this build. I say play it if you think it would be fun and let us know how it goes! the same kind of goes for Impact Tremors, the right deck, but not quite powerful enough.
I think I got to everyone's comments! I will make sure to post the update ASAP. I start packing for the move tomorrow and should be all settled by next Sunday. Until then please let me know what you think about the upcoming changes, and I am grateful for all the support!
9 months ago
VexenX, I love the new conversation sparked by Zendikar Rising! When deck-building or adding new cards, I think it's important to revisit our win-cons. As it stands, I believe your deck has two types of win cons: burn and creature overrun. Ever since the removal of Akroma's Memorial and addition of Fiery Emancipation, I've come around to the fact that Burn is a more competitive win con. Would you disagree?
Next, since Omrath runs little removal, I believe that we should be in the mindset of designing a deck that works towards its strengths more than patching its weaknesses. This way, our goal should be to put pressure on our opponents and win as quickly as possible. You can see where I'm going with all this, as I am suggesting cuts to creature overrun enhancing cards and keeping/adding burn enhancing cards.
A few comments on your new card update post:
1) I 100% agree with Valakut Exploration. Although card draw is neat, you and everyone else on this page may be underestimating just how good the burn value can be! Because the damage is dealt to "each" opponent, we have a mini Purphoros, God of the Forge on our hands. Since Valakut Exploration burn is triggered by landfall, it works especially well with - you guessed it - Burgeoning + Ghost Town! And the more creature overrun enhancing cards like Doubling Season we slot out for cheaper draw-into-hand cards, the more smoothly Burgeoning works in the deck just by itself. And the more cheap draw-into-hand cards we have in the deck, the more likely we are to cast the cards we draw off of Valakut Exploration. Ahh!!! Okay rant done.
2) I feel like slotting out Perilous Forays is crazy talk. Other sac outlets need Omnath, Locus of Rage AND creatures to sac to take effect. Perilous Forays only needs Omnath, Locus of Rage in play - plus an upside of comboing off - plus an upside of working towards the burn win con.
3) I can see slotting out Force of Vigor. It is a flex card after all. Personally, I think 0 mana removal is too broken to cut through.
4) Ancient Greenwarden may be a godlike card, but I'd like to play devil's advocate and remind you that it is both expensive and plays towards a creature overrun win con just like Doubling Season. I respect and even back your choice to add this card, but I think it's just a little clunky and on the for-fun side.
5) Isn't Roiling Regrowth a strictly worse Springbloom Druid? Not that I'm against adding more cheap mana ramp, but I would personally add Springbloom Druid back first. For the record, I do agree with Ranger's Path being on the chopping block. Same goes for Migration Path. On paper they look just fine. In testing, I'd be happy to see one or both go.
6) I'm worried that Nahiri's Lithoforming may de-ramp us in some games resulting in an autoloss. The risk is too high for this card in too many hand states in my opinion.
7) I think Moraug, Fury of Akoum is a great reason to be back IN for the creature overrun win con. However, it benefits greatly from Doubling Season effects and doesn't synergize at all with Where Ancients Tread or sacrificing effects. This once again comes down to priority of win cons. If we're more in burn, which I personally believe us to be, than I would recommend against this.
Next, I'd like your thoughts on a few cards as additions to the deck if you wouldn't mind!
1) Full credits to _Arra_ and Rasaru (at least): Add Sekki, Seasons' Guide + Tooth and Nail. As explained by Rasaru, the combo goes as follows:
1) Play Tooth and Nail, paying it's entwine cost (9 cmc total - which is nothing for this deck)
2) Search for Sekki, Seasons' Guide and Terror of the Peaks
3) When they both hit the battlefield, Terror will see Sekki and trigger causing 8 dmg to a target. In this case, point that damage right back at Sekki.
4) Sekki will lose all of it's counters, creating 8x 1/1 faeries and going to the graveyard.
5) Terror sees these 8 faeries coming in, pointing this 8 damage at a player's face.
6) Then sac all 8 faeries to bring Sekki back. (Sekki's last ability is played from the grave)
7) Rinse and repeat for an infinite damage combo.
In my opinion, adding 1 card to the deck, Sekki, Seasons' Guide, isn't a tall ask for an extra infinite combo in the deck. We already have creature tutors, so Tooth and Nail isn't even required. But after the addition of Sekki, Seasons' Guide, adding 1 more card, Tooth and Nail, instantly wins us many games when we draw it for just 9 mana. Not only do I think you could cut Craterhoof Behemoth for this combo but Craterhoof Behemoth works towards a creature overrun win con, so I'd argue it's on the chopping block anyways! You could use Avenger of Zendikar and Purphoros, God of the Forge as backup Tooth and Nail targets for the burn win con. To take this one step further, with the addition of a card that can win us the game if resolved, why not run Gamble? Twice the chance to draw into a quick and easy win con with added upside of 1 cmc and flexibility.
2) Thoughts on Skullclamp? I think it's a disgustingly good card for draw and we already have sac outlets to trigger it.
3) Thoughts on re-adding Sylvan Scrying? Ever since the removal of Tempt with Discovery, I've been missing nonbasic land tutors. Lets compare Sylvan Scrying to Rampant Growth. Rampant Growth gives us 1 mana ramp for 2 mana to use as early as turn 3. Sylvan Scrying at the very least does the same if we search up Ancient Tomb. And I think it has so much more upside if we draw it mid or late game too.
4) Thoughts on Sensei's Divining Top? I think it feels great to draw in opening hand and makes early game even more consistent.
Thanks for your time in answering my posts. I know they can be a little long!
Load more