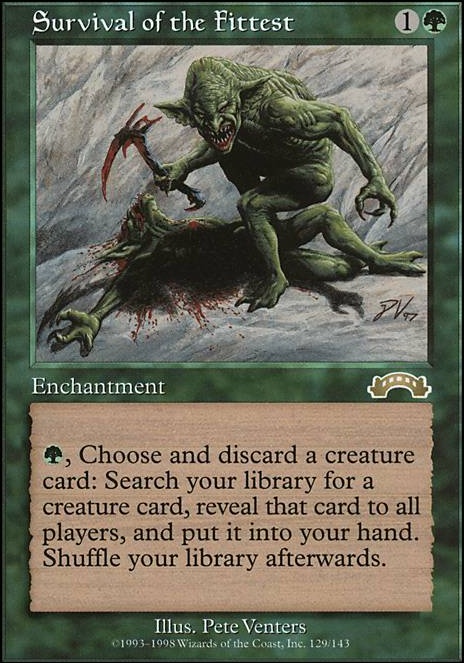 Legality
| | |
| --- | --- |
| Format | Legality |
| Tiny Leaders | Legal |
| Noble | Legal |
| Magic Duels | Legal |
| Canadian Highlander | Legal |
| Vintage | Legal |
| Custom | Legal |
| MTGO | Legal |
| Vanguard | Legal |
| Leviathan | Legal |
| Archenemy | Legal |
| Planechase | Legal |
| 1v1 Commander | Legal |
| Duel Commander | Legal |
| Oathbreaker | Legal |
| Unformat | Legal |
| Casual | Legal |
| Commander / EDH | Legal |
Survival of the Fittest
Enchantment
, Discard a creature card: Search your library for a creature card, reveal that card, and put it into your hand. Then shuffle your library.
Survival of the Fittest Discussion
3 days ago
hello mr. durtee i just wanted too say hey cool nice deck but your playing too many creatures like what if you get field swiped dude?? haha wouldnt that be crazy any way you should make it a landless stacks control prison combo storm deck with blue i herd those were good okay thanks you john bye
I'm going to try to order these from my most to least recommended.
Mirror March: I get making token copies, even if it's only nontoken creatures. What I can't get behind is costing 6 and STILL HAVING A 50% CHANCE OF DOING NOTHING.
Spirit Bonds: Ignoring the weak payoff of the spirit token (at least by edh standards), paying five mana and sacrificing a specific creature to protect one guy for one turn is pretty lame. You can't even protect your seance tokens because they're spirits.
Mercy Killing: If you choose an opponent's creature, they get the tokens. If you choose your own guys, you're going wide at the cost of two cards.
Eyes of the Wisent:
Emrakul's Evangel: I can't see what he does other than act like a one-time sac outlet that you have to wait for. 3/2 is going to be pretty close to what you're usually sacrificing anyway.
Huatli, Warrior Poet: Her token is cool, but her other abilities are really weak for the cost. Also she got a tiny booty.
Caller of the Claw: He'd be like a backup Fresh Meat if he counted the tokens too. 1 less mana for 1 less p/t would have been alright. Too bad.
Summoner's Pact: Kind of a weak creature tutor since you aren't playing toolbox or gunning for combo. Only green too.
Hornet Nest: Deathtouch flyers are good, but you don't have a way to damage it yourself and you probably have bigger threats than getting hit by birds.
Hoofprints of the Stag: Unless you add a lot more draw, these stags take forever to come out.
Godsire: Nice token, but he's got no haste or protection, which means you have to wait for the token while this dumbass sits there waiting to see if anyone around the table wants to remove him. Could be alright if you cheat him out reliably.
Regisaur Alpha: Neat to make a token copy of, but just under the bar on his own.
This is all in no particular order.
Assemble the Legion : So I heard you run doubling season. But really, you know what this does to games.
Kiki-Jiki, Mirror Breaker : Splinter Twin backup. Makes infinite tapped kikis with helm, in case you needed that.
Huatli, Radiant Champion : Easy to gun for the emblem, with an alright mid ability
Nacatl War-Pride : Forcing blocks means the rest of your creatures get through, or that you can divvy up the copies to other players. Gets really crazy the next turn when you populate one of the tokens. Absolutely insane if you get an additional combat.
Heroic Intervention : Boring, but necessary
Teferi's Protection : Extra boring, but even more necessary since it's the only answer to biff out there that isn't countering it.
Selfless Spirit : Not as boring since you can make a token copy of it for repeat use.
Baloth Cage Trap : Wow, when does anyone play an artifact in edh?!?! stupid card
Sneak Attack : Cheats creatures out with haste at instant speed for one mana and puts them in the grave to seance afterwards.
Gate to the Afterlife / God-Pharaoh's Gift : Kind of an investment, but a permanent Seance with haste is no joke.
Survival of the Fittest : Puts big boys in grave, and any creature you want in hand.
ok thanks for coming to my ted talk bye
1 week ago
Just have modifying the deck to eliminate Fauna Shaman and Survival of the Fittest . I have done a re-brew from scratch. So many others cards have change that I would'nt keep the count. The main idea remain the same, but I have add some 'Vultron' packages in counterpart of less tokens. To fill the void create by the lost of the tutor, I have add more scry and draw and benefit from ETB effect.
1 month ago
After several suggestions, I come to the conclusion that extreme expensive cards are not that necessary. But enough big cards that can be game changing are interesting. The only realy expensive new card that will be introduced will be:
This evening I gonna figure this out and order the missing pieces.
1 month ago
The Paradox Engine ban makes sense for casual, since it lets decks do long noninfinite combo turns with low cmc spells and mana rocks.
However if the rules committee really wanted to commit to making their banlist directed at casual (meaning "ban all undercosted non-buildaround op cards"), then they would also have to hit Necropotence , Food Chain , Survival of the Fittest , Mana Crypt , etc.
Instead, they banned Iona, Shield of Emeria . Turn 1 Entomb , turn 2 Animate Dead Iona can be pretty annoying, but still, she isn't that oppressive either, not even compared to turn 2 Blightsteel Colossus .
2 months ago
enpc Thanks for the suggestions. I think you're right on the removal, and I'll probably make the cuts you suggested, a few of them anyway. And yeah, I'm operating under an infinite budget even if it will take approximately infinite years to acquire some of the cards I'm adding. I suppose I should add Imperial Seal in addition to your Gaea's Cradle recommendation.
I really like the Force of Vigor , Necromancy , and Summoner's Pact recommendations and will test them out. Silence and Veil of Summer (which I suspect is an upgrade over Autumn's Veil ) also seem good. Painful Truths also seems good, will definitely make that switch.
I'm not sold on Mentor of the Meek . It was fairly poor in the early days of this deck when I was doing token combos with Juniper Order Ranger . But that was such a long time ago and honestly a much different deck that I'm willing to give it another shot.
I think, just from kinda goldfishing, that I like the Lesser Masticore combo a lot more than the Geralf's Messenger combo and was thinking of cutting that and Ashnod's Altar entirely. Which has the side effect of making Ghave even less relevant to the shell than he already is. But I like that I can assemble the entire Lesser Masticore combo off of just 1 Protean Hulk trigger. The fact they're dead cards outside the combo is concerning though so I'll keep it in mind.
Honestly, I think I'm going to cut Reliquary Tower and Strip Mine entirely instead of replacing them with fixing. Testing, I really seem to flood a lot.
If you have any Entomb like effects to suggest, I'm all ears. I've only found Entomb , Buried Alive , and Survival of the Fittest so far but they're extremely powerful from my testing. Survival of the Fittest in particular almost wins the game on its own.
Another card I've found underwhelming recently is Green Sun's Zenith . It's just so expensive to do anything worthwhile and with the suggestion to cut Dryad Arbor , I'm even more keen to cut it. For the same reason, I'm not entirely sold on Finale of Devastation , but I wanna test it more. I like that it can grab any creature and also stuff from my graveyard, like maybe a Viscera Seer if necessary.
Thanks again for helping me out here. I'm about to pass out typing, but I'll make some changes when I wake up.
Load more
Survival of the Fittest occurrence in decks from the last year
Commander / EDH:
All decks: 0.04%
Green: 0.21%
Golgari: 0.16%