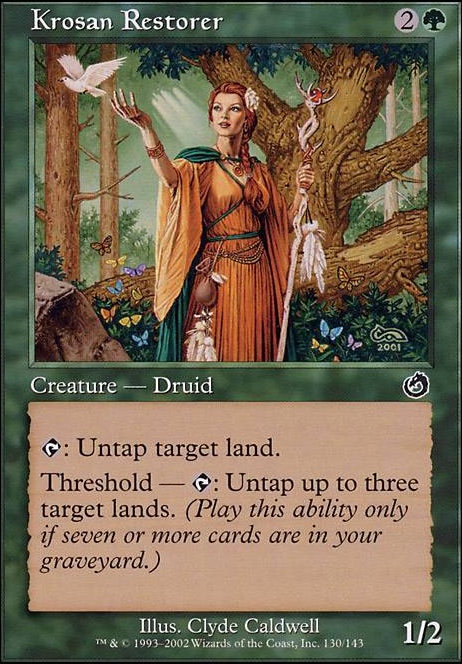 Krosan Restorer
Creature — Human Druid
Tap: Untap target land.
Threshold - Tap: Untap up to three target lands. Play this ability only if seven or more cards are in your graveyard.
Browse Alters
View at Gatherer
Trade
Legality
| | |
| --- | --- |
| Format | Legality |
| Tiny Leaders | Legal |
| Noble | Legal |
| Leviathan | Legal |
| Magic Duels | Legal |
| Canadian Highlander | Legal |
| Vintage | Legal |
| Penny Dreadful | Legal |
| Casual | Legal |
| Pauper EDH | Legal |
| Vanguard | Legal |
| Legacy | Legal |
| Archenemy | Legal |
| Planechase | Legal |
| 1v1 Commander | Legal |
| Duel Commander | Legal |
| Oathbreaker | Legal |
| Unformat | Legal |
| Pauper | Legal |
| Commander / EDH | Legal |
Krosan Restorer occurrence in decks from the last year
Commander / EDH:
All decks: 0.01%
Krosan Restorer Discussion
2 weeks ago
GrizzlyAtom: Just wanted to say that I absolutely loved the list! Safe to say you hit the nail on the head on almost all of your choices. However, I do highly recommend you make a couple of changes for the general consistency of the deck.
These won't be direct swaps to the cuts and more of a series of cards that you should highly consider as I don't want to cramp your style.
I hope this helps, I love the deck, will be keeping up with it. Final recommendation would be to use a similar categorization that I used in Yeva for your list as it helps you visualize your deck based off function and see where it is lacking.
3 months ago
Nice you picked a really cool general for your first EDH! Nice to see Gruul getting some love. You do have a lot of noncreature stuff though, which your general seems to hate.
You might swap some of those noncreature things out for some of these: Ruric Thar, the Unbowed , Krosan Restorer , Magus of the Candelabra (this guy is super good when your general is out, all your lands will effectively make 3 mana each!), Voyaging Satyr , Reclamation Sage , Genesis Hydra , Savageborn Hydra , Apocalypse Hydra , Garruk's Horde , Garruk's Packleader , Duskwatch Recruiter Flip, Drumhunter , Artisan of Kozilek , Ulvenwald Tracker , Foe-Razer Regent , Gruul Ragebeast
4 months ago
austintayshus lol thanks. I was thinking that the mana fixing would be used for cards like Nightveil Specter that require the possibilty of mana other than sultai colors, but looking back, the majority of my theft cards require no mana or are able to be used with any mana. I like those suggestions, def putting in the Krosan Restorer
4 months ago
Nice deck name haha.
I think you can definitely cut Manalith . Burgeoning is also cut-able because I don't think you have enough card draw to really support it. Chromatic Lantern can probably also go, the fixing is best used in 4-5 color decks.
I hate to add some cards to the pile but have you considered Doom Whisperer or Krosan Restorer ?
6 months ago
On the infinite mana angle, I would take the land rout too - Wild Growth , Vernal Bloom and other similar effects + Krosan Restorer type untaps + any of your untap effects = an infinite loop. Has the benefit of just being mana ramp on its own.
8 months ago
Let's see if I've got your initial plan right.
Assuming Thousand-Year Elixir is on the battlefield, allowing you to activate creature abilities the turn they ETB.
Activate Selvala, Heart of the Wilds for some number of mana equal to the greatest power you have on the board (if with Muldrotha, that'd be 6). Or use Krosan Restorer to untap 1 or 3 lands (depending on if you have threshold), where at least one of those lands taps for more than 1 mana.

Activate Ashnod's Altar , sacrificing Selvala or Restorer. Gain , trigger Liliana, Heretical Healer Flip to flip.

Activate Liliana, Defiant Necromancer 's -X ability, targeting your newly-dead mana creature. Here's the first hangup. The -X ability says "nonlegendary creature card," and Selvala is legendary, so she can't work in this interaction. So it has to be Restorer. This activation puts Liliana in the graveyard due to lack of loyalty.

You didn't mention it, but presumably you activate Krosan Restorer again for mana, then sacrifice it to Ashnod's Altar for 2 more. I'm ignoring Selvala now because Liliana can't get her back.

Cast Animate Dead or Necromancy on a clone creature and have it copy Muldrotha, the Gravetide , forcing you to sacrifice one due to the legend rule. You keep the clone and send the original Muldrotha to the graveyard.

Using Muldrotha, the Gravetide 's ability, you cast Liliana, Heretical Healer Flip from the graveyard. Then you cast a second Animate Dead or Necromancy (because the first is still enchanting your Muldrotha clone), getting the original Muldrotha back from the graveyard, triggering the legend rule again, which flips Liliana again. You keep the original Muldrotha to "reset" the "one permanent of each type" restriction.

You -X Liliana to get Restorer back, putting Liliana back in the graveyard. Go to step 4, alternating Muldrotha and clone as necessary.
Am I reading this right?
In order for this to work, you can't use Selvala, Heart of the Wilds because it's legendary and Liliana, Defiant Necromancer

specifically targets nonlegendary creature cards. For Krosan Restorer to be a good fit, you'll probably want to be at threshold (to hit three lands instead of one), and you'll want those lands to produce lots of mana, like the Gaea's Cradle and Itlimoc, Cradle of the Sun you mentioned later, with enough creatures to make it functional.
With so many moving parts, it runs the risk of being extremely easy to disrupt if your opponents have answers, but as far as I can see it functions aside from Selvala being a bad fit, assuming your lands are producing enough mana (and it should be mentioned that the aforementioned choice lands only produce green mana; you're going to need lots of black as well because Liliana and Animate/Necromancy is going to be alone, with a fourth if you have to cast both enchantments before you can get mana on the loop again.
Load more