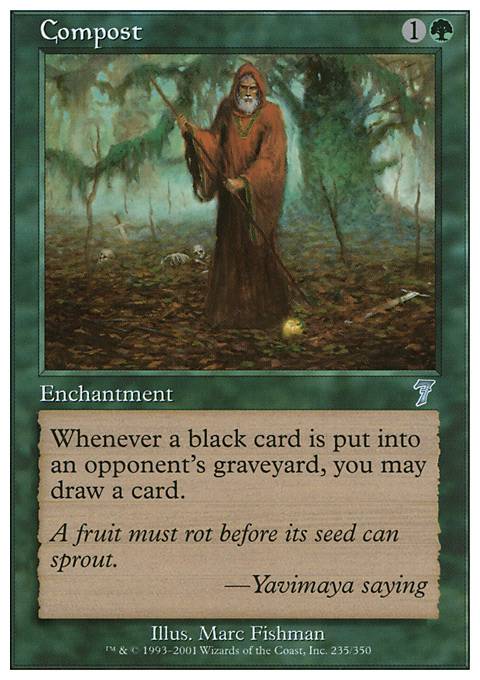 Legality
| | |
| --- | --- |
| Format | Legality |
| Tiny Leaders | Legal |
| Noble | Legal |
| Leviathan | Legal |
| Magic Duels | Legal |
| Canadian Highlander | Legal |
| Vintage | Legal |
| Penny Dreadful | Legal |
| Custom | Legal |
| Vanguard | Legal |
| Legacy | Legal |
| Archenemy | Legal |
| Planechase | Legal |
| 1v1 Commander | Legal |
| Duel Commander | Legal |
| Oathbreaker | Legal |
| Unformat | Legal |
| Casual | Legal |
| Commander / EDH | Legal |
Compost
Enchantment
Whenever a black card is put into an opponent's graveyard from anywhere, you may draw a card.
Compost Discussion
1 day ago
Hello there,
I think I just found the perfect Meren deck ❤️
But I gotta make it a bit more budget (tough student's life). So please let me know what you think of my changes:

First of all, the Razaketh combo comes out. Just taking your advice and putting in a few more lands:
Other changes/budget cuts:
2 weeks ago
Hey man! I got a few suggestions -- I hope you find them helpful:
Right. That's all I got for now. Good luck!
2 weeks ago
I always liked elves. I have a few suggestions:
Right. That's all I got... hopefully you find at least some of it helpful. Good luck!
3 weeks ago
I love the deck name. I got a few suggestions:
Good luck!
3 weeks ago
There's only one colorless card that is present in all 19 decks of mine, and it's not Sol Ring... it's Boompile .
As for colored spells, Enlightened Tutor is in all my white decks, Cyclonic Rift is in all my blue decks, Decree of Pain and Demonic Tutor and Vampiric Tutor are in all my black decks, Stranglehold and Sunbird's Invocation are in all my red decks, and Song of the Dryads is in all my green decks.
As for multicolored cards, Ashiok, Dream Render is in all my decks playing blue and black and Assassin's Trophy is in all my decks playing black and green.
As for cards that aaaalmost made it, but was missing in one deck that could play it (but were in at least 3 decks), there were quite a few: Maze of Ith , Myriad Landscape , Strip Mine , Tolaria West , Gamble , Aven Mindcensor , Smothering Tithe , Weathered Wayfarer , Beast Within , Carpet of Flowers , Compost (currently being tested), and Sylvan Library .
4 weeks ago
Hey man! Always good to see another Tasigur list. Here're some suggestions:
Good luck! That's all I got.
1 month ago
So the main advantage of green is being able to land a dork on turn one, enabling a three-mana commander to hit the table turn two. You're already running Birds of Paradise , which is easily the best turn-one dork; you should definitely be running Llanowar Elves , Fyndhorn Elves , Arbor Elf and Elvish Mystic . One-mana ramp also includes Utopia Sprawl and Wild Growth , which are especially good in conjunction with Arbor Elf . Finally, note that turn one Green Sun's Zenith for X = 0 fetches Dryad Arbor , if you choose to run the arbor with your GSZ. Joraga Treespeaker and Priest of Titania don't land your general turn two, but are powerful all the same.
If you choose to run more dorks, then go-wide green strategies are very much on the table as win-conditions. If you have Craterhoof Behemoth , landing it with a couple dorks is usually enough to kill an opponent or two outright. Including Natural Order means that you can get the 'hoof daddy out for four mana. Running God-Eternal Rhonas is similar, and is especially good if you fetch him with Finale of Devastation with X = 10 (it'll give all your dudes at lease 20 power). Tooth and Nail and Chord of Calling are other good ways to tutor your fatties out fast. Finaly, Triumph of the Hordes is an excellent 'oops I win' card, as in EDH you still only need ten poison to die.
If you end up running a more 'go-wide' strategy than voltron, you can cut some or all of your equipments. This will allow you to run significant artifact hate. In EDH, almost all non-green decks rely heavily on artifact ramp for their mana, and running something like Collector Ouphe can be lights-out for a lot of opponents. More generally, hatebears and stax-pieces are abundant in EDH; consider Prowling Serpopard , Manglehorn , Root Maze , Hall of Gemstone , Dosan the Falling Leaf , Vorinclex, Voice of Hunger and friends as methods of hating out various decks. If you run dorks, Winter Orb is virtually asymmetric. Similarly, color-dependent cards like Carpet of Flowers or Compost can also be powerhouses. Veil of Summer or the worse Autumn's Veil are all also pretty good for fighting counters.
Land-wise, I think Ancient Tomb is much better than Temple of the False God , and that Growing Rites of Itlimoc Flip is definitely worth including. Nykthos, Shrine to Nyx is also kinda bonkers; pairing it with Deserted Temple is good.
There're some creatures you should consider. Eternal Witness , as a creature-based Regrowth , is awesome if something you need gets countered. Beast Whisperer , Soul of the Harvest , Regal Force and Tireless Tracker are good sources of card-advantage. Fierce Empath is good for tutoring up threats, and will make your deck more consistent. Selvala, Heart of the Wilds is both a semi-reliable source of card-draw and also can close to double Omnath, Locus of Mana 's power. Wirewood Symbiote can recur ETB triggers, like Reclamation Sage or Elvish Visionary , while also generating mana.
Speaking of consistency, Worldly Tutor and Sylvan Tutor are great to finding whatever creature you need. Rishkar's Expertise and Genesis Wave are great sources of card-advantage, and that's pretty much like tutoring if you have enough of it.
Finally, you may have good luck with two-mana land-ramp (like your Rampant Growth ) rather than four-mana land-ramp (like your Peregrination ). Nature's Lore or the Portal version, Three Visits , are both great.
Good luck! That's all I got. I'm not good at playing green, but hopefully you found something worth including above.
2 months ago
Making all cards one color has a variety of niche combos that do busted things:
Anyway, none of those were the reason Flash Hulk has become more powerful. It's just that Paradox Engine decks were one of the few things in the cEDH meta that could compete with Flash Hulk, so now that it's banned Flash Hulk decks are basically uncontested.
Load more
No data for this card yet.