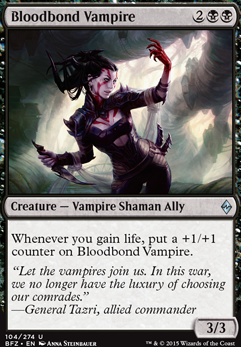 Legality
| | |
| --- | --- |
| Format | Legality |
| Modern | Legal |
| Legacy | Legal |
| Vintage | Legal |
| Commander / EDH | Legal |
| Duel Commander | Legal |
| Tiny Leaders | Legal |
| Standard | Legal |
| Frontier | Legal |
Related Questions
Bloodbond Vampire
Creature — Vampire Shaman Ally
Whenever you gain life, put a +1/+1 counter on Bloodbond Vampire.
Bloodbond Vampire Discussion
1 week ago
Hey! Sorry it took me a while to look this over :(
When I look over an EDH deck, I generally consider a few factors - mana base, removal, card draw, win-cons, etc. Let's take a quick look through those:
Your lands are distributed in proportion to your spells, which is good. Your curve basically starts at 3 mana, which is something to be aware of (since it shares a slot with your commander, you will frequently have to choose between casting your commander and casting something more aggressive from your hand), but it allows you to play more tapped lands. Overall, though, I generally don't play more than 37 lands in any EDH deck, so that could clear up some space for you. Perhaps put a few cheap mana rocks like
Orzhov Signet
and
Mana Vault
in those slots...
Ancient Den and Vault of Whispers seem odd here - I try not to play them in EDH unless I'm heavily into Metalcraft or something, because it's easy for them to be destroyed by your opponents' Vandalblast or Shatterstorm. I'd cut them to be honest unless I'm missing something.
You have a large number of removal pieces - mostly hitting creatures, but at least a few of them hit non-creatures as well. Overall, you've hit most of the important ones, with a few exceptions:
I'd say the three cheap ones you're missing are Oblation, Go for the Throat, and Anguished Unmaking. I'd personally put them in over Tribute to Hunger (gives your opponents too much choice), Condemn (too conditional), and Fragmentize (also too conditional).
Your exiling enchantments are fine, though I'd try to pick up a copy of the new Amonkhet one with flash (Cast Out, I think?).
Here's where your deck seems weakest. You basically don't have any card draw here (
Read the Bones
is the only dedicated option). While your curve is high, which somewhat mitigates that (your spells have high impact-per-card), I'd try to find space for a LOT more card draw.
There are too many good card draw options for me to list them all (just google "Orzhov EDH card draw"), here are a few outstanding options: Necropotence, Mind's Eye, Mesa Enchantress, Harvester of Souls, Well of Lost Dreams...
I'm a bit uncertain what your win-cons are, to be honest. Kambal's draining effect may get them within range, but you don't have many ways to hit them for the last, say, twenty damage.
Aetherflux Reservoir is always a good win-con of course, but I feel like this deck could use something like Karlov of the Ghost Council or Archangel of Thune to finish out games. Or you could add Exquisite Blood for the famous combo...
Overall, the deck seems fun! There are a few cards I might cut, though, to make way for more card draw and win-cons:
Tainted Remedy
(very situational),
Memoricide
(depends too much on meta),
Sphere of Safety
(you don't have enough enchantments, and
Ghostly Prison
is often better),
Retreat to Hagra
(too low-impact),
Bloodbond Vampire
(too much mana for its effect),
Butcher of Malakir
(too much mana, too few creatures), and
Opaline Unicorn
(there are better ramp options).
I hope this helps! :) Feel free to tag me if you need any more help. Also, a longer description helps people make suggestions ;)
2 weeks ago
I used your deck to playtest against for the last hour or so and I have a few suggestions (I'll put some playtest notes at the bottom if you're interested). Overall, I think your cards could be more impactful, and I think you need more artifact ramp. You should also add a bit of graveyard hate. I notice that the deck cost is fairly low, so I'll keep my suggestions relatively budget friendly.
Ramp: Dimir Signet, Azorius Signet, Druidic Satchel, Darksteel Ingot, Sol Ring, Mind Stone, Hedron Archive, Wayfarer's Bauble, Dreamscape Artist. I would consider adding all of these cards, they will make your deck MUCH faster.
Card Draw: Fact or Fiction, Sphinx's Revelation, Deep Analysis, Recurring Insight, Greed, Bloodgift Demon
Board Wipes: Decree of Pain, Merciless Eviction, Day of Judgment, Terminus
Counterspells: Counterspell, Arcane Denial, Dissipate, Disallow, Faerie Trickery, Dismiss, etc.
Removal: Swords to Plowshares, Anguished Unmaking, Utter End, Mortify, Tragic Slip, etc.
Graveyard Hate: Bojuka Bog, Tormod's Crypt, Relic of Progenitus, Agent of Erebos
Tutors: Increasing Ambition, Fabricate (Well of Lost Dreams is amazing in your deck)
Final dump that I'm too lazy to organize: Phyrexian Reclamation, Drogskol Reaver, Tainted Sigil, Phyrexian Arena, Sphinx of the Steel Wind, Wall of Reverence, Defiant Bloodlord, Cliffhaven Vampire, Crypt Ghast, Ashen Rider, Beacon of Immortality, Dig Through Time, Fumigate, Chalice of Life Flip, Sun Droplet
---
Cuts:
Archangel of Tithes - Too much white, and your mana base isn't great.
Augury Adept - Too easy to block. Far too often this card does nothing.
Bloodbond Vampire - It gets big. Eventually. This is too slow.
Exalted Angel - This is 6 mana for a 4/4 flying lifelink. That is just bad.
Indulgent Tormentor - In EDH, paying the life is too easy.
Mourning Thrull - Uh...yeah. Doesn't really do anything. Change to ramp.
Resolute Archangel - High Cost, and if you're losing, this is not going to make you win except in VERY particular circumstances.
Seraph of Dawn - This is bad.
Tithe Drinker - There are better extort cards, and it's otherwise underwhelming.
Underworld Coinsmith - Slow and low impact.
Ruinous Path - Sorcery Speed.
Entreat the Angels - If this wins you the game, it's be a miracle (hehe). For real though, there are WAY better end game cards. check out
Moonsilver Spear - This is OK. It's slow, it makes tokens. I want every card in a deck to make me smile when I draw it, and this card just makes me go, "Ah, I see."
Steel of the Godhead - This is just kinda OK. Only creature to put it on is Oloro.
Sunbond - Slow and opens you up to being 2 for 1ed.
Sunspring Expedition - If you are going to play a card that only gains you life, it needs to gain you a lot of life. 8 is not a lot of life.
Glimpse the Sun God - could be Curse of the Swine or many other better cards.
Pulse of the Fields - If an opponent has more life, you're doing something wrong.
Riot Control - Unless this card is great in your meta, it just doesn't belong is most decks. You should be controlling the field enough that this card doesn't do anything.
Samite Ministration - See above.
To the Slaughter - Yes, it can kill a planeswalker. But other than that, most people have a little shit creature they don't care about that they can sacrifice, and this costs 3 mana.
Anyway, I hope deckbuilding goes well! It looks like your building a fun deck. Cheers!
---
Playtest notes: I playtested against Reaper King stars in MTG: The Clone Wars. Obviously, mine is a MUCH more expensive and tuned deck, so it should win. I chose your deck despite the obvious mismatch because I'm getting some buddies into EDH and I wanted to make a deck that was powerful but didn't overwhelm them. Your deck seemed to roughly match the budget of what they'll be building. Overall, Reaper King lost one game and won three. The loss involved you getting an Elspeth and enough removal to protect her. The wins were mostly because of a lack of graveyard hate, not enough removal, threats that weren't very threatening, and mana issues. I think the mana issues deal was largely a luck thing, as you play enough lands, but some ramp would really smooth that out.
1 month ago
Yes, I've been planning on getting Yahenni for a while and getting rid of Bloodbond Vampire. If I don't draft him by the time Amonket comes out I'll buy him.
1 month ago
Ok, this looks intesting. Drana's Emissary costs a little much, and needs to stay on the battlefield to have an effect, not great for winning or stalling.
You basically have two options with B/W allies at the moment- the traditional Hada Freeblade/Kazandu Blademaster/Champion of the Parish beatdown. Its pretty straightforwards, and has gained some traction running Collected Company, you'll find examples on this site listed under modern allies.
What it isn't, is budget.
I'd reccomend an etb/flicker deck, as the cards are cheaper, as the diverse common-rarity options keep the price low.
Expedition Envoy/Ondu Cleric/Jeskai Barricade/Lantern Scout/Cliffside Lookout/Cliffhaven Vampire/Kabira Evangel/Ondu War Cleric/Serene Steward/Bloodbond Vampire/Kalastria Healer/Zulaport Cutthroat as core creatures aiming to stall the game, then close out with flicker effects for a lot of etb/ltb effects.
March from the Tomb/Eerie Interlude/Rally the Anscestors/Ghostway/Momentary Blink/No Rest for the Wicked/Proclamation of Rebirth/Faith's Reward/Whip of Erebos/Flickerform/Graceful Reprieve/Return to the Ranks/Makeshift Mannequin/Marshal's Anthem/Stonecloaker to puch out in turns 5-7 with etb triggers.
Some dredge like Stinkweed Imp/Dakmor Salvage/Nightmare Void, Darkblast or Golgari Thug could help provide card advantage throught the 'yard, but would leave you grave-hate vulnerable. The main battle is going to be surviving through and battling against combo, which will always be a weak matchup- but a good sideboard could hate it out with 15 dedicated cards, or focus on other matchups and accept combo as lost.
If you're tempted to take it non-budget Fatal Push is versatile in a lot of other decklists and powerful here. For budget though, Bone Splinters will enable graveyard shenanigans.
All told, nice start and good luck tinkering. Hope this big list isn't too intimidating, almost all the effects are similar for your purpsose- just pick and choose the cheaper ones and test the proportions to make sure your hands look nice and have fun testing!
1 month ago
You're still playing somewhat weak creatures and cards: Bloodbond Vampire, Crypt Ghast, Chalice of Life Flip, Eternal Thirst and Exquisite Blood. And I also think you should run 24 lands.
These cards are still awkward... They have low impact on the early game, which Modern needs.
They all sum 14 slots (accounting for the 2 lands i think you should let go)... Let's say you switched them for:
2 Gifted Aetherborns, 2 Captivating Vampires, 2 Kalitas, Traitor of Ghets, 3 Gatekeeper of Malakirs, 2 Inquisition of Kozileks and 3 Victim of Nights (or Ultimate Prices).
Total of another 14 cards. Take a look at them. Compare their power to the other cards I said that are "awkward"... These cards all carry more weight with them. This is called card quality.
You'd be able to remove opposing threats more efficiently, make the opponent sacrifice troublesome threats you can't really remove (Emrakul, the Aeons Torn, Ulamog, the Ceaseless Hunger, for example). And you'd be able to preemptively disrupt their hand with more discard.
I believe building a competitive Vampire deck in Modern is hard, but possible. I just think you should focus on more efficient cards.
---
As for your sideboard, try to focus on beating decks you have trouble beating. Let's say you have issues against Storm or Scapeshift... then think of adding Duress or Lost Legacy in your SB. Against graveyard decks like Collected Melira, Dredge or BGx Delirium: Leyline of the Void/Relic of Progenitus. Against Tron: Pithing Needle, Rain of Tears, Duress, Thoughtseize and discard in general. Against creature-based decks (with small creatures): Drown in Sorrow/Flaying Tendrils. And so on.
Try to focus on adding cards that'll help with other decks in the meta. Blood Tribute only looks cool, but it is 6 mana to cast... and you could do many more relevant things with 6 or less mana... like Damnation or Batterskull, Wurmcoil Engine.
Load more