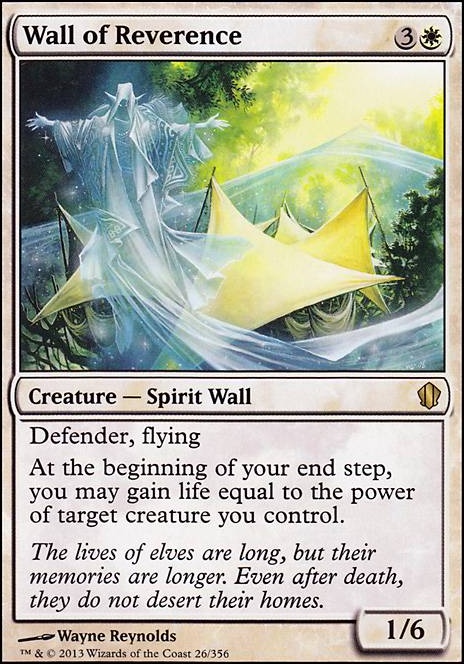 Legality
| | |
| --- | --- |
| Format | Legality |
| Modern | Legal |
| Legacy | Legal |
| Vintage | Legal |
| Commander / EDH | Legal |
| Duel Commander | Legal |
Related Questions
Wall of Reverence
Creature — Spirit Wall
Defender, flying
At the beginning of your end step, you may gain life equal to the power of target creature you control.
Wall of Reverence Discussion
1 week ago
I've been playing with a mono-white deck with some similar themes. A cheaper, but more restricted version of Dazzling Reflection would be Awe Strike. Other cards worth considering: Cathedral Sanctifier, Well of Lost Dreams, Aetherflux Reservoir, Lone Rider Flip, Chalice of Life Flip, Survival Cache, Serra Ascendant, Wall of Reverence, Ajani's Pridemate, and Rhox Faithmender.
2 weeks ago
Stoic Angel over Drownyard Explorers. Also consider Archangel of Thune, Rhox Faithmender, Wall of Reverence, Mirari's Wake, Geist of Saint Traft, Bygone Bishop, Selfless Spirit, Dauntless Escort, Evolving Wilds, Odric, Lunarch Marshal, and Luminarch Ascension
1 month ago
I was always fond of putting a Wall of Reverence in my lifegain decks. I only have one, because they are a little expensive for my level of play, but when you pair that with like a Sunbond, it can get really stupid really fast if you can get it on a hexproof creature. Both of those cards are pretty good for a lifegain deck imo.
1 month ago
Upgrading your walls needs to be a priority one; most of them are too vanilla to truly be effective defense.
I would start by adding playsets of Perimeter Captain, Wall of Omens, and Wall of Reverence. The first is an incredible one-drop that creates a really strong life buffer with your other defenders. The Wall of Omens replaces itself after it enters the battlefield, providing card advantage in colors that traditionally have the least of it. Wall of Reverence is a bigger flying wall that also gains you life.
You should flush out to a full 4-of Vent Sentinels; those are one of your main wincons.
Angel's Mercy and Healing Salve are terrible cards, and their lifegain would be replaced by the double duties of Perimeter Captain and Wall of Reverence anyway.
Return to the Ranks could be interesting since most walls are 2cmc or less.
Load more