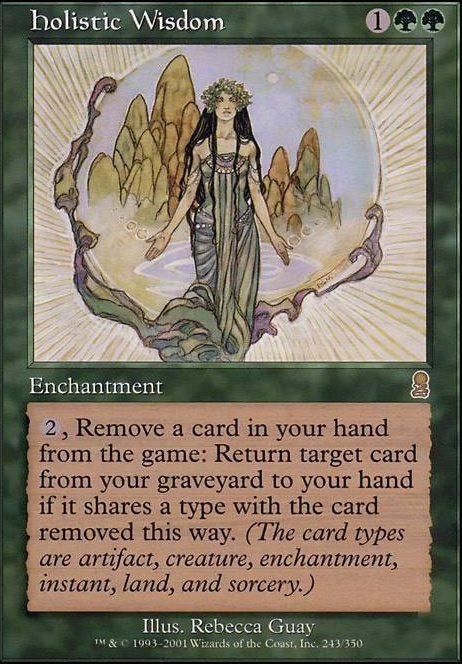 Legality
| | |
| --- | --- |
| Format | Legality |
| Noble | Legal |
| 1v1 Commander | Legal |
| Vintage | Legal |
| Casual | Legal |
| Vanguard | Legal |
| Legacy | Legal |
| Archenemy | Legal |
| Planechase | Legal |
| Duel Commander | Legal |
| Unformat | Legal |
| Pauper | Legal |
| Commander / EDH | Legal |
Holistic Wisdom
Enchantment
(2), Remove a card in your hand from the game: Return target card from your graveyard to your hand if it shares a type with the card removed this way.
Holistic Wisdom Discussion
1 week ago
Been a while since I commented. I'll try to respond primarily to those points that others haven't already addressed.
---
@
Emzed
:
Thought-Knot Seer
is expensive to cast and doesn't really perform a vital function in this deck, given that its abilities don't have a high impact.
---
@
Snapdisastermage
:
Stax is a challenge. This deck does have the means to outpace some stax decks by ramping extremely aggressively, but sacrifice engines in particular are effective at keeping utility creatures from having a great deal of impact. I haven't played in several years (apart from the casual 60-card game here or there), so I'm not really qualified anymore to assess how this deck competes with more modern Tier 1-Tier 2 stax decks.
---
@
Wutkeks
:
This deck would rather not play
Zendikar Resurgent
or
Mana Reflection
because they need to be hard cast and are more difficult to find.
Vorinclex, Voice of Hunger
would be a stronger choice in that respect (because it's
Tooth and Nail
able), but even then it hasn't made the cut. I leave that to players' discretion, though. Some people may find that the redundancy is important in their meta.
As a combo deck, this deck can normally outpace most noncombo aggro decks. Certain commander damage decks can pose a threat if unanswered. And don't forget that you can chump block with utility creatures if you have to. Surviving in a difficult position is preferable to being out of the game entirely.
---
@
knight611
:
I do feel that way about
Consecrated Sphinx
from time to time. Unfortunately, having not played in a true competitive multiplayer environment in a long time, I can't say with certainty whether it needs to be replaced. The mana cost is the biggest downside, but it's a powerful backup draw engine that's much less risky than Damia herself.
---
@
FLATSO99
:
Stroke of Genius
is serviceable, and there are ways to recur cards from the graveyard just as there are ways to get them back from the library. I use
Blue Sun's Zenith
because mana is not an issue by the combo turn and the win con is safer (from hate effects) in the library than in the yard.
---
@
e
n
p
c
:
Timetwister
is an interesting choice, and certainly something that becomes more potent as this deck becomes faster. I would test it.
---
@
Dark_Danda
:
Arbor Elf
ramps, but
Crop Rotation
does not. I'm not sure if they're comparable in terms of slot consumption. In some metas, the land tutor may be more important because there may be a greater dependence on cards like
Boseiju, Who Shelters All
.
Holistic Wisdom is an inefficient recursion engine in terms of mana consumption. It has increased potential in terms of the Strip Mine reusability, but that's not really a focus for this deck.
Commandeer is very expensive, even if cast for its alternate cost. I can't justify the effect for that cost. Spell Pierce is more valuable because it can win counter wars.
---
@
Cryptic_Bore
:
I don't recommend playing
Demonic Consultation
unless you're playing
Laboratory Maniac
, and I don't really think this deck wants to play either (although it could be built in such a way that they're more viable).
Demonic Consultation
presents the issue of exiling potentially necessary win conditions in order to find a combo piece, and it's never really completely safe to use. Similarly,
Tainted Pact
isn't in the deck (and is actually covered in the "Omissions" section). I don't think there are many cases where I'd so desperately need a single card that I could risk potentially exiling every other card for it.
---
@
v
i
s
h
n
a
r
g
:
It's true that
Crucible of Worlds
is a
good
card, but every card in this deck is a good card.
Crucible of Worlds
doesn't really provide
necessary
functionality to this deck, though, so I wouldn't call it one of the
best
cards and similarly wouldn't be able to justify increasing its redundancy at the expense of some other functionality.
---
@
Deckgodmaster
:
Lots of feedback there. I'll try to respond to as much as I have space for.
Rising Waters is an issue because this deck really wants to maximize its mana availability.
Future Sight was in a much earlier version of the deck, but was cut because the cost outweighed the value. Some people may prefer to run it, but I don't.
Pendrell Mists is a good stax card, but this isn't a stax deck. I'd rather keep my utility creatures at the risk of letting other people keep theirs.
Autumn's Veil has some potential. I've never really experimented with it in the 99, though.
Night's Whisper is not as preferable as a draw engine, in my opinion.
Notion Thief could be good in some cases, and I haven't actually tested it in the deck, but there weren't very many times where I think I would have (and would prefer to spend) the mana on it given its inconsistency from game to game.
Brainstorm was in an earlier version of the deck, and it could still justifiably be run given all of the fetch lands, but I prefer to spend the slot on other cards.
Baleful Strix doesn't really do enough to justify spending the mana.
Temporal Mastery is ok with cards like Mystical Tutor, but I don't think that justifies its inclusion.
Trinket Mage is a more expensive and more limited tutor than those already in the deck.
Arcane Denial is in the deck because it's a hard counter for , which I'll gladly take in the final turn.
Three Visits and Nature's Lore are important ramp cards and cannot be cut. Skyshroud Claim could potentially be cut on a cost basis, but it's very powerful and pays for half of its own cost on resolution.
Mindslaver is not something this deck needs. I don't really want to spend to control someone's turn if I could spend much less to get myself closer to actually winning. It's not good without a recursion combo or when facing multiple opponents.
Academy Ruins could be played, but I don't really need to recur any of the artifacts in this deck as much as I need access to on-color mana.
Omniscience is not necessary. My primary win con is an spell, which doesn't benefit at all from Omniscience and does benefit from an infinite mana combo (the latter of which enables just as many other cards as the former).
1 week ago
Since you already have Primal Command, which can can put it back into your library, then search the library, maybe Holistic Wisdom to recur either Panglacial Wurm or the Command? Not quite what you were looking for, but the closest I could find.
2 weeks ago
odd mechanics in green:
Bellowing Tanglewurm, Beacon Behemoth, Avoid Fate, Cream of the Crop, City of Solitude, Brooding Saurian, Heartwood Storyteller, Gurzigost, Genju of the Cedars, Gaea's Liege, Freyalise's Winds, Fertile Imagination, Eyes of the Wisent, Engulfing Slagwurm, Elven Warhounds, Elephant Grass, Hermit of the Natterknolls Flip, Hidden Gibbons (and the other hidden creatures / enchantments), Dosan the Falling Leaf, Holistic Wisdom, Hornet Sting, Hunted Troll, Ichneumon Druid, Kashi-Tribe Reaver (and the rest of kashi-tri, if only for the lockdown mechanic), Lifeforce, Lignify, Lost in the Woods, Mammoth Harness, Meandering Towershell, Midsummer Revel, Mindbender Spores, Mortal Wound, Multani, Maro-Sorcerer, Nacatl War-Pride, Nature's Wrath, Night Soil (okay, this one is odd - because the colon is after the removal of creatures, it happens faster than players can respond or trigger to - it happens at the "cost" step of activating the ability), Noxious Revival, Panglacial Wurm, Permeating Mass, Planeswalker's Favor, Protean Hydra, Quirion Druid, Recycle, Revelation, Riftsweeper, Rite of Passage, Root Maze, Rootrunner, Rust, Scarwood Bandits, Sprouting Phytohydra, Sporogenesis, Spike Tiller, Sheltering Ancient, Selvala's Charge, Sekki, Seasons' Guide, Wave of Vitriol, Wonderlust, Vernal Equinox, Unyaro Bees, Typhoon, Tropical Storm, Tornado, Tempting Wurm, Tempting Licid, Symbiotic Deployment, Superior Numbers, Stunted Growth, Wild Mammoth, Wolfcaller's Howl, Worldspine Wurm, Xantid Swarm, and Yavimaya Dryad
3 months ago
Some stuff I think I accidentally added, but wanted to actually discuss first:+Necropotence (Do we wanna go there?)+Yawgmoth's Bargain (Theres no combo pay-off that I can see. Is this card still too dangerous?)+Ancient Tomb (Fast mana is fast, but then again you do become arch enemy pretty fast)+Elesh Norn, Grand Cenobite (is this too much?)+Spellweaver Volute (this card is just weird, but seems like it could be cool. Thoughts?)
My bad...
CHANGELOG 03/05/17
Enchantress:
Off-color Enchantments:
More stuff for Orzhov Drain:
Other goodies:
Notes on Enchantress:
First, the payoffs are not super broken. There arent that many cards that REALLY reward you for having or interacting with enchantments, but once the deck comes together its highly synergistic. We could make people more interested in choosing Enchantress as an archetype by adding lots of g and gX enchantment-based mana acceleration in place of cards like llanowar elves (while still leaving the best dorks). Decks that would be interested in ramping might suddenly find themselves interested in enchantment cards like wild growths of bounty of the luxa. What do you think?
Also, Im worried that enchantress skews removal in general towards white. Since so much of the archetypes pulls are removals, we end up having more white removal in the cube.
3 months ago
Nice deck going on here!
plus 1 from my side for sure :) Yeah, so let's get down to business. I love combo decks with low CMC, though I am not so much a fan of infinite combos - but who I am to talk with abzan company in modern and rhys the redeemed infinite combos in EDH.
So, what about replacing Arbor Elf with Crop Rotation? Helps to get the right utility lands in no time with that many tutors available in this decklist. Or cut one land. I mean, you have 37 lands while having a CMC of 2.48 and are playing just three colors. I guess you went down with CMC quiet a bit over time - maybe you didn't with the lands?
Then did you ever consider playing Holistic Wisdom as recursion? You got 23 instants, 37 lands and 17 creatures. Apart from just the obvious recursion you could play like Strip Mine several times a turn in combination with Azusa, Lost but Seeking/Oracle of Mul Daya/Exploration. Furthermore it's another ability you can use at instant speed and honestly, I am envious about your commander - she's just asking to trade unsuitable cards in hands with powerhouses in your graveyard ;)
Also taken exactly your commander's ability into account Commandeer might be something for you in order to steal problematic and important spells like let's say your enemies commander. I would sort out Spell Pierce as it doesn't do much in the late game and Commandeer can be played from turn 1 on just like Spell Pierce
Keep up your awesome work! cheers :)
Well - that's already all I got.
7 months ago
Cards I'm not playing
Cards I want but cost money
Good cards that I've cut for better ones
Bad cards that I'm not playing
Pour one out
7 months ago
I feel like I wont be able to cast Grand Abolisher most of the time due to his WW casting cost. You mostly get green mana (the reason Gemstone Array Nomadic Elf and Orochi Leafcaller are in the deck)and you wont get those till your already parrlaying. Delaying Shield is mainly in the deck to stop commander damage (also stops lifelink and other when deals damage effect), since Selvala put you at a high enough life total that you can ignore most non commander damage and high enough to not die to your own hurricane. Holistic Wisdom does not have to only target untap spell (although it does turn you single target spells into untap all for an extra 2 mana). It also allows you to trade cards you dont need late game into non-rfg pieces (i.e. gemstone array can be traded for an umbra mantle). As for the removal, thats a meta call. I dont see alot of pithing needles, song of the dryads, ect. in my meta, so most of the time those are dead draws.
Load more