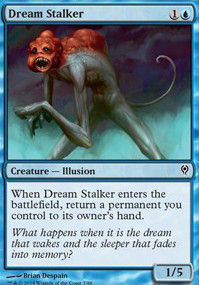 Legality
| | |
| --- | --- |
| Format | Legality |
| Noble | Legal |
| Leviathan | Legal |
| Magic Duels | Legal |
| Canadian Highlander | Legal |
| Vintage | Legal |
| Modern | Legal |
| Casual | Legal |
| Pauper EDH | Legal |
| Vanguard | Legal |
| Legacy | Legal |
| Archenemy | Legal |
| Planechase | Legal |
| Duel Commander | Legal |
| Unformat | Legal |
| Pauper | Legal |
| Commander / EDH | Legal |
Dream Stalker
Creature — Illusion
When Dream Stalker enters the battlefield, return a permanent you control to its owner's hand.
Dream Stalker Discussion
1 week ago
Biggest issue I see here is a lack of focus and not enough creatures for a creatures only matter deck.
Animar, Soul of Elements wants two main things: Cast creatures and get +1/+1 counters to cast larger creatures. Everything in the deck should be focused on those two goals.
Setting up the deck to achieve this purpose will make it efficient and powerful. All cards should therefore do one of the following:
Ramp up to Animar.
Protect Animar.
Place counters on Animar.
Cast game ending creatures for cheap or free.
Draw cards to allow us to do 1 through 4.
Priority should be given to cards that does something now > does something before your next turn > does something on your next turn > does something eventually.
Because Animar offers a discount based on creatures played, the deck shouldn't be filled with only high cmc game enders, but creatures from low to high cmc, preferably with as little colored mana symbols as possible, to give the deck a natural progression to casting free or cheap high cmc game ending creatures.
Let's split the deck into 3 parts. Pre-Animar setup, Post-Animar setup, Finale.
Note that $: (0 to 0.99), $$: (1.00 to 4.99), $$$: (5.00 to 9.99), $$$$: (10.00 to 19.99), !$!: (20.00+)
Unnecessary on a computer, very helpful on a phone.
This section will be all ramp, and protection to get Animar out quickly and make sure he is secure.
- The land base should be arranged to where there is more emphasis on , then , then since can color fix and can offer protection.
- Exotic Orchard is pretty good and cheap and can usually offer every color in multiplayer, especially if an opponent has a Command Tower out or even a Vivid Grove without even needing charge counters. - Kazoo lands such as Simic Growth Chamber, Izzet Boilerworks, and Gruul Turf are good in casual EDH where there is lack of land destruction and they artifically increase your deck ammount by posing as two lands in one. Though overall you do not want too many tap lands as you'll constantly be a entire turn behind.
This section will be about setting up our board state to win. All cards from this point onwards will be casted after Animar has been casted.
This section will be about ending the game with giant behemoths.
1 month ago
I definitely understand that need to tinker. It's fun to see if you can make something more efficient or if you can find a new way to apply it.
If you are currently considering Ainok Survivalist and Dream Stalker as flexible slots, I suppose that it could be a decent time to test out Phantasmal Image if you haven't already. From my experience:
Cons: Like any clone spell, its viability and power vary with whatever is on the battlefield. The Image is also a poor clone to use if you are looking to clone something that you expect to want to interact with. It has negative synergy with Cloudstone Curio.
Pros: It's cheap to cast, can double as a card-draw creature if you already have one out, is even better as an extra copy of a tutor creature, and has on multiple occasions allowed me to keep the storm train going by copying Peregrine Drake. Another thing worth noting is that the ETB triggers of Shrieking Drake, Dream Stalker, and Ancestral Statue don't target so you can actually use them to return the Image to your hand if you need to.
I'll admit that I miss the days when Legendary permanents destroyed each other when there were two of the same Legendary on the battlefield. Back then the Image could count as a kill spell for commanders and the Metamorph could destroy Umezawa's Jitte. Oh well, those are days long past.
My rough (and situational) priority list for Image targets is:
1) Tutor creatures.
2) Bloom Tender and Peregrine Drake
3) "Enchantress" creatures like Primordial Sage
4) Card-draw creatures.
5) An opponent's hate bear creature like Thalia, Guardian of Thraben if there are fast combo decks that I want to hamper more.
I'm not hard-set on that priority listing though. I'll generally go with whichever of those categories happen to be on the board at the time. I'm not against just cloning a mana dork if it means putting a counter on Animar and putting my ramp for the next turn that much further ahead.
1 month ago
I'd keep Phyrexian Metamorph in the deck. Although the Imperial Recruiter + Shrieking Drake + Phyrexian Metamorph combo is more for 1v1, there have been a lot of times where I've used it to pump out a quick eldrazi that was in my hand. Because the Metamorph will get to bounce the eldrazi back to your hand once, that's still drawing 8 cards or exiling 4 permanents. The metamorph has also been really helpful for netting more mana or cards for free while trying to storm off by copying a Mulldrifter or Peregrine Drake. I've used the card for so many different plays that I have a hard time picturing the deck without the versatility it offers.
If Torpor Orb isn't a worry for you then I think it's fine to cut the Ainok Survivalist. I've always considered it a meta pick.
Between Dream Stalker and Man-o'-War, I would be more inclined to cut the Stalker first. For this deck's purposes, its mostly just a slightly worse extra copy of Shrieking Drake. Man-O'-War has extra utility in that it can bounce a blocker, Recover Animar if someone stole it with Gilded Drake, and in my playtesting it is one more way to delay a Hermit Druid deck by a turn by bouncing the druid.
Regarding the card-draw creature options that you listed, It's hard for me to ignore that Whirlpool Warrior and Champion of Wits only let you filter cards. They don't net you any additional cards in hand, they don't even replace themselves as a card in hand. However, I like that the Warrior can mess with opponent's hands. The downside to it in comparison to the Champion is that the Warrior is useless if you already have one combo piece in hand and are trying to dig for another piece.
Slithermuse used to be an Animar staple years ago when the first competitive versions of the deck were floating around. I used to run it, but the fact that it isn't guaranteed to draw you cards and that its triggered ability is when it leaves play were hassles. The double blue mana to keep it on board was awkward, especially since you weren't getting immediate value out of it, and casting it for the Evoke cost meant that it wasn't going to stick around long enough for you to use bounce shenanigans to net a ton of value out of it. The card always seems to hover on that borderline of being playable, and I guess it would be worth it if your meta has a lot of control decks that like to keep their hands stocked with cards.
I was mulling over the pros and cons of Slithermuse vs Sandstone Oracle as replacements for Kozilek in low budget Animar builds last night but I didn't really put in enough thought about it to come to a conclusion.
Foul Emissary comes with the chance that it won't find a creature in the top four cards, but considering how many creatures are in the deck I think that the statistical chance of that happening is low enough that it is worth consideration anyway. If it doesn't hit anything that means that it probably filtered away a bunch of non-essential ramp and land cards, although there's a good chance that tutor spells will also get swept away by it's ability. I'll admit, I'd probably want to smack my head against the table if I was in a pinch and the Emissary filtered away a tutor that was on the top of my deck without netting me a creature.
So of the options you've listed, my priority choices for cards to take out would be:
1) Ainok Survivalist. 2) Dream Stalker. 3) Man-o'-war. 4) Phyrexian Metamorph.
And my priority list for card-draw creatures to put in would be:
1) Slithermuse (meta dependent). 2) Champion of Wits. 3) Whirlpool Warrior. 4) Foul Emissary.
1 month ago
idk if you are after the 5 toughness or permanent rather than creature trigger with Dream Stalker but Faerie Impostor flys, is cheaper and way less fugly in my opinion.
3 months ago
The cards I'd suggest are Shrieking Drake, Man-o'-War, and Dream Stalker. Each of them can bounce themselves repeatedly to build up animar, or bounce another creature for extra etb triggers. Ancestral Statue does the same, but also goes infinite when animar has four +1/+1 counters.
Feel free to check out my animar deck on my profile and have funnn!
3 months ago
Hey Cloud of Faeries, Palinchron, Peregrine Drake have nice abilities with Animar. Cast them put a counter on him untap lands to cast other creatures which now have a reduced CMC. Bouncing these creatures with Cloudstone Curio or Temur Sabertooth can be an engine with Animar.
Like Curio, creatures who can bounce a creature including themselves when they ETB have synergy with Animar getting to cast creatures again, Man-o'-War, Shrieking Drake and Dream Stalker. If bouncing creatures then creatures who draw when they ETB become very good, Mulldrifter, Elvish Visionary and Wall of Blossoms.
You've playing a lot of high CMC creatures making Fierce Empath a great creature who can tutor for one of these creatures while also putting a counter on Animar. He's even better if bouncing creatures back to your hand to play them again.
Maelstrom Wanderer is pretty busted with Animar using theses strategies I've suggested, his double cascade ETB ability has synergy with the creatures who untap lands, bouncing him a number of ways to play him again getting his ETB ability again for a turn and Empath can tutor for him. His haste and giving all other big creatures you control haste is also quite powerful.
Good luck with your deck.
Load more