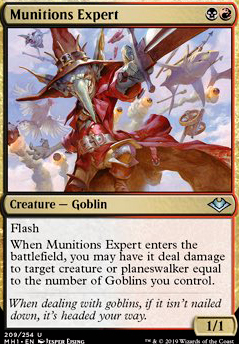 Munitions Expert
Creature — Goblin
Flash
When Munitions Expert enters the battlefield, you may have it deal damage to target creature or planeswalker equal to the number of Goblins you control.
Latest Decks as Commander
Munitions Expert Discussion
3 months ago
Hey lobsternips! Thought I'd jump in and give you my take on what you've got going on. Your noncreature spells look fantastic, not much I would take out, but if you can find a way to fit in some creature recursion in Rise of the Dark Realms or Thrilling Encore with your mass creature destruction in dictate or Killing Wave . Also bounce-type effects like Conjurer's Closet could make use of your etb effects, you'd definitely see some usefulness there. The only problem I see with this deck is its SUPER heavy into red, there are some non-red Goblins out there, but you'd basically be playing a Red deck splashing white and black for support. However, Goblins are funny and mean just like Negan.
Hope I helped some, I probably didn't seeing as I gave more inclusion suggestions rather than cuts. If you decide on doing one thing like "Go Wide" or "Go Tall", adjust your cards to reflect that. Aside from that good luck on your deckbuilding!
1 year ago
You miss Devastating Summons. I've been playing this deck also in major tournaments, and this combo Summons + Whacker is the main kill of the deck. I would not play less than 3 Summons.
I have also really prefered to play with Mogg Fanatic over Fanatical Firebrand for having more reach, and to put more pressure.
As you splash black, you have a all-indicated companion to play : Lurrus of the Dream-Den.
Your land choice are not the best clearly. I would recommend to play Auntie's Hovel, Blood Crypt and Blackcleave Cliffs alongside basic mountains. For budget issue, replace cliffs by your Unclaimed Territory why not, but do not play Dragonskull Summit because you have many non-mountain lands.
I am unsure about Munitions Expert and Light Up the Stage. The expert is situational and needs conditions, while the sorcery spell is not triggered before combat so it slows down our main plan. Since we play black, I wonder me if a Thoughtseize effect would not be better for not being disrupted in our game plan which allows at our opponent to play. The question would be Thoughtseize or Inquisition of Kozilek ?
Finally, I am happy to see no Burning-Tree Emissary as they are bad with Goblin Bushwhacker. In my opinion, they are great when we play Manamorphose to fix mana issue as well as digging for the combo.
In sideboard, I think that you want some Fatal Push to defend yourself against Kor Firewalker etc, Thoughtseize effect against combo, some graveyard answers like Nihil Spellbomb which can be recast with Lurrus, some anti-Chalice of the Void like Smash to Smithereens.
I will start with a list like that : (18 lands) 4 Auntie's hovel, 4 Blood crypt, 4 Blackcleave cliffs, 2 Bloodstained mire, 4 Mountains. // (28 creatures) 4 Goblin guide, 4 Foundry street denizen, 4 Mogg fanatic, 4 SPike jester, 4 Legion loyalist, 8 Bushwhackers. // (14 spells) 4 Lightning bolt, 4 Goblin grenade, 3 Devastating summons, 3 Inquisition of Kozilek or Thoughtseize (meta call). // Sideboard: Lurrus of the dream-den, 4 Fatal push, 2 Thoughtseize, 4 Nihil spellbomb, 4 Smash to smithereens.
I hope I would help you fellow goblin ! What do you think about all that ? :)
1 year ago
Awesome build, always wanted to try her out myself. Have you ever considered running Munitions Expert at all? His synergy w/ Wort's ability is pretty high, and its great for extra removal.
1 year ago
Deck Upgrades:
Creature Upgrade
To remove: Aggressive Mammoth, Byway Courier Chittering Witch, Footlight Fiend,Gluttonous Troll,Gruul Spellbreaker, Judith, the Scourge Diva,Keeper of Fables, Ogre Siegebreaker, Primordial Wurm, Rapacious Dragon, Rubblebelt Rioters, Sengir Vampire, Spark Reaper, Sphinx of the Guildpact, Spikewheel Acrobat, Vindictive Vampire, Woodland Champion, Zhur-Taa Goblin
To add: Eternal Witness,Squee, the Immortal,Zulaport Cutthroat, Vexing Shusher, Goblin Matron, Munitions Expert, Krenko, Mob Boss, Warteye Witch, Sling-Gang Lieutenant, Goblin Trashmaster, Putrid Goblin, Dockside Extortionist, Arasta of the Endless Web, Creakwood Liege,Dragonlair Spider, Viscera Seer, Ayara, First of Locthwain, Pitiless Plunderer, Poison-Tip Archer, Sidisi, Undead Vizier, Sheoldred, Whispering One, Deathrite Shaman
Artefact Upgrade
To Remove: Thaumatic Compass Flip, Witch's Oven, Bloodsoaked Altar, Golden Egg, Mask of Immolation, Rhonas's Monument
To add: Sol Ring, Arcane Signet,Lightning Greaves, Ashnod's Altar, Haunted Cloak, Skullclamp
Enchantment Upgrade:
To remove: Gift of Paradise, Warbriar Blessing, Wolfwillow Haven
To Add: Necrogenesis,Cindervines, Grave Pact, Grave Betrayal, Attrition
Sorcery Upgrade:
To Remove: Severed Strands, Taste of Death, Victimize
To Add: Unearth, Reanimate, Blood for Bones, Return from ExtinctionTerminate, Dreadbore, Hull Breach, Diabolic Intent
Instant Upgrade:
To Remove: Bake into a Pie, Heartfire, Murder, Return to Nature, Shock
To Add: Artifact Mutation, Putrefy, Guttural Response, Veil of Summer, Abrupt Decay, Assassin's Trophy
Greetings, Brian
1 year ago
Not sure what your budget is but here are cards I would recommend:
For starts Id get black in your board it helps a lot beacuse: Sling-Gang Lieutenant and Munitions Expert are amazing
I would put in 1 (max 2) Krenko, Mob Boss when it lands it accelerates hard
Goblin Ringleader a play set is 1$ and helps the deck a lot.
Pashalik Mons can help the deck for when your small goblins die, I would run 1
Goblin Warchief seems amazing
Goblin Matron lets you find the perfect goblin always
Goblin Chieftain typically lords (+1/+1 to a creature type) is an auto 4 of. However if you are more mid-range comboy then dont have as many
Mogg War Marshal the echo seems really bad at first but then you have death triggers which is free damage so its good id have 4
Goblin Piledriver Gets very big and blue creatures cannot block it, and cannot be targeted by blue bounce spells. (can still be countered though :( )
Goblin Cratermaker is a goblin that is cheap removal
Skirk Prospector lets you play big goblins sooner. Can also synergize well with cards being there is the death trigger. You could swing for 10 then sac 10 goblins draining them for 10, which kills them with 10 power on the board.
Mogg Fanatic is a oldy but goody, Its worth considering 1.
Tarfire if you want to be memey this technically counts as a goblin (which means you can search for it as if it was a goblin even though its an instant).
Aether Vial is a big money card but sooooo much fun
Auntie's Hovel helps your mana base and so does Cavern of Souls id play 4 of each with unlimited money
Bloodstained Mire is great it filters and can find Blood Crypt I would then run 4 mountains and one swamp. You want to run about 22 lands here no less then 21. Generally for deck construction going below 19 lands is a bad idea (minus a few combo decks, but they run a lot of blue filter cards).
Blood Moon is a funny card to run
Goblin Chainwhirler can be fun as well
If artifacts are a problem then play Goblin Trashmaster
Black also gets you Earwig Squad
Another way to build it would be like this: OmniGoblin which is a combo kinda deck
Load more