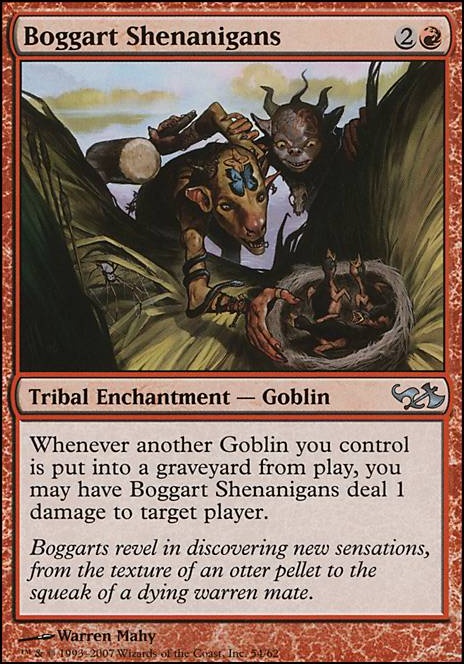 Legality
| | |
| --- | --- |
| Format | Legality |
| Vintage | Legal |
| Duel Commander | Legal |
| Commander / EDH | Legal |
| Legacy | Legal |
| Modern | Legal |
| Tiny Leaders | Legal |
Related Questions
Boggart Shenanigans
Tribal Enchantment — Goblin
Whenever another Goblin you control is put into a graveyard from the battlefield, you may have Boggart Shenanigans deal 1 damage to target player.
Boggart Shenanigans Discussion
5 days ago
Cuts
While the cards I'm going to list are not necessarily bad cards that can never be good in the deck, I still don't think they work as well as other cards do in your current build. I'll keep my reasoning brief.
That's all for now, if you want any other advice, just ask.
1 month ago
you have 6 ramp cards in here, its a little low, so I'd say look at adding: Solemn Simulacrum, Caged Sun, Myriad Landscape and Chandra, Torch of Defiance .
This deck is also lacking card advantage, it will play out all the cards in its hand too quickly and you will not have enough gas to finish off everyone. for that I would look at Solemn Simulacrum and Chandra, Torch of Defiance again, as well as Outpost Siege, Forgotten Cave, Smoldering Crater, Buried Ruin, Mutavault, Ghitu Encampment, and Grenzo, Havoc Raiser.
Other cards to consider:
Boggart Shenanigans, Hazoret's Monument, Metallic Mimic, Goblin Lackey, Warren Instigator, Ogre Battledriver, Hellrider, Adaptive Automaton, Chaos Warp, Reverberate, Fork, Obelisk of Urd,
1 month ago
I highly recommend putting in Mogg War Marshal in place of either Dragon Fodder or Krenko's Command, and just ignore its Echo cost. You'll essentially still be paying two mana for two 1/1 bodies. But by not paying MWM's Echo cost, you'll be saccing him and immediately putting another 1/1 creature into play. Thus, you have extra triggers for Vicious Shadows, Impact Tremors, Boggart Shenanigans, and Purphoros's ability, just at a glance. Also, unlike DF/KC, MWM can be searched for, with Goblin Matron's ability, and cheated into play with Goblin Lackey's ability. One final note: As I type out this recommendation, your deck list currently shows two copies of Goblin Lackey here in your Commander/EDH deck.
1 month ago
Some budget cards that I would suggest:
Sword of the Paruns lets you untap Krenko as long as you have mana, as well as giving a static buff to your goblins.
Ogre Battledriver provides haste to all your creatures when they enter, as well as making your standard goblins hit much harder when they come in.
Swiftfoot Boots are a must for any deck that relies on your commander tapping immediately. Lightning Greaves as well.
Skirk Prospector turns all of your goblins into tasty mana, and combos very nicely with Sword of the Paruns if you reach critical mass.
Impact Tremors is like a mini-Purphoros, making all your goblins hit when they enter. Boggart Shenanigans is similar, making your opponent hurt when they leave. Hellrider makes your goblins do an extra 1 direct damage on attack.
2 months ago
Hello and welcome back to the game :)
I do like where you are going with this deck idea but there are a lot of improvements to be made. Before I give any niche card suggestions, I'd like you to tell us in what environment will you be playing with the deck (e.g. with friends at home, at your LGS, 1v1, multiplayer e.t.c.) as well as set a budget per card (e.g. no more than $5 or $10 per card) and in general, what do you want the deck to do? (overwhelm people with mogs? sacrificial shenanigans? both? more than these?). There's a plethora of very strong card that could fit your colours and thematic, but instead of putting random cards here, i'd prefer giving you suggestions that fit what you want to do. Nevertheless, just to give you some ideas: Attrition, Death Pits of Rath, Purphoros, God of the Forge, Descent of the Dragons, Dictate of Erebos and many others.
With this said, there have already been some generally good suggestions already given (i.e. the goblin lords: Goblin Chieftain, Goblin Warchief, Goblin King).
In addition to those I'd consider running Moggcatcher and Skirk Fire Marshal in any goblin deck. The first one, albeit not a goblin, can really help you pull out your most needed creature at every given time. Boggart Shenanigans can be a potentially strong card. The same can be said for Goblin Matron.
3 months ago
Long time Krenko player here. The artifacts you have aren't great.
Look into Sol Ring obviously, Thousand-Year Elixir to use Krenko multiple times a turn, Thornbite Staff, and Umbral Mantle more on these two later, use Swiftfoot Boots to protect Krenko. Additionally you'll want some mana, so Ashnod's Altar is a great card here.
For Instants and Sorceries, you'll want Krenko's Command, Dragon Fodder, Goblin War Strike, Hordeling Outburst, Massive Raid.
Goblinwise, Skirk Prospector and Goblin Chirurgeon are key. If budget isn't too much of a problem you'll want Kiki-Jiki, Mirror Breaker and (the not as expensive) Lightning Crafter. Grenzo, Havoc Raiser can be used as an alternate wincon and way to take out problematic creatures or players in multiplayer games. Purphoros, God of the Forge, while not a Goblin is too good not to have in the deck.
Enchantments. Believe me when I say this: Goblinslide is trash. It simply doesn't cut it. Look into the following: Boggart Shenanigans, Goblin Bombardment, Goblin Warrens, Impact Tremors, Mana Echoes, and Quest for the Goblin Lord.
Check out my deck for ideas. I don't know if it is too competitive for you: Krenko and Kiki-Jiki's Goblin Horde
Load more