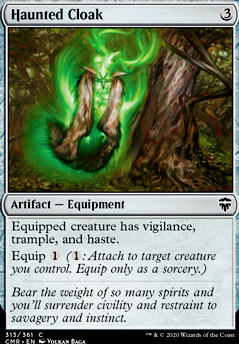 Haunted Cloak
Artifact — Equipment
Equipped creature has vigilance, trample, and haste.
Equip (: Attach to target creature you control. Equip only as a sorcery.)
Browse Alters
Legality
| | |
| --- | --- |
| Format | Legality |
| 1v1 Commander | Legal |
| Block Constructed | Legal |
| Canadian Highlander | Legal |
| Commander / EDH | Legal |
| Duel Commander | Legal |
| Highlander | Legal |
| Legacy | Legal |
| Leviathan | Legal |
| Limited | Legal |
| Modern | Legal |
| Oathbreaker | Legal |
| Pauper | Legal |
| Pauper EDH | Legal |
| Pioneer | Legal |
| Tiny Leaders | Legal |
| Unformat | Legal |
| Vintage | Legal |
| Casual | Legal |
| Custom | Legal |
| Quest Magic | Legal |
Latest Decks as Commander
Haunted Cloak Discussion
2 months ago
Hey Walrighti, +1!
Congrats on your first deck! You have a lot of fun cards in here and it looks great! I imagine you want to tune and make it even more efficient so here are some ideas...
Add 3 categories: #Combo, #Lifegain, and #Evasion; and then sort your maybeboard the same way you've done your mainboard to easily rank your choices within a category (By "combo" I mean all your "if-then" cards like Trudge Garden that are slower and don't work by themselves). Remove #Creatures (most of them are #Combo).
Avoid most cards above 4 cmc... Willowdusk is fast and fragile, so play into that... Also, prioritize cards that can do 2 or more things or that give value on ETB... If you have pet cards that don't really fit and that hurt to cut, put them in a "I'll build that theme later" list.
...Always play at least 10 ramp spells under 3 cmc.
...Playtest and make sure Willowbark consistently makes a fatty (with evasion) before turn 6-7.
Here's another Willowdusk thread.
Happy building :)
3 months ago
I really enjoy what you've built here! Ruhan was one of the first commanders I ever built, and I love him so much. I just recently realized how good Burning Anger is with Ruhan because it lets you choose where his damage is going if you don't care about commander damage. It also works extremely well if he has vigilance due to something like Brave the Sands or Haunted Cloak .
Also come on, if you're playing Willbender, you GOTTA play Zoetic Cavern ! :p
4 months ago
Hey, sure, consider cutting cards that are single effects such as sorceries for cards that have repeatable effects? It's not just Priest that's good with repeatable token sources also Korvold, Pitiless Plunderer / Ruthless Knave , Butcher of Malakir , etc. therefore expanding on tokens helps all these cards.
Some cards to consider cutting:
Some cards that are okay, but could be upgraded with budget options:
Some budget land changes to consider:
5 months ago
Snake_Oil great catch! Should of proofed it more but I was too excited and just posted it. Swapped it out for Haunted Cloak .
6 months ago
Sigarda is my favourite Voltron!
I find that by chosing to go all in with auras, you may be overlooking interesting equipments, like Hammer of Nazahn for the sweet indestructible or Haunted Cloak that gives your commander everything else she needs and doesn't have.
If you stick with enchantments only, you could add Abundance, which combos nicely with Sylvan Library, allowing you to keep all 3 cards you draw each turn.
A great asymmetric board wipe for this deck is Single Combat.
This may be meta-specific, but since it was printed I won at least two games thanks to the presence of Questing Beast, nullifying Glacial Chasm and other damage prevention.
Hope this helps!
8 months ago
Thought I'd come over and check out your deck! Looks like a fun version of Odric to play.
I'd suggest prioritizing Flying and Double Strike as abilities as your creatures will hit harder and be able to get through. Fortunately White has a ton of flying and double strike creatures to choose from. You have a lot of First Strike which is an ok ability, but not as impactful as others in Commander.
I would only use equipment for Haste and card draw, two abilities White really struggles with. Lightning Greaves, Haunted Cloak, Mask of Memory, and Skullclamp are all great. The problem with using equipment for abilities that White already has is that you are actually having LESS damage on the board. A Skyhunter Skirmisher is better than Fireshrieker because it's actually a body doing some damage as well as being more mana efficient (no equip cost).
Hope this helps!
8 months ago
It wouldn't let me suggest all of them, so ignore this redo.
Stonehorn Dignitary, Solemn Simulacrum, Swiftfoot Boots, Lightning Greaves, Strider Harness, Chariot of Victory, Haunted Cloak, Ring of Valkas, Strionic Resonator, Magewright's Stone, Illusionist's Bracers, Lithoform Engine and Flickerwisp.
Load more