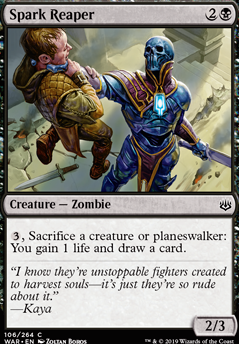 Spark Reaper
Creature — Zombie
, Sacrifice a creature or planeswalker: You gain 1 life and draw a card.
Browse Alters
Legality
| | |
| --- | --- |
| Format | Legality |
| Pre-release | Legal |
| Tiny Leaders | Legal |
| Vintage | Legal |
| Penny Dreadful | Legal |
| Pioneer | Legal |
| Commander / EDH | Legal |
| 1v1 Commander | Legal |
| Magic Duels | Legal |
| Brawl | Legal |
| Block Constructed | Legal |
| Standard | Legal |
| Historic | Legal |
| Arena | Legal |
| Canadian Highlander | Legal |
| Leviathan | Legal |
| Duel Commander | Legal |
| Unformat | Legal |
| Modern | Legal |
| Highlander | Legal |
| Casual | Legal |
| Pauper EDH | Legal |
| Legacy | Legal |
| Pauper | Legal |
| Oathbreaker | Legal |
Spark Reaper Discussion
3 months ago
Deck Upgrades:
Creature Upgrade
To remove: Aggressive Mammoth, Byway Courier Chittering Witch, Footlight Fiend,Gluttonous Troll,Gruul Spellbreaker, Judith, the Scourge Diva,Keeper of Fables, Ogre Siegebreaker, Primordial Wurm, Rapacious Dragon, Rubblebelt Rioters, Sengir Vampire, Spark Reaper, Sphinx of the Guildpact, Spikewheel Acrobat, Vindictive Vampire, Woodland Champion, Zhur-Taa Goblin
To add: Eternal Witness,Squee, the Immortal,Zulaport Cutthroat, Vexing Shusher, Goblin Matron, Munitions Expert, Krenko, Mob Boss, Warteye Witch, Sling-Gang Lieutenant, Goblin Trashmaster, Putrid Goblin, Dockside Extortionist, Arasta of the Endless Web, Creakwood Liege,Dragonlair Spider, Viscera Seer, Ayara, First of Locthwain, Pitiless Plunderer, Poison-Tip Archer, Sidisi, Undead Vizier, Sheoldred, Whispering One, Deathrite Shaman
Artefact Upgrade
To Remove: Thaumatic Compass Flip, Witch's Oven, Bloodsoaked Altar, Golden Egg, Mask of Immolation, Rhonas's Monument
To add: Sol Ring, Arcane Signet,Lightning Greaves, Ashnod's Altar, Haunted Cloak, Skullclamp
Enchantment Upgrade:
To remove: Gift of Paradise, Warbriar Blessing, Wolfwillow Haven
To Add: Necrogenesis,Cindervines, Grave Pact, Grave Betrayal, Attrition
Sorcery Upgrade:
To Remove: Severed Strands, Taste of Death, Victimize
To Add: Unearth, Reanimate, Blood for Bones, Return from ExtinctionTerminate, Dreadbore, Hull Breach, Diabolic Intent
Instant Upgrade:
To Remove: Bake into a Pie, Heartfire, Murder, Return to Nature, Shock
To Add: Artifact Mutation, Putrefy, Guttural Response, Veil of Summer, Abrupt Decay, Assassin's Trophy
Greetings, Brian
1 year ago
I believe that Widespread Brutality would be a good fit here, not only does it amass it also is a board wipe anything smaller than the zombie army token. You have card draw in the Spark Reaper , but it requires and a creature or planeswalker, Soul Diviner would be a good addition here to give another way to draw a card and you're also using Karn's Bastion for proliferate making it where you don't have to use mana, creature or planeswalker.