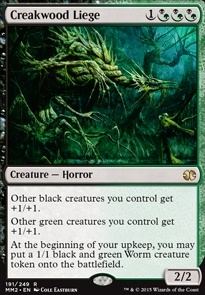 Creakwood Liege
Creature — Horror
Other black creatures you control get +1/+1.
Other green creatures you control get +1/+1.
At the beginning of your upkeep, you may put a 1/1 black and green Worm creature token onto the battlefield.
Have (11)
meecht ,

s

l

e

m

u

l

v

,

m

a

i

d

e

n

7

7

,

T

h

e

H

o

r

s

e

, cpoweryeeps , freakman13 ,

C

a

s

t

l

e

S

i

e

g

e

,

j

e

c

d

e

r

, theHopp ,

r

o

c

k

l

e

e

m

y

h

e

r

o

, TrumpetsforKings
Want (4)
Gman6664 , oakenshild , Ganjalf , dspot4lyf
Creakwood Liege Discussion
16 hours ago
Hey dude.
How do you like Pestilence? Late game this can eek out the last damage to win, works well with your commander and triggers constellation. Destroy all target opponent's things with a Sudden Spoiling. Sudden Spoiling likes Last Laugh too.
If you want graveyard shenanigans Living Death is the biggest and the best. Likes Death Pit offering.
Creakwood Liege will put a bit of lead in your pencil. People will probably have one in their trade folder as it's in the new Modern Masters set. On this it's saying it costs 9 bucks or so but look on Star City and you'll find it for 4. Speaking of the new Modern Masters, look out for Midnight Banshee.
Eternal Witness is a no-brainer in a deck like this for mine. Down / Dirty is strictly better than Recollect, and I don't use that term much. It's also about 25 cents. In fact, Regrowth is pretty cheap too. So there's three cards that can give you a bit of card reuse.
I'd swap Kitesail for Whispersilk Cloak.
Gilt-Leaf Palace seems like an odd choice for a deck with no elves. Woodland Cemetery is a great replacement.
Dutiful Return could become Victimize. I'd consider a bit of a reanimation package in this, perhaps start with an Animate Dead and a Dread Return along with the victimize? even Zombify could be a good budget option.
Contagion Clasp is actually quite a handy little number.
You could consider taking a zombie tribal direction with this. The good thing about well designed tribal is that the creatures wil take care of themselves, allowing you to keep the Vitu shenanigans, and stuff like Festering Goblin and Shambling Goblin can even offer ways in which the tribal could work with the commander. Just an idea.
4 days ago
I'm looking to get some MM2 versions of cards that fell in price because of being reprinted, such as:
This is in addition to the cards on my binder's wants list
4 days ago
I was really happy with my box!
| | |
| --- | --- |
| Power / Toughness | 2/2 |
| Color(s) | Black Green |
| Cost | 1{B/G}{B/G}{B/G} |
| Converted cost | 4 |
| Avg. draft pick | 1.79 |
| Avg. cube pick | 5.27 |
Legality
| | |
| --- | --- |
| Format | Legality |
| Legacy | Legal |
| Vintage | Legal |
| Commander / EDH | Legal |
| Modern | Legal |
| Duel Commander | Legal |