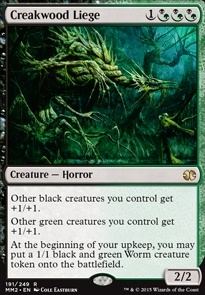 Creakwood Liege
Creature — Horror
Other black creatures you control get +1/+1.
Other green creatures you control get +1/+1.
At the beginning of your upkeep, you may put a 1/1 black and green Worm creature token onto the battlefield.
Have (20)

T

i

d

d

i

l

y

w

i

n

k

u

s

, MADMatt7777 ,

E

n

r

a

g

e

d

A

t

l

a

s

,

C

o

m

m

u

n

i

s

t

B

a

s

t

a

r

d

,

C

a

s

t

l

e

S

i

e

g

e

, Nixin72 , meecht , nocsha ,

A

s

h

c

a

s

h

c

a

s

h

,

s

l

e

m

u

l

v

, Almond745 , kaboomeow ,

U

n

f

o

r

g

i

v

n

_

I

I

, army88strong ,

j

e

c

d

e

r

, joecartoon96 , theHopp ,

T

h

e

_

G

a

g

a

_

G

e

c

k

o

, nintendowryyy , latetojoin
Want (3)

P

T

s

m

i

t

t

y

, dmage105 , Gman6664
Creakwood Liege Discussion
6 days ago
With Karona, False God I would definitely run stuff like Vow of Flight, Vow of Malice, etc (there's a full cycle of them), also Shield of the Oversoul, Darksteel Plate, etc
(People are going to try to attack on their turn w Karona, then wrath so nobody else can attack w her)
With the gods, people mentioned cards like the Liege's: Deathbringer Liege, Murkfiend Liege, Creakwood Liege, etc. I'd also suggest looking at a few of the following to activate the gods as well: Vexing Shusher, Deus of Calamity, Ghastlord of Fugue, Oversoul of Dusk, Dominus of Fealty, Divinity of Pride, etc
Each of the previously mentioned

cmc creatures can individually activate 9 gods.
Example: Deity of Scars alone will make Athreos, God of Passage, Erebos, God of the Dead, Karametra, God of Harvests, Kruphix, God of Horizons, Mogis, God of Slaughter, Nylea, God of the Hunt, Pharika, God of Affliction, Phenax, God of Deception, Xenagos, God of Revels all become creatures!
Be sure to run all ten shocklands, for sure. Nature's Lore, Ranger's Path, Skyshroud Claim, Farseek, Kor Cartographer, Eternal Dragon, and Karametra, God of Harvests can all search for them.
Run ~40 land, plus Chromatic Lantern, Cultivate, Kodama's Reach, and maybe even Boundless Realms. I'd def lean green-heavy mana sources to help ramp
With five-colors; I would imagine it won't be the fastest deck, so be sure to troll people with Ghostly Prison, Propaganda, and Sphere of Safety.
Well that was a very very long comment to type with a phone lol. Please check out my decks and tell me what you think!
1 week ago
Also, if you really wanna pimp out the deck (though it might be at the expense of your casual group), Creakwood Liege is probably one of the best 4 drops you can play (I like it more than Demonlord of Ashmouth personally; I don't like saccing creatures, especially not twice). It makes your entire team a huge threat, creates 3/3's every turn, and stacks in multiples very well. I think the TCG price is a bit off too; my store sells them for $1.50 each.
I definitely do think that a 1-mana deathtoucher is better than Rakdos Cackler in your deck. Cackler is great in an aggro shell, but is terrible at stalling since it can't block, and creates no value from dying unlike your other creatures. Your deck can likely out-grind many others when the game goes long, and so something like Pharika's Chosen can easily clog up the ground for a few turns and buy you a lot of time.
2 weeks ago
Looking for new Nissa and Liliana. My binder's not even close to up to date, but I have:
Message me or reply here if you're interested- I can also go try to find other things if there's something else you're interested in.
2 weeks ago
Good food for thought. Red and attrition strategies seem pretty unnatural together, I know. But my thinking is that an early Molten Vortex as a board controller can work with the attrition strategy way better than Seismic Assault ever could, so I'm testing the idea out. Same goes for Magmatic Insight which gives us card advantage in this deck, where Faithless Looting was really filtering.
Compulsive Research and Thought Scour make the Sultai version compelling, but for me, the kicker would have to be using Snapcaster Mage on Smallpox, and that doesn't quite fit the budget.
Zombie Infestation may end up being the right call, over the spare Worm Harvest and/or Creakwood Lieges, at least as an alternate token strategy. As for Syphon Life, I agree it may end up being a must, and it's on the sideboard for now.
Thanks for the input.
3 weeks ago
Here are some other cards that could be useful, some more than others...prices vary from real cheap to not cheap at all...
Grave Pact - really good in this deck
Dictate of Erebos - also really good in this deck, and easier to cast
Blood Artist
Butcher of Malakir - only really good if you go token route
Mikaeus, the Unhallowed - cause you can remove the counters, lol
Mycoloth - makes lots of tokens, and has counters, best of both themes
Triskelion - broken with Mikaeus (above card)
Living Death
Beacon of Unrest
Vault of the Archangel - really good, find one
Aura Shards - real good in your play group
Lightning Greaves - protect your commander
Skullclamp - card draw
Creakwood Liege
Ob Nixilis, Unshackled
Carnage Altar
Deathreap Ritual - card draw
Mentor of the Meek - card draw
Mikaeus, the Lunarch
Sigil Captain
Vish Kal, Blood Arbiter
Diabolic Intent
Enlightened Tutor - tutor for enchantments or for boots/greaves
Eldrazi Monument - you know what this is....
Glare of Subdual
Fecundity - really good card draw for this deck
Earthcraft - really good mana ramp, but cost a lot
Twilight Drover - gets really big....
Scavenging Ooze
Plaguemaw Beast
Necropolis Regent
Kalonian Hydra - great with a deck with a counter theme
Illusionist's Bracers - really good
Cytoplast Root-Kin
Contagion Engine - great with any counter theme, works on planeswalker too
Volrath's Stronghold - one of the best creature recursion cards
I would recommend getting the cheaper cards that work best with your counter theme. Then work up to getting the more expensive cards.
3 weeks ago
Here's a pile of cards: Bloodbraid Elf, Maelstrom Pulse, Abrupt Decay, Putrefy, Pernicious Deed, Starstorm, Terminate, Dreadbore, Sire Of Insanity, Rakdos, Lord of Riots, Garruk, Apex Predator, Kessig Wolf Run, Burning-Tree Shaman, Ruric Thar, the Unbowed, Creakwood Liege
| | |
| --- | --- |
| Power / Toughness | 2/2 |
| Color(s) | Black Green |
| Cost | 1{B/G}{B/G}{B/G} |
| Converted cost | 4 |
| Avg. draft pick | 1.87 |
| Avg. cube pick | 5.25 |
Legality
| | |
| --- | --- |
| Format | Legality |
| Legacy | Legal |
| Vintage | Legal |
| Commander / EDH | Legal |
| Modern | Legal |
| Duel Commander | Legal |