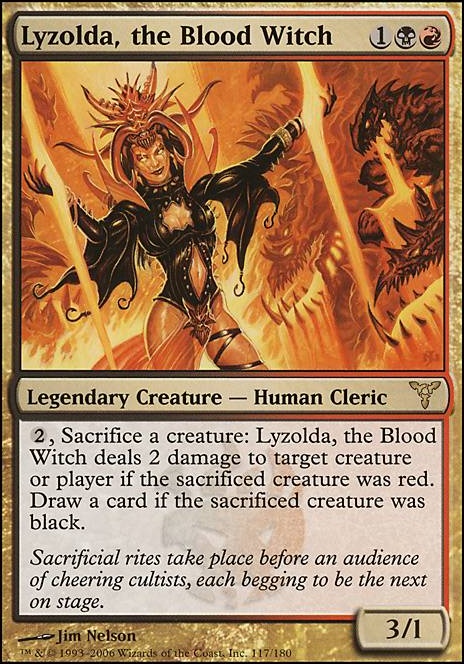 Legality
| | |
| --- | --- |
| Format | Legality |
| Noble | Legal |
| 1v1 Commander | Legal |
| Vintage | Legal |
| Modern | Legal |
| Vanguard | Legal |
| Legacy | Legal |
| Archenemy | Legal |
| Planechase | Legal |
| Duel Commander | Legal |
| Unformat | Legal |
| Commander / EDH | Legal |
Lyzolda, the Blood Witch
Legendary Creature — Human Cleric
(2), Sacrifice a creature: Lyzolda, the Blood Witch deals 2 damage to target creature or player if the sacrificed creature was red. Draw a card if the sacrificed creature was black.
Lyzolda, the Blood Witch Discussion
2 weeks ago
Stop rushing me guys...
Megacomment inbound:
1 month ago
Hi, I'm trying to brew a deck around Lyzolda, the Blood Witch. It's going to be largely board wipes, ramp and big spells I never get to play like Repay in Kind etc. I chose Lyzolda, the Blood Witch mainly because she sacs herself for 2 damage and a card I know there has to be a combo for that to finish the game up. So far I'm thinking artifact ramp, Paradox Engine and Rakdos, Lord of Riots but I was wondering if anyone has any other ways to abuse her I haven't thought of, maybe something with skirk familiar? Anyways any help is appreciated, thanks!
1 month ago
Sorry for the double post, but something just flashed in my mind... Do you think a similar list with Grenzo, Dungeon Warden as the commander could work? I mean, it would certainly not be as glass canon as your list currently is, probably not as fast either, but I think it could still compete...
This idea came when I was wondering which commander to pick instead of the Scorpion God. Grenzo still is a good mana sink, because with infinite mana, we could go on and put our entire deck in the yard. Sure, it would be weak to grave hate, but I will not stop brewing only because of this because a lot of decks in the format are weak to grave hate and can still compete.
I think running Grenzo as the commander would lead to some pretty interesting options. The commander would not be as dead as it is with Lyzolda, the Blood Witch. We could cast our commander early on to get value out of activated ability, even if it is simply filling the graveyrad (the ability reminds me of how Thrasios, Triton Hero can be used when we are not comboing off).
Early game, we simply draw, filter and interact (being in B/R is a good place to be for those things), and we can also ramp using some artifact mana (fast rocks, talisman...). Grenzo is helpful at that point. Mid game, I would say this is where we try to combo off, with the Worldgorger Dragon infinite mana combo. This would put our entire deck in the graveyard, allowing us to have all of our creatures and Dread Return, allowing for some reanimation shenanigans and why not a Necrotic Ooze + Kiki-Jiki, Mirror Breaker sort of combo (not sure yet on the combo finish).
The thing is, imagine we get the combo locked, by some exile or anything... Let's say with your current decklist, Worldgorger Dragon gets exiled... What will you do? That is where Grenzo, Dungeon Warden comes in. He can not simply fill your graveyard to prepare combo, he can also give some value by reanimating creatures to disrupt opponents, such as Magus of the Moon, Sire Of Insanity... (depending on the X vaule, that is). Also, since we are already running a reanimation package, it would be easier to fall back on this strategy even with bigger creatures...
I would like to know what you think about this before conbtinuing to brew, because I would really like for Grenzo to be able to compete a little outside of Doomsday!
1 month ago
I mean, if you have infinite mana due to Worldgorger combo, just play Lyzolda, the Blood Witch. This deck seems to be weakened by its choice of commander, and you can't get infinite draw off of him.
1 month ago
Thanks for the suggestions, I agree with what you said for having too many combos in one deck. I'll redo some parts of the deck now (surprised how Lyzolda, the Blood Witch was in tier 4 XD).
1 month ago
We are allowed to talk about the leaked cards, even the Ixalan ones, just no pictures, no links, and no copy/pasting card text.
The HOU cards can be linked to as normal since they're put out by Wizards and not leaks.
Lilbrudder, It's the biggest leak there's been in while, and apparently yeahGO doesn't want Wizards getting mad at this site the way they did with MTGSalvation years ago.
On another note, while I was just commenting on DiabolicEsper's deck, it occurred to me that Lyzolda, the Blood Witch makes an even better infinite mana commander in Black/Red, since you can sac her to herself to draw your deck and do infinite damage with no extra set up.
What do you guys think, should we bump her out of Tier 4?
1 month ago
Your curve is a little high, and you're overthinking your win conditions.
Think about it this way:
Infinite mana + Walking Ballista = Win
Infinite mana + Your commander + A creature you can kill repeatedly = Draw your deck
If you draw your deck, then you're always going to run into Walking Ballista and you're always going to win. (Altar of Dementia would kill the table at this point too.)
So really, all you need to have a guaranteed win is infinite mana, plus any ONE of the following: Reassembling Skeleton, Tenacious Dead, Relentless Dead, Bloodsoaked Champion, or ANY undying creature.
Geralf's Messenger isn't even necessary for this combo to work. (The 3 black actually makes it a bit more unwieldy than a Pyreheart Wolf or Butcher Ghoul would be.)
That also means that all of the following are win-more and overkill: Mike-and-Trike, Kiki-Zealous, Redcap, Blood Artist, Purphoros, Impact Tremors, Goblin Sledder, Nim Deathmantle, Viscera Seer, Phyrexian Delver, Metallic Mimic, and Doomsday (you don't have support for this).
Cutting all that would lower your curve significantly (making Ad Nauseam work better) and allow you to include more tutors, better draw factor (Dark Confidant), and have back up combos that actually contribute to and synergize with your main strategy.
NarejED once made a great observation about how people think that the more combos they fit in their cEDH deck, the better it is, when really all they're doing is scattering their deck's gameplan, and making sure their combos don't have enough support to be reliable.
That's kind of what you're doing here. You have Worldgorger, an infinite mana combo, Mike/Trike, a counter / damage combo, Kiki/Zealous, a token / combat combo, and then Doomsday with no Doomsday cards. Those couldn't be farther from supporting each other.
Without a doubt you should go with Worldgorger, seeing as it plays so well with your commander, but if you do include a backup combo, it's probably best to go with something else that makes infinite mana, because that really seems to be the heart of this deck, or at least something that takes advantage of Scorpion Bro's counter effect. (My recommendation: just keep Mikaeus and take out Triskelion. Mike + Walking Ballista + sac outlet works just as well, and then everything has a use by itself.)
(Sidenote: It just occurred to me that this infinite mana plan runs super similarly to Lyzolda, the Blood Witch, except she doesn't even need an extra creature to kill. Maybe we should move her up...)
4 months ago
Vial of Blood
Legendary Artifact
General's Weapon(probably better than home for artifacts)- Lyzolda, the Blood Witch
Whenever you sacrifice a creature that is both black and red, ~ deals 2 damage to target creature or player, then draw a card.
Another!
Load more
Latest Commander