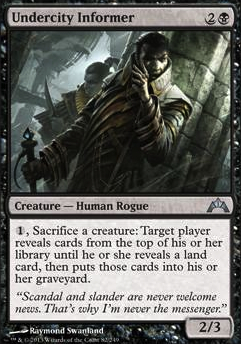 Legality
| | |
| --- | --- |
| Format | Legality |
| Tiny Leaders | Legal |
| 1v1 Commander | Legal |
| Magic Duels | Legal |
| Canadian Highlander | Legal |
| Vintage | Legal |
| Modern | Legal |
| Penny Dreadful | Legal |
| Custom | Legal |
| Leviathan | Legal |
| Legacy | Legal |
| Duel Commander | Legal |
| Oathbreaker | Legal |
| Unformat | Legal |
| Casual | Legal |
| Commander / EDH | Legal |
Undercity Informer
Creature — Human Rogue
1, Sacrifice a creature: Target player reveals the top card of his or her library until he or she reveals a land card, then puts those cards into his or her graveyard.
Undercity Informer Discussion
1 month ago
Hey there! Sorry for the delay. I looked through a ton of black cards, and then have done a bit of playtesting myself. Below is the list I have been refining towards all night.
I agree with your assessment of Bloodline Keeper — awesome card! but not as good in this deck.
In my playtests, I found that I actually didn't need very much card draw. The Priest gave me a little, which was enough. So I completely removed Mask of Memory for more synergistic effects.
This list generally "goes off" turn 6 - 8 and wins straight away.
---
Decklist
Creature (16)
4x Blood Artist
3x Geralf's Messenger
4x Priest of Forgotten Gods
3x Qarsi Sadist
2x Undercity Informer

Enchantment (11)
4x Bitterblossom
4x Bloodchief Ascension
3x Grave Pact

Sorcery (9)
4x Beseech the Queen
4x Collective Brutality
1x Torment of Hailfire

Land (24)
24x Swamp
Maybeboard
Ruthless Ripper
Syphon Life
Smothering Abomination

---
Card analysis
Torment of Hailfire is an amazing finisher if you have lots of mana but are stalled out otherwise. You don't want more than 1x of it, especially since you can tutor for it if need be.
Collective Brutality proved to be one of the best additions to the deck. Early on, you can activate its third mode to help get Ascension counters. Once Ascension is activated, then its discard mode gets the Ascension trigger. It also can kill a creature, triggering all of your death synergy. It's just so flexible!
I cut Grave Pact down to 3 copies, just because it has a higher CMC and you really don't need more than 1 in play (maybe 2 if going against a deck that "goes wide"). Considering you have 4 tutors, this means you basically have 7 copies of it, so you're nearly guaranteed to be able to get it.
I like the addition of Undercity Informer , but he has no stacking effect and doesn't have to tap, so having more than one in play isn't helpful. He also feels like a mid- to late-game play, when you have the extra mana and creatures to sac them all and finish off an opponent.
Geralf's Messenger did some major work in this deck. Absolutely loved getting him. I considered even upping him to 4x. I'm not as in love with Qarsi Sadist , but I was also never disappointed to draw him, as the Exploit sac outlet provided another means to put a counter on Ascension, as well as trigger any Artists or Grave Pacts I may have in play.
Maybeboard thoughts
I was looking at Ruthless Ripper because I think it's very important to get Ascension online as quickly as possible, which means being able to make the opponent lose 2+ life during his turn, not just during yours. Currently, the only instant-speed option is Priest of Forgotten Gods (or an Undercity Informer if you have a Geralf's Messenger with no counter on it or 2+ Artists out). The Ripper provides another instant-speed option that doesn't rely on having another card out. But other than that, there's not any other synergy with the deck. I haven't playtested it, though.
I was considering Syphon Life just for its Retrace ability, which can help in mana flood situations, late game if things are stalling, etc. I haven't playtested it, but again, other than its repeatability (which gives you card advantage), it doesn't do multiple things like Collective Brutality or Qarsi Sadist does.
I would try out a 1x of Smothering Abomination just to give the deck reach if the game goes long. I like the idea of card draw that doesn't drain you life. Since many of your creature deaths will be due to sacrifice, it's almost as effective as Dark Prophecy . And while it costs 1 mana more, it also gives you another creature. Even its downside of forced sacrifice isn't that bad, since you can turn it off at any time by sac-ing itself to its own ability.
5 months ago
I have a similar build, but I have some cards you might find interesting.
Politics: Mathas, Fiend Seeker encourages reckless play. Xantcha, Sleeper Agent is another way as well, plus it gives a mana sink for the whole table to squander mana. I'm testing Varchild, Betrayer of Kjeldor and Krav, the Unredeemed. Oath of Lieges punishes Green ramp and helps the rest of the table catch up. Vizkopa Guildmage gives you a repeatable combat trick to reward opponents. Rainbow Vale is pretty much just like the Humble Defector of land cards. These are some carrots.
Teysa, Orzhov Scion gives a repeatable Vindicate and a deterrent to wraths. High Priest of Penance and Slumbering Dragon are two non-deathtouch rattlesnakes that deter attacks. Ayli, Eternal Pilgrim is a repeatable Vindicate, a rattlesnake and lifegain when you want it. Instigator really looks like fun.
Finishers: Undercity Informer...no one expects it. Helm of the Host...it may not finish a game outright, but it will do some crazy things. Predator Dragon...feed Drogon your extra token creatures and he'll handle the rest.
9 months ago
Since you're already running Mikaeus, the Unhallowed I would recommend also running Triskelion as it is an instant win. While that is the case, you can always choose not to activate it if you're in a group that doesn't like infinite combos or playing a group that is substantially weaker. It is still nice to have a win button for atalled games or douchey players. :
I am quite fond of Greater Good with Meren, and it has served me very well. Altar of Dementia is another card that combos incredibly well. Since you are already running Dictate, you may also consider gravepact. Ramunap Excavator is a creature based Crucible of Worlds which makes it recurrable easily here and let's you grab even more value from your graveyard. If you aren't on a budget, Dark Depths combos incredibly well with Vampire Hexmage which you're already running. I just found Undercity Informer which is another self-mill card I am about to start testing in my own Meren list Super Sadistic Squirrels. Speaking of, I just added Liliana, Heretical Healer Flip to my list. Has she been working out well for you? She seems excellent, but I haven't gotten to test her yet. Have you considered Nighthowler as a large body that could also make Meren lethal? I've been running it since day one and it seems alright. I Also use Altar of Dementia though, so in my list it has a little more versatility. Honestly I am thinking of cutting it, but it may work better in your list if you need sizable creatures. My primary win conditions are two different infinite combos, so it's basically filler from an old list for me at this point. Enjoy the deck! Good luck!
10 months ago
If you want to lower the curve of your deck Attrition, Relentless Dead, Gravecrawler, Undercity Informer, Yahenni, Undying Partisan, Stronghold Assassin and Flesh Carver all help lower your curve, while either giving you more thrulls, or more things to do with your thrulls. If you want mana, Black Market is wonderful, and Expedition Map or Diabolic Tutor can help you find your Cabal Coffers in a hurry.
1 year ago
Thieves mostly use more control and with that mana curve I'd suggest t play less lands.Even if yome cards are at 5 or 4 mana most of those have a prowl cost that makes them cheaper.I suggest Pestermite as an replacement of Deathcult Rogue because it can block still has evasion and becomes unblockable with Tetsuko.And as much as I like Earwig Squad it won't be that good because it can't interact with Tetsuko you should rather counter something with Spell Pierce because it cost little which allows you to cast stuff and also protect cards like Tetsuko from removal. Then you could also switch between creature removal and counterspells (altouch you want counters to get rid of Field Whipes and co.
Merfolk Looter & Undercity Informer is something you should also keep out of your deck. You rather want to go fast with Rogues and Mill isn't something your deck want's to do.
Neurok Commando & Sygg, River Cutthroat are certainly good because of their cardadvantage.
If you want to mill you should put Undercity Informer & Earwig Squad in the same Deck and add rogues token via Marsh Flitter or sacrificing Auntie's Snitch while also including Bitter Ordeal to remove more lands from the Deck. But for such a Deck you rather want 1CMC 1/1 creatures that are hard to block to cast Earwing Squad as soon as possible and sacrifice them later. E.g. Faerie Miscreant (also draws a card if you already have one), Slither Blade or Triton Shorestalker.The Mill version could also use some counters and certainly Noggin Whack to see what your opponent hides in his/her hand and discard dangerous cards like field whipes befor your opponent has a chance to use them.But I guess you're not after the Mill win.
I hope that helps. Always keep in mind that you also want to have cards to prevent your opponent to stop your strategy or to stop their strategy instead ;)
Load more
No data for this card yet.