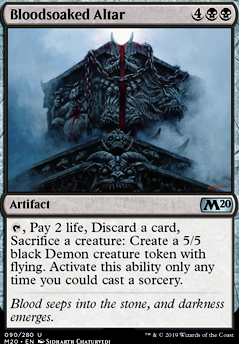 Legality
| | |
| --- | --- |
| Format | Legality |
| Pre-release | Legal |
| Tiny Leaders | Legal |
| Custom | Legal |
| Magic Duels | Legal |
| Canadian Highlander | Legal |
| Vintage | Legal |
| Modern | Legal |
| Arena | Legal |
| Penny Dreadful | Legal |
| Standard | Legal |
| Leviathan | Legal |
| Legacy | Legal |
| Brawl | Legal |
| 1v1 Commander | Legal |
| Duel Commander | Legal |
| Oathbreaker | Legal |
| Unformat | Legal |
| Casual | Legal |
| Commander / EDH | Legal |
Tokens
Bloodsoaked Altar
Artifact
, Pay 2 life, Discard a card, Sacrifice a creature: Create a 5/5 black Demon creature token with flying. Activate this ability only at any time you could cast a sorcery.
Bloodsoaked Altar Discussion
2 months ago
It would be good to remove Temple of the False God , thats not a very good card for your opening hand, its pretty much only good once you already have plenty of mana, and in an Orzhov sacrifice deck you'll want cheap creatures that may or may not even use colorless mana to summon. Evolving Wilds and Terramorphic Expanse are similarly not good for much, you dont have a very big mana fixing issue to put up with in a two color deck so I'd replace those with some basics or some two color lands if your budget allows for some of the better ones. Field of Ruin , Ghost Quarter , and Tectonic Edge are also some cards to consider to help you deal with problem lands. The lack of a need to fix your mana would also lead me to replace Armillary Sphere , Journeyer's Kite , and Wayfarer's Bauble with some actual artifact ramp. Fellwar Stone , Mind Stone , and Commander's Sphere would be great for you. Now that mana is out of the way, Lets talk sacrificing; How are you going to do it and why? As for how, Right now your only way to sac creatures is your commander. that will make it hard to do if your commander gets taken, killed, or otherwise stuck in the command zone. you also want a little more variety as to the effects you get from sacrificing critters. Bloodsoaked Altar just came out with 2020 and it can very quickly make an army of demons out of low cost creatures or even spirit tokens. Ashnod's Altar and Phyrexian Altar also just fill up your mana pool for sacrificing creatures, which will help you cast even more spells. Of course, Yahenni, Undying Partisan can sacrifice creatures like there's no tomorrow and make for a very effective blocker. As for why you would want to sac a creature, you hit that pretty well with Grave Pact and Butcher of Malakir , you can force death triggers to proc for doing something that was already benefiting you. Pawn of Ulamog is a really nice death trigger and so is Black Market , and both of those will net you some serious mana if you let them. The best way I've found is to find cards with "when a creature dies" in the rules text, and there's too many of them for me to list here so I'll direct you to Scryfall.com to find more. Victimize is just one of many ways for sacrificing creatures to help your cause because it lets you get creatures back from the graveyard, and graveyard recursion is something I'd put a lot of thought into here. Eternal Taskmaster is pretty okay with it, and any effect that puts the card into your hand rather than onto the battlefield will dodge Graveyard hate like Ashes of the Abhorrent and Rest in Peace . Phyrexian Delver , Phyrexian Reclamation , Exhume , Animate Dead , and Reanimate are all very good ways to "recycle" your creatures. And of course, as long as you're putting graveyard recursion into your deck, cards like Final Parting , Entomb and Buried Alive are all much better tutors than they otherwise would be. On the whole, if you need to swap cards for new ones, start by cutting the cards in your deck that are CMC 4 or more. Cheap creatures hurt a lot less to sacrifice, and they make Heartless Summoning a much better card. any creatures with Enter the Battlefield effects would be my go to cards to sac and recur.
No data for this card yet.