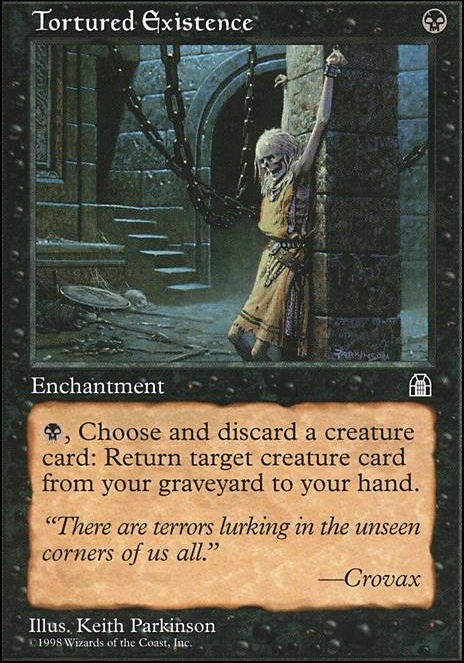 Legality
| | |
| --- | --- |
| Format | Legality |
| Tiny Leaders | Legal |
| Noble | Legal |
| Leviathan | Legal |
| Magic Duels | Legal |
| Canadian Highlander | Legal |
| Vintage | Legal |
| Casual | Legal |
| Pauper EDH | Legal |
| Vanguard | Legal |
| Legacy | Legal |
| Archenemy | Legal |
| Planechase | Legal |
| 1v1 Commander | Legal |
| Duel Commander | Legal |
| Unformat | Legal |
| Pauper | Legal |
| Commander / EDH | Legal |
Tortured Existence
Enchantment
(Black), Discard a creature card: Return target creature card from your graveyard to your hand.
Tortured Existence Discussion
2 weeks ago
Hi friends! I Am looking to buy my Elenda deck and I'm down to 30 cards! If you have any of the following and want to sell or trade, hit me up! Prices are roughly high to low.
I'm posting this in a few different places, so this is liable to shorten at a moment's notice. Thanks!
1 month ago
Maybe? Tortured Existence wouldn't go above and beyond in this deck. At best it can filter out some sort of small creature I don't need for one I want in the yard but the chances that I have a creature that I don't want is pretty small. Having more trample never hurts. I think the Elk would be the only contender.
Thanks for the input!
2 months ago
Hey, consider a few more cards to make Gyrus's token ability better: Fauna Shaman , Buried Alive , Faithless Looting and Entomb ? All these cards are conveniently in last months Ultimate Masters. I choose these suggestions because they give you control over what creatures you put into your graveyard. Hydras with X in their mana cost are not good with Gyrus's token making ability because X will always be 0 when you make a token. Some of the best Hydras however don't have X in their casting cost: Kalonian Hydra, Hydra Omnivore and Hydra Broodmaster.
Consider Riftsweeper ? Rift has an ETB ability which moves an exiled face-up card (any creature you exile with Gyrus to make a token) and puts that card back into your library. This is where Fauna Shaman helps since she can then tutor for that creature you just put back into your library. Or she can tutor for Rift or Witness. Gyrus, Rift, Witness and Fauna can be an engine to repeatedly throughout the game make a token of a creature and put that creature from exile back into your library.
Consider Greater Good ? When you're playing creatures who can have a lot of power (Hydras) then Greater is fantastic repeatable draw/discard. Greater is also a sac/discard outlet to get a creature into your graveyard which improves Gyrus's token making ability. Consider Tortured Existence ? Existence lets you discard a creature without X in it's cost to them recur any other creature in your graveyard. This is good with X CMC Hydras and utility creatures such as Witness and Seeker; creatures you don't want to exile with Gyrus to repeatably use their ETB abilities. Greater and Existence can be an engine with X CMC Hydras to repeatedly draw a lot of cards and recur the Hydra to cast it again.
I have other suggestions, but I'll stop here.
Good luck with your deck.
2 months ago
Hmm, yeah I really like Sire and Mindslicer. Usually I try to set up some recursion and then empty everyone's hand as soon as possible (especially if there is a lot of blue on the table). I guess thats also why I am short on carddraw, as filling my hand goes a bit against this strategy...
Squee is my pet card and he is sooo good with Survival of the Fittest and Tortured Existence that I dont want to loose him.
Hmm I never really considered to cut Genesis (guess its also a bit of a pet card), but it is indeed a bit slow. Maybe a Hour of Promise or Pir's Whim that can search out my Volrath's Stronghold is indeed better. Will also remove Nyx Weaver for Nature's Lore .
Thank you for all the input. I had short look at your decks and especially liked the Thantis deck. Looks like a lot of fun to play! Goblin Diplomats are such a great card! Will have a closer look and try to give some input, when I have more time.
2 months ago
For Karador: consider adding Fecundity, Viscera Seer, and Vampiric Rites for more card draw. I think Ramunap Excavator could go, because I don't see how it helps you all that much, but please explain to me if it does. I think you could cut Twilight Prophet, too. I can see how it would be useful, but all can see how it doesn't add much to what you want to do. You could maybe cut Animate Dead, Dread Return, and Unburial Rites as well. If you want to keep them, then I'd consider running more reanimate cards instead of just those three. Otherwise, just let Karador handle that part of the deck. Tortured Existence is another card to consider to help with Karador synergy.
For Animar: Consider more creature ramp, adding mana dorks like Llanowar Elves, Elvish Mystic, Fyndhorn Elves, etc to ramp out quicker. Zendikar Resurgent could be helpful, as well as Lifecrafter's Bestiary (for both decks). Also consider adding the Signets to help with mana ramp and fixing. I'd drop Hardened Scales. It would be a great card if you had a +1/+1 counter focus, but you don't appear to have that, so it must just be there for Animar, and you can't really tutor for it, and really isn't necessary for your deck to do what you want.
Hope that helps some.
Load more
Tortured Existence occurrence in decks from the last year
Commander / EDH:
All decks: 0.0%