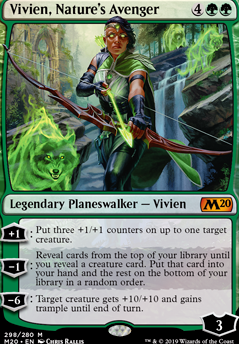 Legality
| | |
| --- | --- |
| Format | Legality |
| Pre-release | Legal |
| Tiny Leaders | Legal |
| Custom | Legal |
| Magic Duels | Legal |
| Canadian Highlander | Legal |
| Vintage | Legal |
| Modern | Legal |
| Arena | Legal |
| Standard | Legal |
| Leviathan | Legal |
| Brawl | Legal |
| 1v1 Commander | Legal |
| Duel Commander | Legal |
| Oathbreaker | Legal |
| Casual | Legal |
| Commander / EDH | Legal |
Vivien, Nature's Avenger
Legendary Planeswalker — Vivien
+1: Put three +1/+1 counters on up to one target creature.
-1: Reveal cards from the top of your library until you reveal a creature card. Put that card into your hand and the rest on the bottom of your library in a random order.
-6: Target creature gets +10/+10 and gains trample until of turn,
Vivien, Nature's Avenger Discussion
1 month ago
Shit I'm on the fence about:
Heroic Intervention , Inspiring Call , and Rishkar's Expertise : are all just okay. Surprise protection &/or draw is cool, but nothing game changing. Heroic is the least synergistic. Inspiring on average draws 2 cards. Riskar's(better for 1v1)could be interchanged with Garruk, Caller of Beasts (better for mp).
Sixth Sense feels weak when it only lands with damage. I debated Keen Sense too, but damage is hardly guaranteed. Inspiring Call , Rishkar's Expertise and Phyrexian Arena take the load atm. Draw still feels lacking.
Idk if I need both Molting Skin and Broken Fall , but they're fun.
Putrefy should switch with Beast Within . People rarely regen. I prefer it over Assassin's Trophy . I'd rather you have a creature over land
Beacon of Unrest can go. I don't have an artifact I'm trying to play. I have enough grave-recursion.
Beseech the Queen is definitely the poor-man's Demonic Tutor ... even then, I'm usually more stoked to Entomb on Brawn or search with Green Sun's Zenith .
Bow of Nylea will never sit right with me. Does a bunch of stuff, none of it blows my mind.
Reyhan, Last of the Abzan is iffy. Creatures don't always have counters to make it count.
Often I get caught up protecting creatures and forget that Skullbriar is totally okay with dying. The deck is built around doing its own thing, but he's always glad to join the party.
I really want the Vivien planeswalkers to be better. They fall short and would better if they traded abilities: Vivien, Arkbow Ranger is close. I enjoy the counters for 4cmc, the other abilities lack. Vivien, Nature's Avenger is waaay to expensive, but has fun abilities.
Dolmen Gate is mulling around my brain. The deck is aggro, so this definitely seems to fit. Is it worth protecting the 1-3 attacking creatures?
I'm starting to appreciate counter-creating cards and sorta want to add Blessings of Nature . I still wish there were better options.
No data for this card yet.