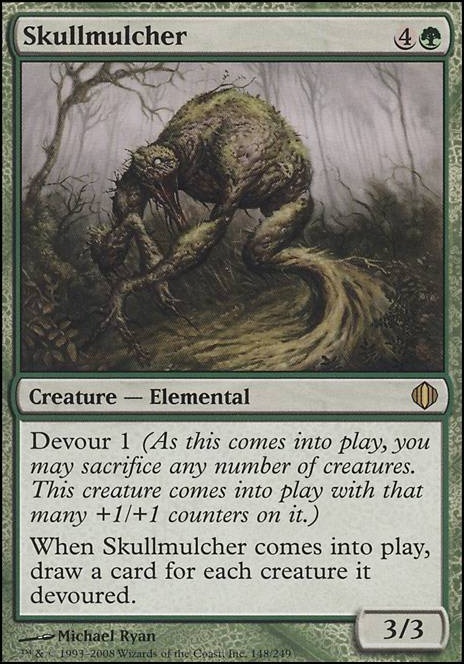 Legality
| | |
| --- | --- |
| Format | Legality |
| Tiny Leaders | Legal |
| Noble | Legal |
| Leviathan | Legal |
| Magic Duels | Legal |
| Canadian Highlander | Legal |
| Vintage | Legal |
| Modern | Legal |
| Penny Dreadful | Legal |
| Vanguard | Legal |
| Legacy | Legal |
| Archenemy | Legal |
| Planechase | Legal |
| 1v1 Commander | Legal |
| Duel Commander | Legal |
| Unformat | Legal |
| Casual | Legal |
| Commander / EDH | Legal |
Skullmulcher
Creature — Elemental
Devour 1 (As this enters the battlefield, you may sacrifice any number of creatures. This creature enters the battlefield with that many +1/+1 counters on it.)
When Skullmulcher enters the battlefield, draw a card for each creature it devoured.
Have (45)

P

h

y

r

e

x

i

a

n

S

c

i

e

n

c

e

,

C

a

s

t

l

e

S

i

e

g

e

,

v

i

s

h

n

a

r

g

, Wleohy , Dsmonsta , rikertchu ,

c

k

l

i

s

e

, admizell , releasethedogs , AllDayTayTay , scare983 , mziter501 , RileySisay ,

X

x

C

a

t

a

c

l

y

s

m

i

C

x

X

,

i

t

h

e

o

r

y

z

, Xunfor6iv3nX ,

F

a

c

e

l

e

s

s

_

B

e

i

n

g

, geazykagar , mandoso ,

S

p

a

r

k

y

4

1

,

s

o

n

n

e

t

6

6

6

, louisjrt , OneEyedKing ,

R

e

g

u

l

u

s

1

0

1

0

,

A

z

d

r

a

n

a

x

, weirdtimes2004 , jrschnoebelen , Mortiferus_Rosa , warcry02 , tragic_slip , ZombieFood , NOGzFTW , Hootiequack , Lindough ,

N

e

m

e

s

i

s

, tangrams , Unjust_DiabIo ,

T

h

e

D

u

g

g

e

r

n

a

u

g

h

t

, thetechzombie , Pelli ,

m

c

s

t

a

n

g

1

9

8

6

,

L

o

r

d

B

l

a

c

k

b

l

a

d

e

,

H

a

l

p

h

i

n

i

a

n

, TypicalTimmy ,

K

i

l

l

D

a

t

B

U

G

Want (128)
DrBonzo , darbodeluxe , Blue_Otaku_No.1 , Supremespeed , Killer_Tofu , sleepy104 ,

L

u

c

k

M

i

s

e

s

a

c

k

, franzferdan , jtaddeo , AAHFI , Sonlin , cdgalucard , TheRedDeath , Cthulhupoof9797 , Xats , Lazysaurus ,

L

o

k

o

t

o

r

, THP88 , CoryDean , buildingadeck , staggolee , epic-jargon , Hayliiel , CommanderBobo ,

2

a

u

s

t

i

n

5

, CarlyRaeJepsenMTG , Nosam , Turtlelover73 , Victorp99 , LoqueNok , dauid , turtlezbehatin , Dienekes , sirvezathebrave , WarIsHats ,

F

u

l

l

m

e

t

a

l

m

a

g

e

, chucklebot , Nerukad , Maelstromface , tomshwag , lastkingofdenmark , david_gaudreault , SlickWizard , Unlife ,

S

h

i

s

h

k

y

B

o

b

, mango_channel , xPixelWitchx , Clockwork_Control , Elementalism , macros , myrmyr , Pandaroon , Intet , nealcm , Egag101 , dackodack , mbatista , eleventhend , oryandaw , jsdk70 , WebbSupreme , Monduck , Vukodlak , Zormok , Xphasmatis , PhantomofNOX , Hakira , instantBuddha , DubbaDub , Dugrim , madpag825 , Aleksey85 , mjbrown901 , sjce , ThePander , Gremyo , xXmememasterXx , Abstraction , aessen , psoliver , zn.tportlock , RobotFishTaco , UniTheDino , snoopywashere , niner80 , EliasZap , Fapalicious , mathimus55 ,

B

u

f

f

M

c

D

e

a

d

l

i

f

t

, Deiaros , grayarchon , drjager21 , +Highrider03+ , dougalops , mzirkle , auriscope , Shadowsaga , PrincessOfMind , ZypherW , Xanderin , JasonD , kovellen , Sky_Ward_Syndicate , Phantom5 , trotz ,

T

i

r

e

d

T

o

f

u

, Doc_TLC ,

f

l

u

f

f

y

b

u

n

n

y

p

a

n

t

s

, Prettyfun , ryaniskool , CrotchRocket , PyRoTheLifeLess , twospires , corys , 1337_Nerd , themccubbins , Legoman18 , mitchellx7 , Waldeaux ,

B

a

l

r

o

c

k

2

1

0

4

, MagnaAura , Cowshogun , iamarobot ,

H

a

w

k

w

o

o

d

, MerkavaIV16 , shivanphoenix09 ,

l

a

n

d

o

f

M

o

r

d

o

r

, MirrorMountain
Skullmulcher Discussion
2 months ago
V2.1 Edits:
Cuts:
Additions:
2 months ago
You're missing one of the best Devour creatures: Skullmulcher. Mana dorks like Llanowar Elves are great in decks like this because they ramp you early on and then later when you no longer need them as much they can serve as sac fodder.
6 months ago
I'd suggest removing these cards:
Brambleweft Behemoth - It's a 6/6 for 6 with trample, yes it's an elemental but there are far better ones, especially for 6 mana.
Drove of Elves for 4 mana, you'd want something stronger than this, it's not an elemental, and the only real upside is that it has hexproof.
Nissa's Encouragement It's not really worth to have, considering that the cards it gets you aren't that great.
Nissa, Genesis Mage there are better nissa walkers out there
I'd suggest these cards:
Ashling the Pilgrim you can build up a boardwipe, and with omnath triggers, you could easily kill everyone.
Briarhorn gives you either a 3/3 blocker with +3/+3 on target creature for a combat trick, or you can evoke it, get the +3/+3 anyways and then you get to deal damage with Omnath.
Brighthearth Banneret makes your ele's cheaper
Fertilid 2 land for 3 + 4 mana instant speed fetch too.
Flamekin Harbinger topdeck Eletutor for 1 mana. Really recommend this card, plus elemental decks are the only decks which can really run this.
Greenwarden of Murasa It's effectively a big, double eternal witness.
Incandescent Soulstroke lets you cheat out an elemental which then gets sacrificed later.
Multani, Yavimaya's Avatar gives you ways to return lands to your hand for more landfall triggers.
Skullmulcher gives some card draw.
Soul of the Harvest I know it doesn't work with all the tokens you make, buuuut it does give draw.
Undergrowth Champion gives you a nigh indestructible blocker so you can go wild with your attacks.
Walker of the Grove gives you a 4/4 ele when it leaves the battlefield.
Akoum Stonewaker gives you a 3 mana Spark Elemental on landfall.
Budoka Gardener gives you extra land draws/elemental generation
Rakka Mar makes Spark Elemental tokens
Chandra, Flamecaller gives you two Spark Elemental per +1 plus gives you a wheel effect with 0 ability.
Flamekin Village gives a creature trample, and is an ele land
Primal Beyond is also an elemental land.
Raging Ravine is also an elemental land
Nissa, Vastwood Seer

Flip fetches a land, plus the walker is nice for landfall.
Skarrg Guildmage makes a land 4/4 for 3 mana
Waker of the Wilds does the same thing.
Cinder Glade, Sheltered Thicket, Stomping Ground are all mountain forests and can be fetched.
Vivien Reid gives some nice card draw.
Animist's Awakening with the amount of ramp you have, you could easily have a massive awakening.
Chord of Calling is a pretty good tutor in green.
Khalni Heart Expedition Gives you moooooore ramp, but more importantly, double landfall triggers at instant speed.
Crop Rotation is an instant speed landfall.
Harrow more instant speed landfall.
Perilous Forays Sacrifice your free landfall elementals for 1 misc, get a tapped basic, and another elemental.
Sakura-Tribe Elder for more instant speed landfall.
Scapeshift gives so many landfall triggers its a fantastic card in this deck. Extra props if it's paired with The Mending of Dominaria
Tireless Tracker gives you 2 mana card draw for landfall.
Maybeboard:
Embodiment of Fury + Embodiment of Insight if you want to go down an awaken line, this card may be interesting.
You could also go down the land destruction line with Faultgrinder Ember Swallower
Forgotten Ancient can be a real all star when buffing up your board.
Grave Sifter could be a nice include to let you replay elementals, but considering that people are bringing tribal decks, maybe not.
Elemental Mastery makes 1/1 tokens, but to get the real bang for its buck, you'll need to sacrifice the tokens to Ashnod's Altar
If you went down the burn route, Hostility would be a fun card.
Rite of the Raging Storm is a pretty fun card in multiplayer.
Sylvan Awakening is okay, and pretty funny to kill someone with 2/2 lands.
Eternity Vessel Can make you live forever
Indomitable Creativity you can destroy your own elementals to get other creatures.
Kamahl's Druidic Vow upside is that you can get heaps of lands, downside is that you don't have /that/ many legendary permanents.
Constant Mists will protect you from damage all the damn time.
If you wanna be super mean, Tectonic Break to destroy everyone's lands, except that you'd have way more lands out than anyone else. Boom // Bust Destructive Force Devastating Dreams From the Ashes Thoughts of Ruin Tremble Wildfire
9 months ago
Welcome to commander! Since you're new to the format here's some general principles to keep in mind moving forward:
Commander is (with the exception of deliberately competitive groups) a slower format than any other out there. The doubled life total coupled with multiple opponents changes the game from "deal 20 damage" to "deal 120 damage to 3 opponents," all of whom will be building and playing decks with that in mind. If you aren't building to combo out you need to have efficiency and endurance in mind.
Endurance means you need to think long term; build up a mana base to case the kind of spells that will really swing the board in your favor in the mid to late game. Ramping is important; Cultivate is a solid choice since it gives you 2 cards for 1 and puts you a land drop ahead. Kodama's Reach is identical and worth running. Conditional ramp spells like Harvest Season look great on paper, but tend to fall on their face in practice. Not only do you need the creatures in play, you need them to not be summon sick and either tapped from an ability or having survived attacking. Odds aren't good that that you're gonna be able to beat 2 lands (or even manage 1) on turn 4, which is where you wanna be on your curve for dropping your general. You'll probably be better served with other ramp staples like Skyshroud Claim and Worn Powerstone.
Efficiency means sweepers and value. You play one card and get many cards, or your opponents lose many cards. Take Decree of Pain as an example, which is a casual EDH bomb. ETB triggers are great, whether they're giving you a valuable trigger for a common event like Aura Shards or trading the instant they drop like Bane of Progress. Your deck is built to make sacrificial creatures so triggers that give you value for sacrificing your less valuable creatures for an effect like Skullmulcher or Victimize are particularly valuable to you, as are triggers that watch for creatures entering the battlefield or dying like Dictate of Erebos.
Disruption is important, EDH decks are built around synergy and when they get rolling they really get rolling. Night Soil is a good, intuitive choice because, as endurance is so important, recursion is really prevalent in EDH. Cards like Bojuka Bog are coveted for giving you graveyard hate in a land drop. Aura Shards as I already mentioned is invaluable if you're playing a creature heavy deck, if no one at the table can stop an opponent's Birthing Pod or Doubling Season in a timely manner the game is going to go south quickly. Ideally you can answer them in a way that pays itself back like your single Aura Shards or Wrath of God blowing up many targets, but of course you're gonna need some spot removal tool. To that end you either want highly versatile, like Beast Within, or super cheap and going better than "destroy", like Swords to Plowshares or Tragic Slip.
It's late so I'm gonna leave it at that for now, I'll come back around late for some specifics.
9 months ago
I think:
Sandwurm Convergence -> Multani, Yavimaya's Avatar because Multani is an elemental and lets you get more land drops with his second ability.
Oran-Rief Hydra -> Rampaging Baloths because creating 4/4 dudes per land throws more power on the board than boosting one dude by 1 or 2.
Akoum Hellkite -> Embodiment of Insight because it's an elemental that makes your lands elementals; more fodder for Omnath.
Scute Mob -> Fires of Yavimaya because you need haste, not a random dude that doesn't really do anything.
Yavimaya Elder -> Incandescent Soulstoke because it's an elemental anthem that also lets you cheat in elementals at instant speed that then bolt with Omnath.
Abundance -> Skullmulcher because you need to draw more cards, and Abundance doesn't actually net you cards.
Omnath, Locus of Mana -> Sylvan Safekeeper because you want to be using your mana, not saving it, and Safekeeper can protect Omnath from spot removal.
Westvale Abbey Flip -> Stomping Ground because Westvale Abbey is illegal in your deck because Ormendahl is a black card. It sucks, but it's the same reason why I can't put Archangel Avacyn

Flip in my Karametra, God of Harvests deck.
Commander's Sphere -> Crucible of Worlds because Crucible can get you lands, but the Sphere does not.
Zendikar's Roil -> The Mending of Dominaria because you have a lot of lands that sac themselves, Mending can get them back while also possibly recurring creatures from the grave.
Harmonize -> Life's Legacy because you will net more draws and get an Omnath trigger on the stack as well.
Other cards to find room for: Barrage of Expendables, Caldera Hellion, Hammer of Purphoros, and Evolutionary Leap.
9 months ago
Dragon Broodmother kann nicht dein Commander sein, Alternativen fuer ne Lifegain / Token / Devour Strategie waeren:
Empfehle ausserdem Karten die nix mit dem Lifegain / Token / Devour Theme zu tun haben (wie z.B. Flameblast Dragon, Radha, Heir to Keld etc.) zu replacen:
Laender:
10 months ago
Deadly Tempest seems a weird card choice for a saproling deck, virtually any other board wipe would be a better deal.
You can also go infinite with Illusionist's Bracers and the Ashnod's Altar.
If you have a spare Doubling Season there is no reason not to include it over Primal Vigor. You can run them both.
Heartstone maybe?
More card engines, I always try to include at least eight of them. The usual suspects for me are Deathreap Ritual, Shamanic Revelation, Skullmulcher, Disciple of Bolas, Phyrexian Arena, Seasons Past, Vampiric Rites...
I'd add some board pumps as win conditions in order not to depend just on Ashnod's Altar, it can be removed or countered. Overwhelming Stampede, Beastmaster Ascension, Triumph of the Hordes, Bloodspore Thrinax or Craterhoof Behemoth, all of them are solid cards.
To make space I'd drop the thallid theme (keeping Psychotrope Thallid as card engine), it doesn't feel strong enough, but if you still really want to go with the thallids I'd add Winding Constrictor.
I would also cut Champion of Stray Souls and Verdeloth the Ancient.
Load more
Skullmulcher occurrence in decks from the last year
Commander / EDH:
All decks: 0.0%
Golgari: 0.02%
Gruul: 0.04%
Jund: 0.04%