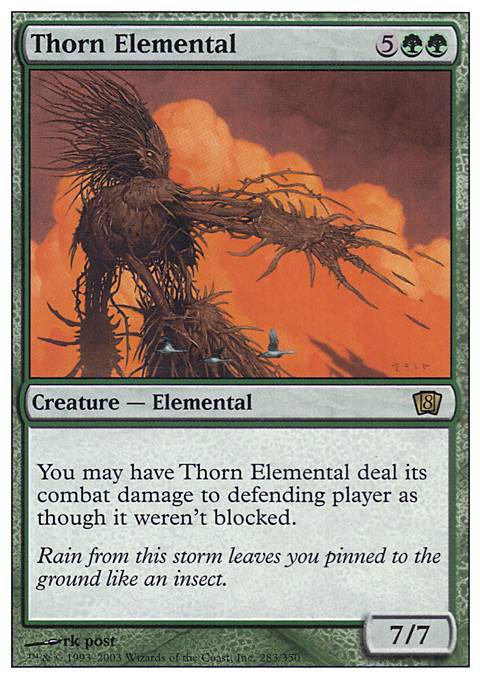 Legality
| | |
| --- | --- |
| Format | Legality |
| Pre-release | Legal |
| Tiny Leaders | Legal |
| Frontier | Legal |
| Vintage | Legal |
| Penny Dreadful | Legal |
| Custom | Legal |
| Commander / EDH | Legal |
| Noble | Legal |
| Magic Duels | Legal |
| Brawl | Legal |
| Standard | Legal |
| Arena | Legal |
| 1v1 Commander | Legal |
| Canadian Highlander | Legal |
| Vanguard | Legal |
| Leviathan | Legal |
| Planechase | Legal |
| Duel Commander | Legal |
| Unformat | Legal |
| Modern | Legal |
| Legacy | Legal |
| Archenemy | Legal |
| Casual | Legal |
| Oathbreaker | Legal |
Thorn Elemental
Creature — Elemental
You may have Thorn Elemental assign its combat damage as though it weren't blocked.
---
DOM
8ED
7ED
DOM
8ED
7ED
S99
Thorn Elemental Discussion
6 months ago
Love the concept! gota couple suggestions, figured I'll accordian them to keep from filling up the whole page.
6 months ago
Yes, it would deal 6 damage. 3 damage in the first strike combat damage step and 3 more in the regular combat damage step.
It would require trample. Once an attacker is blocked, it stays blocked even if the blocker gets removed. The only way a blocked creature can deal combat damage to the defending player is if it has trample (or something like Thorn Elemental 's ability).
11 months ago
berryjon - I was a big fan of the 7th Edition Starter set, which is how I was first introduced to the game. It contained a number of very useful tools for a new player:
Two 30-card preconstructed decks that were in a predetermined order, as well as guides on how to play each deck, and step-by-step instructions of the plays to make on the first couple turns.

A rulebook.

A CD with demonstrative games, some online tools, and a list of all the 7th Edition cards.

A foil copy of one of the most Timmy-friendly creatures in the set - Thorn Elemental.
It was a great way to teach new players the game. I would love to see them bring back the "do not shuffle, follow these steps so you can play the first couple turns and get the gist of things" decks.
11 months ago
There's not much of this effect in the game, and even less that grant it to other creatures. Outmaneuver is the only one I can find that hasn't already been listed. Otherwise we just have creatures that inherently do this, such as Thorn Elemental, Tornado Elemental, Rhox, and a few others that are markedly less good that these three.
Another option to push damage through is just to get deathtouch and trample on your attackers. Bow of Nylea with something like Primal Rage or Brawn generally makes your creatures not even worth blocking.
1 year ago
OUT: Thorn Elemental, Gruul Ragebeast, Molimo, Maro-Sorcerer, Sunbird's Invocation, Forest, Hunter's Insight
IN: Dragonlord Atarka, Scourge of the Throne, Deus of Calamity, Selvala, Heart of the Wilds, Dust Bowl, Greater Good
Load more
No data for this card yet.