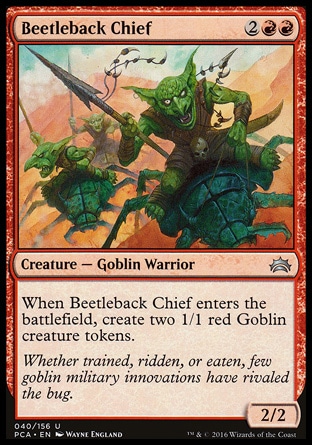 Legality
| | |
| --- | --- |
| Format | Legality |
| Pre-release | Legal |
| Tiny Leaders | Legal |
| Magic Duels | Legal |
| Vintage | Legal |
| Penny Dreadful | Legal |
| Casual | Legal |
| MTGO | Legal |
| Leviathan | Legal |
| Legacy | Legal |
| 1v1 Commander | Legal |
| Duel Commander | Legal |
| Pauper | Legal |
| Commander / EDH | Legal |
Tokens
Beetleback Chief
Creature — Goblin Warrior
When Beetleback Chief enters the battlefield, put two 1/1 red Goblin creature tokens onto the battlefield.
Beetleback Chief Discussion
1 week ago
Switching to English, thanks Tappedout.
None of the following recommendations/cuts are as important as they were with Karametra, since this deck is built on a solid ground and only needs a better defined game plan.
You have three archetypes to choose from, and you should focus on one or two of them. Trying to build all three will be too inconsistent.
Aggro - win by dealing 40 damage to everyone through combat damage and Purphoros/Blood Artist effects. Alesha is used to punch things and reanimate token producers/anthems/beaters.

Control - win by taking care of threats and staying relevant until late game where you outvalue whoever's left. Alesha is used less for combat damage and more for reanimating value/removal.

Combo - win by assembling an infinite combo. Alesha is mostly just there as a backup plan in case a combo piece is stuck in the graveyard.
I would recommend going for either aggro-control or combo-control.
Utter End - being able to target anything is very strong
Duplicant - one of the best creature-based removal cards
Wear / Tear - similar to Duergar Hedge-Mage but casts for 1/2 when you really need it, or a two-for-one for 3 mana at instant speed
Rakdos Charm - instant speed graveyard hate, or cheap removal, or a way to kill someone who's going wide and is about to win
Painful Truths - very good card draw in 3 colors
Toxic Deluge - the best creature board wipe in the game
Merciless Eviction - amazing against artifact decks, amazing against enchantment decks, amazing against reanimation decks, amazing against indestructible and very good against everything else
Chromatic Lantern, Commander's Sphere, Coalition Relic and Darksteel Ingot - good mana rocks for 3, prioritize from left to right
Fellwar Stone and Talisman of Indulgence - good mana rocks for 2
Animate Dead - reanimation for 2 mana is just too good to pass up on, fun with Sun Titan
Path of Ancestry - it's a strictly better Nomad Outpost
Ash Barrens - 1 mana for colorfix can help many bad hands, and lategame it's an untapped land
Mana Confluence and City of Brass - worth it when you're 3 colors, the lifeloss rarely matters but being able to play out your hand does matter
Clifftop Retreat - only checkland you're missing
Hanweir Battlements - colorless land is not great when you're 3 colors, but haste on Alesha is strong
Fervor - good source of haste, not as easy to remove as Lightning Greaves
Key to the City, Reconnaissance, Maze of Ith and Iroas, God of Victory - good way to keep attacking with stuff
Siege-Gang Commander and Ponyback Brigade - many tokens for just one ETB, deals 8 damage with Purphoros, God of the Forge for each cast/reanimation
Beetleback Chief and Pia and Kiran Nalaar - less tokens but still playable
Ankle Shanker - good for getting damage past blockers
Zulaport Cutthroat and Blood Artist - useful when going wide and repeatedly reanimating stuff, makes board wipes hurt
Harsh Mentor - very strong hatebear, can stop some game plans entirely
Mirror Entity - strong anthem when most of your deck is power 2 or less
Mother of Runes - protection can either make one of your creatures unblockable or protect one of your creatures from spot removal
Drana, Liberator of Malakir - decent anthem for cheap
Purphoros, God of the Forge and Impact Tremors - useful when going wide and repeatedly reanimating stuff
Noosegraf Mob - up to 5 2/2s per turn and can be reanimated with Alesha
Enlightened Tutor - good for getting Skullclamp when you need card draw or Purphoros, God of the Forge when you need damage
Swiftfoot Boots - an extra pair of Lightning Greaves
Cathars' Crusade - very strong anthem when going wide
Behind the Scenes - good way to get past blockers, pump is expensive but can be done after assigning blockers which is neat for getting damage through
Elspeth, Sun's Champion - playable either for the board wipe or to get 3 tokens per turn depending on board state
Fiend Hunter - can perma-exile stuff repeatedly with sacrifice or protect one of your own creatures from a board wipe while getting an extra ETB
Key to the City, Reconnaissance, Maze of Ith, Iroas, God of Victory and Whispersilk Cloak - good way to safely get Alesha triggers and get cards in the graveyard without losing card advantage
Ayli, Eternal Pilgrim - decent way to get stuff into the graveyard while still getting value out of them, also good chump blocker
Liliana, Heretical Healer Flip - a pretty good planeswalker that's a creature in the graveyard and can be reanimated
Hope of Ghirapur - can repeatedly stop or at least slow down a lot of decks
Sin Collector - one of few ways non-blue decks can deal with board wipes and huge swingy instants/sorceries
Feldon of the Third Path - slow without haste but a very strong effect once online
Leonin Relic-Warder - not as strong as Fiend Hunter but still useful in the same ways
Sunforger - lets you tutor up the most relevant removal and protection spells at instant speed, also get Mistveil Plains if you add this to get stuff back into your library
Strionic Resonator - works for double attack triggers with Alesha or double ETBs with anything else
Vampiric Rites - one of few sac outlets that provide solid value from its own effect
Flameshadow Conjuring - lots of extra value for only one mana per creature
Panharmonicon - doesn't work with some of your creatures, but solid value when it does
Assemble the Legion - decent wincon when your opponents are running out of gas
Elspeth, Sun's Champion - playable either for the board wipe or to get 3 tokens per turn depending on board state
Wayfarer's Bauble - not as fast as mana rocks but not as vulnerable against board wipes, good when aiming for slower wins
Fiend Hunter - combo with sac outlet + Karmic Guide or Sun Titan
Anafenza, Kin-Tree Spirit, Cathars' Crusade and Solemnity - combo with sac outlet + Murderous Redcap
Murderous Redcap - combo with sac outlet + Anafenza, Kin-Tree Spirit, Solemnity or Cathars' Crusade
Geralf's Messenger - combo with sac outlet + Solemnity
Viscera Seer, Carrion Feeder, Altar of Dementia and Goblin Bombardment - free sac outlets, the latter two can also weaponize most infinites
Zulaport Cutthroat and Blood Artist - weaponizes any sac-based infinite
Purphoros, God of the Forge and Impact Tremors - weaponizes all your infinites, lets you win with Kiki-Jiki, Mirror Breaker combos without having to go into combat
Mother of Runes - for protecting your combo pieces or sometimes making Alesha unblockable
Living Death - when you have enough combo pieces in the graveyard, resolving this usually lets you win on the spot regardless of which creatures your opponents get to return
Enlightened Tutor - another tutor for finding wincons
Village Bell-Ringer - combo with Kiki-Jiki, if you don't care about creatures being power 2 or less there's also Combat Celebrant, Zealous Conscripts, Restoration Angel and more
Archetype of Finality - way too expensive
Palisade Giant - generally worse than a creature with "When ~ enters the battlefield, you gain 7 life", which you wouldn't want to run in the first place
War Priest of Thune - can't hit artifacts, would never want to reanimate it over other targets
Mortify and Return to Dust - good removal cards but you have better options in your colors
Diabolic Tutor and Gamble - 4 mana is a bit much for a tutor and the card disadvantage on Gamble combined with the fact that you might discard non-creature combo pieces makes it questionable
Meekstone - pretty stupid to disable your own commander, not really beneficial to your game plan since it lets slower decks build up board state while no one can/wants to attack
Also, come up with a better title and description and try to keep your online list up to date with your deck IRL.
1 week ago
Cyfer: Siege-Gang Commander has a slot in my deck only because he is pretty good at 2 different things, rather than being amazing at one.
His most direct comparison is Beetleback Chief. They both tie into Purphoros, God of the Forge really well, they both can be copied with Kiki-Jiki, Mirror Breaker, but Siege-Gang is unique in that he has a (heavily) costed sac ability. Because it is an activated ability with a cost, it can be copied with Rings of Brighthearth or Illusionist's Bracers (if you are desperate), and he is not even on the radar when opponent's know you run Purphoros and Impact Tremors. Of the 25+ times I have cast him, I don't think he's ever been the target of spot removal, which just means you get to surprise people later with the last bit of damage to need to finish someone off. The cost of the sac is a lot less noticeable later in the game when you have no cards in hand and nothing to spend the mana on, haha. Admittedly though, I don't use his sac ability much, but it's why he edges out Beetleback Chief for me.
Being able to free-cast him with a Goblin Lackey, Warren Instigator, or a Moggcatcher also helps to justify the include.
I wouldn't call him a game changer in any regard, but he has been a solid play every time I cast him, even just based on the bodies alone. I just make it a habit with all my creatures that, with Ib out, at the worst each one is still worth 4 creature damage during an attack. As you probably already know, this deck snowballs in really awkward ways, and sometimes it just takes a handful of tokens.
1 month ago
A swarm of raptors could also simply be a Beetleback Chief style of card. Maybe a 2/2 body that brings 2x 2/2 token with it for 6 or mana
3 months ago
Hey DieKnowMight! It looks like you have a lot of suggestions going on here. I'm no expert on Mardu commanders, but I have a few suggestions!
Magus of the Disk is a cheap wipe that can be brought back by Alesha, as is False Prophet. (He doesn't exile himself, as he is dead.)
Elspeth, Sun's Champion has a wipe on her -2 that replicates the wipe people have been recommending to you.
Dolmen Gate is pretty solid, acting as damage negation similar to Iroas.
Cathars' Crusade acts similar to Gleam of Battle by giving counters. It's considered a commander staple for white, I would suggest picking up a few.
Mother of Runes is another way to protect your commander and can be used offensively to get a free swing in as well!
Stronghold Assassin goes 1 for 1 on creatures with your opponents, worthwhile since you can the creature he sacrifices and him if he dies.
Beetleback Chief is similar to Ponyback Brigade.
Balefire Liege could be useful, but unfortunately, Ashenmoor Liegeand Deathbringer Liege have a power of more than 2.
Oreskos Explorer helps search for lands if you are playing against ramp.
Legion Loyalist gives your tiny guys trample, but more importantly ignores tokens.
Flesh Carver drops a big token after he dies and can sacrifice things.
4 months ago
So if you're looking for removals, I'll copy paste the same format as my former post here, reasons and all.
I'll skip over any of the cards that TearsInRain23 already covered (with two exceptions) as he already did a great job explaining why they shouldn't be run.
Exert Creatures: These guys seem great for standard, but their smaller-scale effects don't translate well to a drawn-out commander game. The fact that they Crippling Chill themselves is just icing on the sad cake. Champion of Rhonas is the exception here, but there's only really the Stonehoof Chieftain worth pulling out, which means you exert champion maybe twice all game?
Beetleback Chief: I've actually got a replacement in mind for this guy, and his name is Mardu Strike Leader. The tokens Strike Leader generates are warriors, unlike the goblin chief, and he does it by doing something you were goin to do with him anyway.
Prowling Serpopard: I except with a Superfriends and Atraxa deck at the table, that counterspells will be common, so why limit it to just creatures? My ideal card to slot in here would be Vexing Shusher. Sure it costs mana, but it uses up enemy resources, and makes all of your spells uncounterable in essence.
Elixir of Immortality: Stalls out a game you're likely about to lose anyway. Elixir is the worst possible panic button you could put in. If you really must have a card that gives you back your hand Creeping Renaissance, and Praetor's Counsel do a fine job.
Somberwald Sage: Just like with the Serpopard, I'll simply give a replacement, rather than cover what Tears has already explained quite well. My replacement of choice this time is Shaman of Forgotten Ways. The reason should become obvious when looking at his Formidable ability. This will nine-times out of ten win you the game, unless you have no creatures.
Ash Zealot: Unless you're playing against a storm deck, or Dralnu, Lich Lord, nobody is casting spells from their graveyard.
Now to completely ruin all that hard work I did suggesting removals, I'll throw some more suggestions. Assume all my old suggestions stand, and that I automatically agree with all of Tears's Suggestions. My goal here is extra reach, so that's what these cards aim to supply.
For reasons why, just follow me from the top of the list to the bottom.
Kiki-Jiki is on here because you're running both Zealous Conscripts, and Combat Celebrant with him and either of the two mentioned cards out on the field, you have infinite tokens to abuse.

Rabblemaster fills up the Beetleback Chief slot if you don't like Mardu Strike Leader. He's also a warrior, although he doesn't make them.

Gisela is what every creature deck wants to end up playing. Unless she dies immediately, she will get some damage done for you.

Really just Mardu Strike Leader's big brother. Also, his name is really awkward to say, and I think it's funny.
If you've made it through the sea of cards, and what I think of them, then I thank you. Hope this helps, even if only a bit, and I wish you the best of luck.
Load more