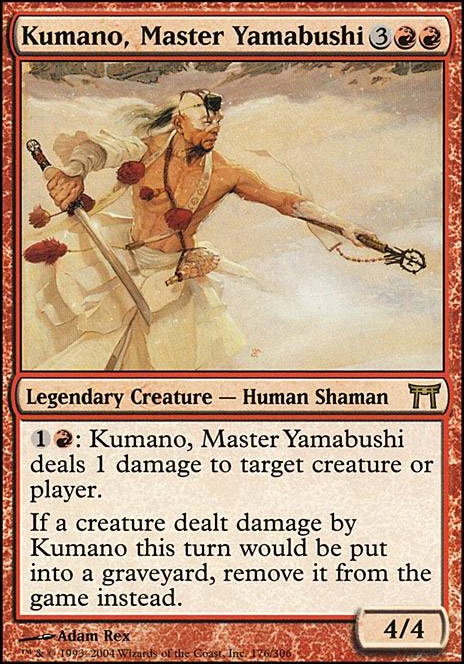 Legality
| | |
| --- | --- |
| Format | Legality |
| Noble | Legal |
| 1v1 Commander | Legal |
| Vintage | Legal |
| Modern | Legal |
| Casual | Legal |
| Vanguard | Legal |
| Legacy | Legal |
| Archenemy | Legal |
| Planechase | Legal |
| Duel Commander | Legal |
| Unformat | Legal |
| Pauper | Legal |
| Commander / EDH | Legal |
Kumano, Master Yamabushi
Legendary Creature — Human Shaman
(1)(Red): Kumano, Master Yamabushi deals 1 damage to target creature or player.
If a creature dealt damage by Kumano this turn would be put into a graveyard, remove it from the game instead.
Kumano, Master Yamabushi Discussion
1 month ago
Stop rushing me guys...
Megacomment inbound:
2 months ago
Was thinking about Mana Flare, but as u said, it help my opponents too. But if I ever get one, Ill definetly try it out to pump my mana and end the game in one turn.
Actually, if I take a closer look, it might work better than damage doubler (cheaper and giving 1 more damage with R(X) burns), so I might really consider cuting one and fit it in!
About Braid of Fire, I even got this card, but unlike in my Kumano, Master Yamabushi deck, I dont really have enough mana sinks to use this mana in upkeep.
Thanks for suggestions and upvote Love-in-Theory
4 months ago
I feel like Tajuru Preserver, Loaming Shaman, Vexing Shusher are very specific for the main deck and should probably be used in the sideboard against mill, stax, and counters. I also think that Kumano, Master Yamabushi is a drain on your mana that doesnt fit with the fast pace. Eternal Witness is mostly better suited for decks playing more spells and 3 mana for a 2/1 is weak compared to the other creatures.
With that being said, red decks run Lightning Bolt almost as an auto-include. Burning-Tree Emissary fits persectly with your ramp and I feel like having some more cheaper creatures would be great for early game. Shaman also is not the cheapest tribe, so while you do have Bosk Banneret, I feel like Urza's Incubator would do very well. Rakka Mar adds a faster aspect for the deck, and Signal the Clans is always some fun. Hope this helps! I could see this struggling with turbo fog, and if you run into board wipes you're not gonna have a fun time.
As for me, I'm very excited for GotG2, but more so for the Pirates of the Caribbean 5! I love those movies so much. My life has been all right, there isn't too much news from up in Maine. You?
4 months ago
Really good decks start out with a solid idea and evolve over time and play testing. Here's some ideas based on my experience.

Cards to consider (in no particular order):
Ugin's Nexus to keep people from taking extra turns.
Goblin Welder for artifact recursion. Even if they counter something like the Nexus or Contagion Engine.
Jester's Cap is great at ripping combo decks apart by removing key components. It also works well with the Goblin Welder.
Bonehoard is better than Nightmare Lash in multi-player games as it sees everyone's graveyard.
Grafted Exoskeleton really should be in this deck to help push the infect theme and make any creature a significant threat.
Infiltration Lens, for the card drawing. The defender chooses to either take the damage or allow you to draw two cards.
Skithiryx, the Blight Dragon also should be in this list.
Kumano, Master Yamabushi as an alternate win conditions via direct damage. With the Grafted Exoskeleton it's a short game.
Fallen Ferromancer, Frostwielder, Spikeshot Goblin, or Prodigal Pyromancer to get around those pillow fort opponents.
Kaervek the Merciless to make it hurt for those combo players.
Virulent Swipe as a better creature pump spell. The rebound means you get twice the effect out of one card.
World at War is another extra combat phase card. Also rebounds.
War Elemental can get huge. When paired with a Surestrike Trident it becomes a quick way to kill a player each turn.
Loxodon Warhammer for tample and life gain. Any creature in the deck is better with a Warhammer. Spikeshot Goblin is really fun with the Warhammer.
Relic Putrescence could be fun on someone's mana artifact.
Cards to consider cutting from the list:
Anthem of Rakdos deals too much damage to you. Per Gatherer: "The first ability triggers once for each creature you attack with. If you attack with three creatures, for example, theyll each get +2/+0 and youll be dealt 3 damage." Horrible when you have multiple combat phases per turn.Talisman of Indulgence should be a Rakdos Signet so you don't take as much damage.
Lashwrithe is too conditional on your lands in play.
Nightmare Lash same problems Lashwrithe.
Thunderscape Familiar and Nightscape Familiar don't promote your theme and are not strong enough on their own to be worth having on the field. If you really need the mana reduction, you're better off with more land cards.
Scorchwalker is a mediocre creature and a crappy pump spell. There are too many better creatures.

These cards are all single creature pumps that don't help you at all if an opponent plays a Wrath of God or similar effect. One-shots are nice against a single opponent, but not in multiplayer.
Haze of Rage, Reckless Charge, Tormenting Voice, Balduvian Rage, Brute Force, Enrage, Reckless Spite.
The X mana pump spells are really bad because of the mana choices that playing them forces on you each turn. Leave mana open for the X pump spell or play another card? Not worth it.

May be worth cutting unless you don't have a better option:
Inquisitor's Flail is a maybe. This one is kinda a tough choice. I would cut it for a better card but leave it in if your budget or collection doesn't have another option.
Bonesplitter is another mediocre card that's only good if there isn't a better option.
Swiftfoot Boots and Lightning Greaves The haste is nice but they are really only good against spot removal. I would leave these in until you need to cut them to make room for better cards.

Obviously, temper these suggestions with your collection and budget. Feel free to check out my decks and let me know what you think of the ideas.
4 months ago
Ah, I forgot about the Kiki-Jiki, Mirror Breaker interactions with Sakura-Tribe Elder. I agree that Rampant Growth may be the better card to cut with Kiki-Jiki in mind.

Yes, Ulamog, the Infinite Gyre will shuffle the entire library back into the deck. And I use him for that same purpose too.
But the Loaming Shaman is a 3/2 that sticks on the battlefield after shuffling the graveyard back in. It also interacts well with Kiki-Jiki since it isn't legendary. But I do see why it may not fit into your playstyle or deck concepts.


Oh Deadeye Navigator.....
Ok, this is more of a metagame choice than a card choice. Since there are great articles on the issue, please look over:
http://www.starcitygames.com/article/31541_The-Most-Overused-Commander-Cards.html
http://www.mtgsalvation.com/forums/the-game/commander-edh/204075-scd-deadeye-navigator
and
http://magicgatheringstrat.com/2015/03/the-five-cards-that-should-be-banned-in-commander/
(Sorry, still have not gotten links to work for me in comments.)
So, short version. A lot of people are looking to get Deadeye Navigator on the banned list because he is TOO combo enabling and kinda broken in all of the wrong ways.
Once he hits the table, most groups are going to immediately assign you as the biggest threat at the table. It stops being fun when you keep getting knocked out of games because everyone works against you.So, if your play group is ok with using/abusing the Navigator, then feel free. He does combo well with a lot of the cards you have. Just keep in mind that the Navigator also ends up warping decks to maximize/abuse the ETB triggers he can spawn.
If you look at my Brago flicker deck Did you see that? you'll see that the Navigator is absent. That card would be great in that deck. But it would paint a bigger target on me than I want. So, as a metagame choice, I didn't use it.
I recommended Temur Sabertooth based on these ideas. Yes, you have to recast the bounced creature. But the Sabertooth doesn't paint a giant "kick me" sign on your back.
You still have the option of blocking then bouncing. The smaller creatures like Eternal Witness, Mystic Snake, and Wood Elves aren't that bad to recast. Also, the indestructible aspect lets you look at Blasphemous Act as a board wipe to replace the All Is Dust.

Glad that you like the Kumano, Master Yamabushi. I've had a few games where people have locked down the table with either Ensnaring Bridge or a Isochron Scepter with Fog. I've won games just on dumping as much mana as possible into his ability to ping players directly. And it is nice exiling pesky creatures.

So, I started looking back over your list. Here are some simple but effective ideas:
Elvish Visionary for the card draw. Also works with nicely with Kiki-Jiki.
Conquering Manticore as an additional flying 5/5 version of Zealous Conscripts. Having another flyer doesn't hurt.
Acidic Slime could give you an option to deal with things like an opposing Maze of Ith. I think this may be the better option.
Mulldrifter nets you two cards for 3 mana.

If you feel like it, take a look over some of my decks and let me know what you think.
4 months ago
First of all thank you very much for your advice. I appreciate it!
I'm not sure if I need Loaming Shaman in long games, because this deck is very strong in lategame and has plenty of options then. And Ulamog, the Infinite Gyre helps keeping my library full. But I understand your point of view and getting to choose what cards to reshuffle is definitely interesting. I will keep thinking about this option :)
Kumano, Master Yamabushi is not bad at all. This would be a good opportunity to use excess mana end of turn and get rid of all annoying creatures like Gaddock Teeg. And I like Kumanos style.
I'm sorry, but I dont like Temur Sabertooth very much. Bouncing creatures and playing them again costs so much mana and speed. But what do you think about Deadeye Navigator? I don't have to pay the mana cost again and would benefit immediately. The downside is: I can only pair one creature.
Maybe I will change like this:
I think cutting Rampant Growth rather then Sakura-Tribe Elder is better because I can still chumpblock, copy Sakura and can instantly decide what land to fetch.
Thank you for commenting!
4 months ago
I think Loaming Shaman would give you some graveyard recursion what wouldn't hurt. It gives you an option for the long games.
Temur Sabertooth would give you a way to bounce your ETB creatures like Mystic Snake and Eternal Witness. And it has good synergy with the Frontier Siege
Kumano, Master Yamabushi has always been good to me. Gives me a solid beatstick with exile capability. Just ping a creature for 1 damage and it gets exiled instead of hitting the graveyard.

I saw your note about asking if there was enough, too little, or too much mana ramp.
I keep thinking that the Sakura-Tribe Elder, while a really good card, may be the "too much" mana ramp card that doesn't fit right. You aren't using any "whenever a creature dies" triggers to get more out of him than a basic land and a chump blocker. The Wood Elves can fetch up any of the Forest shock lands for color fixing.

So I would make these changes to add a little more synergy:
-1 Sakura-Tribe Elder
-1 Mind's Dilation
-1 All Is Dust
+1 Loaming Shaman
+1 Temur Sabertooth
+1 Kumano, Master Yamabushi

Please don't think that it was easy for me to make any really useful recommendations. You have a great deck and I think you've done a awesome job.
Load more
Latest Commander