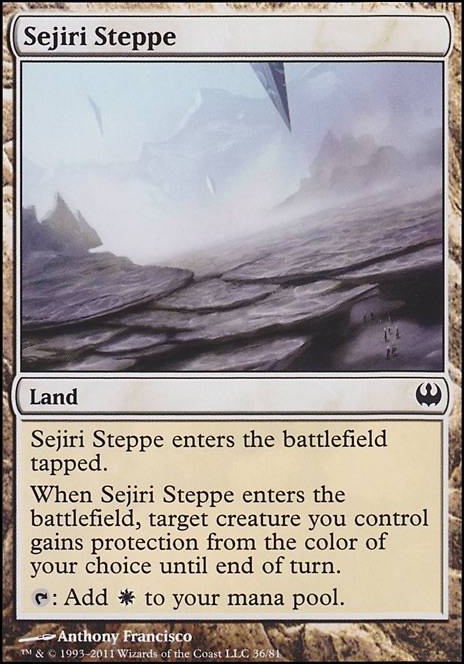 Legality
| | |
| --- | --- |
| Format | Legality |
| Pre-release | Legal |
| Noble | Legal |
| Leviathan | Legal |
| Magic Duels | Legal |
| Vintage | Legal |
| Modern | Legal |
| Vanguard | Legal |
| Legacy | Legal |
| Archenemy | Legal |
| Planechase | Legal |
| 1v1 Commander | Legal |
| Duel Commander | Legal |
| Unformat | Legal |
| Pauper | Legal |
| Commander / EDH | Legal |
Sejiri Steppe
Land
Sejiri Steppe enters the battlefield tapped.
When Sejiri Steppe enters the battlefield, target creature you control gains protection from the color of your choice until end of turn.
Tap: Add W to your mana pool.
Sejiri Steppe Discussion
1 month ago
Chopwood,
Thanks for advice! Let me comment on each of those:
About
Light from Within
- thing is, I used to use
Elspeth, Knight-Errant
but she gave me boost to only one creature, while Light gives a little less but to every knight I have. Also that little blocker sometimes wasn't enough so I buffed my royal army to use them as a shield, especially with spells like
Brave the Elements
Anyway, thanks for help, I really appericiate that, hope you like this deck :)
3 months ago
Let me start by saying that I think you have a great theme and you've done a great job of sticking to your theme elements.After going over your list, here's the recommendations that I think might help you.

Cards to take out (to get down to 100):
Golem Foundry is just a weak card. It is kinda nice getting a golem token for casting 3 artifacts, but I've never been happy playing that card. It always ends up feeling like a waste of board space.
Metalwork Colossus is really nice, but with all of the vehicles and other creatures, it seems kinda mana intensive and you're not really working on a sacrificing artifact theme.
Blinkmoth Urn is symetrical, meaning it helps you opponents as much as it helps you. Yes, you may have more artifacts than them, but do you really want to give your opponents free mana? And they get that free mana before you do.
Darksteel Juggernaut is a great card in a draft, or in another deck where you're primarily focused on attacking each turn. But the requirement of attacking each turn makes this card feel like it doesn't fit.
Sram's Expertise is cute, and I understand why it is in the deck but a few 1/1 tokens seems kinda weak for this deck.
Chief of the Foundry helps out the vehicles, but not the dwarves.

Those initial cuts gets you down to the 100 cards for Commander. Now to make the deck a bit stonger.
These changes might help make your deck more resilient againt various opponents. Obviously, you'll need to temper these recommendations with your collection, budget, and local metagame.

I'll start with lands. Nine (9) out, Nine (9) in.
Take out:
Spinerock Knoll, Better in a combo deck.
Shinka, the Bloodsoaked Keep, Not enough legends
Wind-Scarred Crag, Boros Guildgate, and Stone Quarry come into play tapped. You have too many lands that come into play tapped and it slows you down.
Drifting Meadow, Forgotten Cave, Secluded Steppe, Smoldering Crater, the cycle lands are nice in a deck with lots of graveyard recursion or when you're focused on cycling cards. But you're deck isn't set up for those things and these are just more lands that enter the battlefield tapped and slow you down.
Kabira Crossroads for it. The 2 life usually isn't enough in Commander games to make a big different.

Put in:
4 Plains
2 Mountain
Sejiri Steppe is something to consider. And the Boros Garrison makes it better.
Move the Rugged Prairie and Sacred Foundry to the mainboard from your maybe board.
Don't ignore the plain old basic lands. Even if you just use a couple of each. You never know when an opponet will play a "Every seach for a basic land" card and you're left out of the party.

I would also consider Holdout Settlement and Springleaf Drum to help take advantage of Depala, Pilot Exemplar's ability to load your hand with creatures and vehicles. Remember that you can tap a creature with summoning sickness to activate the Settlement or the Drum since you aren't activating the creature's ability.
Lightning Greaves is a tough card to consider. Yes, it is a great card. But does it really help that much? You aren't themed around equipment. I would drop in in favor of something that helps more often.

One-shot effects like Built to Last and Built to Smash are not really good in a multiplayer game.

I hope these suggestions help give you some ideas. Let me know what you think. Feel free to look over my decks and let me know what you think of the suggestions.
3 months ago
Hello and thanks for the upvote!
Game 2 sideboard plans depends on the deck, but generally it goes:-2Cystbearer +2 Corpse Cur-1 Groundswell +1 Predator's StrikeI usually worry more about Edict effects, since I only have Khalni Garden for protection. Disfigure and cards like it can be countered by pump spells. Terminate I haven't seen and I don't believe is widely played.
2.Pulse of Murasa is meta dependent, I think.For example, my local paper meta MBC is still a thing. So Pulse wouldn't help much in that matchup, because they have more removal than I do creatures post-board. But I could be wrong. I just don't think that the deck is built to really grind out games on purpose.
I don't think the toolbox lands are meta dependent. Although Halimar Depths has been overall lackluster. The ability to look at the top three cards and arrange them is nice, but not being an actual scry effect is sometimes a feel bad. It might become a Sejiri Steppe in the future, or just another Forest.
4 months ago
Thank you for your praise, I am really proud of my primer and its been my main project for so long. My next goal is to figure out how to make text colored so I could start making sections like "sacrifice" or "discard" which will make the lists more process-able.
wombatula I know of a few powerful legacy Golgari decks. The main premise of these decks is the use of turn 1 discard (Thoughtseize or Inquisition of Kozilek) disruption like Pithing Needle, Phyrexian Revoker, or Surgical Extraction and green for land ramp (Sylvan Scrying or Crop Rotation). It's important to have a good finisher in this kind of deck, which can easily be a set of Wurmcoil Engines for modern or 4 Vampire Hexmages and 4 Dark Depths with Not of This World support for legacy. Abrupt Decay or Maelstrom Pulse will be important additions based on whether you need hard removal or not, I would highly suggest the former if your meta is competitively fast and has dirty blue players.
Many legacy and modern STAX decks go for a full artifact plan (often called mono brown) which is very strong but a hard investment $ wise. This version is the cheaper path, focusing on ramping up for a win condition with Elvish Spirit Guides, Lotus Petals and land search along the lines of the ramp cards I mentioned above while removing, disabling, and forcing discards. If your win condition is a land Dark Depths being the best example, then cards like Thespian's Stage and Crop Rotation gain immense value as they can become or search up niche items like Wasteland, Bojuka Bog, or even a Sejiri Steppe to give the Marit Lage or a Wurmcoil Engine the evasion it needs to kill.
I hope this was helpful, for more 60 card stax advice I would look at the site MTGtop8 or look up "mono brown stax" for other examples. Finding specific Golgari ones can be difficult so I tried to give you as much advice as I could.
Load more