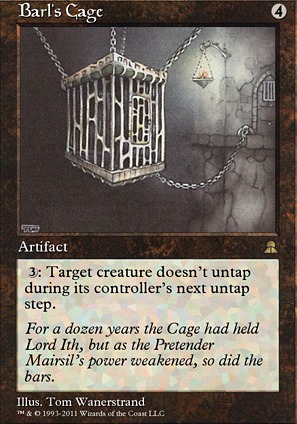 Barl's Cage
Artifact
: Target creature doesn't untap during its controller's next untap step.
Browse Alters
View at Gatherer
Legality
| | |
| --- | --- |
| Format | Legality |
| Tiny Leaders | Legal |
| Noble | Legal |
| Leviathan | Legal |
| Magic Duels | Legal |
| Canadian Highlander | Legal |
| Vintage | Legal |
| Oldschool 93/94 | Legal |
| Vanguard | Legal |
| Legacy | Legal |
| Archenemy | Legal |
| Planechase | Legal |
| 1v1 Commander | Legal |
| Duel Commander | Legal |
| Oathbreaker | Legal |
| Unformat | Legal |
| Casual | Legal |
| Commander / EDH | Legal |
Barl's Cage Discussion
1 year ago
Pikobyte The idea reminded me of so many cool games that I could not help myself writing you down a novel!
And I totally understand your point. Always seeking for more ''competitiveness'' fastly becomes boring and kills all the fun of EDH. That's why I dismantled Hokori in the end - even if it was solid and flavorful, it was just too disruptive and unfun to face for other players.
If you like cards that we rarely see, give a try to Barl's Cage . I only tried it once in a control-ish Azorius Taigam, Ojutai Master deck and I was amazed by its potential. It's still pretty much a funny card, and isn't too disruptive either.
If you feel like you're still lacking card draw, there are multiple viable options you don't actually run. As mentioned in my previous comment, Dawn of Hope is likable. Armistice is playable and good at politics. Alms Collector is a suitable meta depending tool. Tamiyo's Journal , Book of Rass (the book basically is a non-black, lot worse, Erebos/Greed) are both a bit expensive for their respective effects, but they're also effective if you really need that.
---
If you don't mind giving it a look, as I'm looking for some feedbacks to ameliorate my own brews, here's the last of my EDH decklist I updated on this site : Ishai and Ludevic
1 year ago
Hey there!
Nice brew, neat idea to counter those clunky and annoying Vannifars!
As smne who played Mono-W Stax for a while, with the amazing Hokori, Dust Drinker at the helm, I'll share with you what thoughts inspire me your sweet Linvala decklist.
(Even if it has already been pointed out before, I wanna say that I also love the Urborg combo. It's unexpectable and freakin' gud!)
Let's start by the beginning: mana fixation. Extraplanar Lens is insane in every monocolored archetype, so it's a quite logic inclusion you made here. Nonetheless, I suggest you to go for Snow-covered lands to synergize better with it - that way you won't give a lift to your opponents playing white.
Pearl Medallion and Sol Ring are basics, nothing really worth to say about it. Thran Dynamo and Worn Powerstone are more debatable. I don't know what is your budget issue, but if you want a competitve list, Mana Crypt , Mana Vault , Grim Monolith , Mind Stone , Everflowing Chalice etc. are all better options. Dynamo and Powerstone aren't bad cards, but they just come after those ones if you really do need a solid ''ramp'' package.
Opal Palace feels badly slow and ineffective in a monocolored stax deck. You won't win the game by taking up the board with your creatures armed of a little +1/+1 counter.
You have notable exclusions in your lands for a mono-white. Eiganjo Castle is the first card that comes through mind. Buried Ruin also is a recursive tool you should consider, even over Inventors' Fair . If you manage to find one, Ancient Tomb has its place there replacing Temple of the False God .
At its final shape, my Hokori decklist was running a powerful Crucible of Worlds package including Wasteland , Strip Mine , Dust Bowl , Flagstones of Trokair , Lotus Vale and City of Traitors . I was up to 39 lands, not counting Maze of Ith .
Now let's jump straight into your gameplan!
So... you're planning to focus your eyes on ruining Vannifar's day. To help with this strategy of being the nasty ''combo killer'' guy, I think you should put in some additional pieces of disruption.
That said, I don't know which Vannifar's version(s) your playgroup perform with. If it's a Thornbite Staff / Intruder Alarm one, things would be easier to calm down and you won't need such a heavy stax package - you'll need more single-target/multi-target removals though. And if it's the other one, certainly the most popular now (and also the most powerful/absurd), based on many shenanigans around the creatures Vannifar brings to the table, you'll need more stax support.
One of the very best cards you could add to stop all those creature-centered combos is Humility . This card is broken, this card is stupid. It even disables etb abilities. The only way your opponent has to go through is to destroy it with a creatureless source / or with a ''casting'' effect (like Ulamog has).
Single-handly, Humility tears apart most of the competitive Vannifar lists. However, based on the fact that it is still fragile to enchantments/permanents removals, you'll have to build a defensive shield for your stuff. Vannifar lists often keep a strong package of cheap permanents' removals in their pocket (like Beast Within for example), so you'll need to play carefully.
There's a lot of different ways you can head in order to reinforce your permanents' presence on the battlefield. A pretty simple and most of the time effective, despite of its ccm, you already included is Avacyn, Angel of Hope . I think you still lack a way to cheat her casting cost out to make her a stable and destructive power house.
Stax ''enchantment'' strategy is imo one of the most viable and solid strategy. With Academy Rector (amazing alongside your High Market ), you'll be able to search the exact piece you need to lock the game in your favor.
Notable stax exclusions :
Other cards to consider :
A bunch of meta depending stax tools :
Cards I'd cut from your list :
Finally, as you want to challenge Vannifar, which is a blue deck, you'll need something to deal with the classical Cyclonic Rift . Teferi's Protection is a good solution (and it could also protects you form a lot of various situations / removals / etc.), but I'm sure you can find a lot of other response.
I hope you'll find useful ideas in this comment. Thanks a lot for sharing this, it reminds me good times. Keep up the good work, keep up brewing!
3 years ago
Been thinking about a few other cards with Horibo synergy. Mainly colourless cards that target creatures:
Lands
Shizo, Death's Storehouse. Produces

. With Horibo,


to kill target commander.
Urborg. Produces

. With Horibo

to kill.
Cabal Pit. Lifeloss, but an additional removal spell with Horobi at Threshold.
Maze of Ith\Mystifying Maze, go from defensive to tappable kills.
Tower of the Magistrate. Useful protection into a kill.
Artifacts
Echo Chamber. Copy their creature and kill it at the same time. Opponent chooses the creature.
Helm of Chatzuk. With Horibo


to kill target creature. No real utility without.
Baton of Morale\Sacred Armory. With Horobi

to kill target creature. No real utility without.
Thran Forge. Higher cost, better utility.
Power Matrix. Without Horobi powers up one of our or opponents creatures. With Horobi becomes a

Murder.
Soldevi Golem.

5/3 that kills a creature when it untaps
Serrated Arrows.

for 3 x murders.
Sentinel. Kills pretty much anything it can block with Horobi out.
Crenellated Wall. Blocker.

to kill a creature with Horobi.
Contagion Engine. Potential wrath and Planeswalker boost.
Clockwork Hydra. 4/4 for

. With Horobi takes a creature with it when it attacks or blocks.
Belbe's Armor. With Horobi,


kill. Without, boost a creature on defense.
Barl's Cage.

cmc cost, but a useful effect in Horobi's absence.
Grim Poppet.
cmc for 3 x Murder at instant speed and a potential 4/4 blocker.
Erratic Portal. Tappable Murder with the ability to bounce our own creatures back to recur ETB effects.