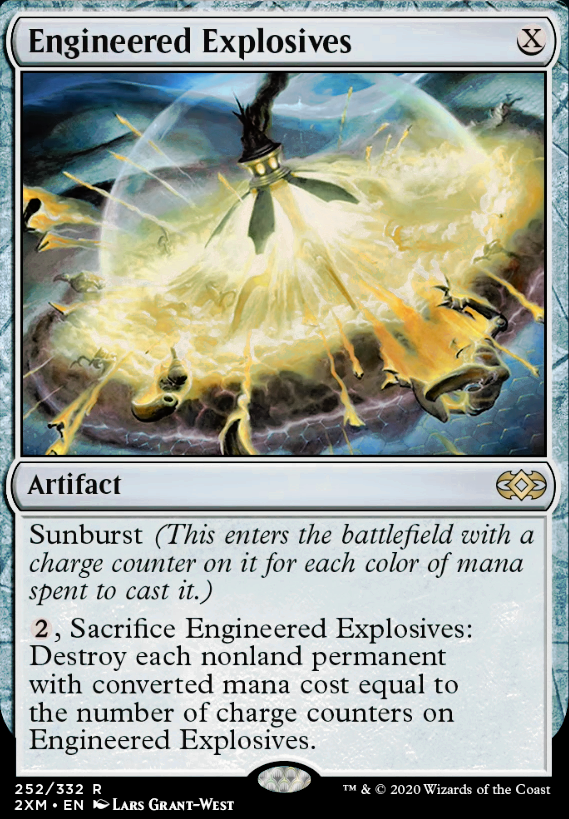 Engineered Explosives
Artifact
Sunburst (This enters the battlefield with a charge counter on it for each colour of mana spent to cast it.)
, Sacrifice Engineered Explosives: Destroy each nonland permanent with converted mana cost equal to the number of charge counters on Engineered Explosives.
Latest Decks as Commander
Engineered Explosives Discussion
1 month ago
You can always just have bounce affects for non-cast spells, containment priest also does well. You could also just try supreme verdict or even a Engineered Explosives. I dont recommend tri lands as they enter tapped which makes things harder for you. The only tapped land id recommend is Celestial Colonnade. The control shell really makes the deck more powerful.
As for the changes id recommend going down to 2 Dragon's Rage Channeler, and cutting delver. 4x Emry, Lurker of the Loch seems much better. A spicy Thassa's Oracle might be possible elastically if you have remand plus scepter.
Ive seen some decks run Unholy Heat which might help you out.
some decks run Mox Amber but only do that if you have 8 legendary cards in deck.
Serum Visions can also help you get the card advantage you need to win match ups.
Underworld Breach could help you recycle your burn spells to give your deck reach.
Mana is hard i wouldnt run more than 3 basics. Maybe even 2.
Here is a side board you might want to consider, i put the prices by the cards incase you wanted to look it up. (tapped out isnt always accurate in that regard). Sideboard [15] 1 Prismatic Ending $5.49 1 Blossoming Calm $0.25 1 Sunset Revelry $0.69 1 Torpor Orb $20.99 1 Monastery Mentor $18.99 2 Defense Grid $22.99 2 Blood Moon $19.99 2 Flusterstorm $37.99 2 Tormod's Crypt $0.49 2 Wear/Tear $3.49
1 month ago
Minor Sideboard update: Engineered Explosives is back in (use Ratchet Bomb if your budget's tight) due to the influx of The Underworld Cookbook food spam decks.
swapped 1 Dragon's Claw for a Crippling Fear just to have a one-sided boardwipe. I really want 2 claws but I already have Collective Brutality for burn as well, so 3 slots devoted to a matchup that used to be a nightmare but is more manageable with Aetherborn and Sorin. Hitting with a flying+lifelink 7/6 Nocturnus on turn 4 is not uncommon here. I cut Ashiok because I was already running 4 spellbombs for my graveyard hate. If I don't keep Crippling Fear, either I'd toss in a third Abrade or possibly a Kolaghan's Command or Dreadbore given the larger role of walkers in current modern. Or even my old favorite, Rakdos Charm. That card is incredible.
1 month ago
TL;DR: I want to make Turbo Fog better, but I'm not sure how.
I like the philosophy of Turbo Fog, and I've had some success with it in FNMs and casual tournaments. I'm trying to push it up into at least low-tier competitive, but I think it's gotten left pretty far behind. It hasn't really gotten any new toys recently to get it above casual tables.
Basically, Turbo Fog is a control deck that tries to avoid taking any damage by neutralizing the opponent's attacking creatures and avoiding or removing harmful spells. It's a similar line of thought to Lantern Control or prison decks.
Starting with the Fog part, there are a few ways to go. Spore Frog and Kami of False Hope are cheap creatures that are easily searched and recycled, but there aren't many other creature options. The old-school method is instants like Darkness and Ethereal Haze, but while they have more options, they don't have as many ways to search or recur them, with Isochron Scepter and Snapcaster Mage probably being the best. Finally, there are the enchantments and artifacts. Leyline of Sanctity takes care of a lot of the non-damaging effects, Ghostly Prison is good but offers a workaround, and Ensnaring Bridge needs a little too much dedicated support, in my experience. Turbo Fog isn't big on emptying its hand.
Next up is the Turbo. The traditional draw engines are Howling Mine and Phyrexian Arena, and Stormfist Crusader is a mixture of those two. The Royal Scions and Jace Beleren provide some Planeswalker support. Teferi, Hero of Dominaria does pretty much everything a Turbo Fog deck wants.
For removal, I generally look at all-purpose stuff, like Abrupt Decay, Assassin's Trophy, and Counterspell. The Fog effects provide pseudo-removal against attackers, so it's the utility creatures and other effects that pose problems. All the same, a good Supreme Verdict is always welcome. Engineered Explosives and Nevinyrral's Disk are other mass removal options.
Finally, and most importantly, the win condition. The three main approaches I've seen and/or tried are draw damage, semi-passive mill, and simply attacking with a big creature. For the draw damage, there's cards like Fevered Visions, Runeflare Trap, Fate Unraveler, basically anything that might see use in a Wheels EDH deck. Semi-passive mill comes from symmetrical drawing, while recycling cards through Blessed Respite or Elixir of Immortality. For big creatures, my headliners are Kefnet the Mindful and Sigarda, Host of Herons--5 power, evasive, and hard to kill. Honorable mention goes to Nexus of Fate, just to completely lock out the opponent.
I've poked through a lot of cards and tried a lot of variations, but I'm still not sure I'm not overlooking something. It's very color-heavy, but every color offers a unique option that's hard to replace in at least one category. I'm currently leaning toward or . Of course, it may just be unable to compete at a higher level with the tools it has now. What does Turbo Fog need to get into the competitive boards?
2 months ago
Once you're comfortable with the deck, we should start looking into constructing a sideboard.
4x Nihil Spellbomb is some of the best graveyard hate around, followed by Grafdigger's Cage and Ashiok, Dream Render or if 3 mana isn't a problem, Go Blank.
Artifact hate is a little more tricky without red, I'll get back to you on that.
For anti-tokens, good options are Ratchet Bomb, Engineered Explosives, and Liliana, the Last Hope.
Anti-Tron and/or anti-land: Damping Sphere, Fulminator Mage.
Card that does a little bit in a lot of matchups: Pithing Needle
Extra planeswalker hate: Vampire Hexmage and a bunch of other stuff printed recently like Murderous Rider.
Extra hand disruption against combo decks: Duress, Surgical Extraction
Anti-Hatebears: Torpor Orb
And there are plenty of other options. Artifacts are particularly useful if you need a card for certain matchups that your color (monoblack) isn't good at handling on its own.
3 months ago
Karn, the Great Creator might fit in here, since you could put 1x Liquimetal Coating in the sideboard and essentially tutor for it with his -2. His passive just lets you eliminate activated abilities when you make things into artifacts, and you can even land destruct (or anything 0 cmc) with his +1 since it will make them into 0/0 creatures. If you decide to go that route, you should put low cost silver-bullet artifacts in the sideboard as well.
For example, there's Damping Sphere / Grafdigger's Cage / Relic of Progenitus / Engineered Explosives which could all do well as wish targets and are just useful sideboard cards in general.
3 months ago
Vow of Lightning, Titan's Presence, Scour from Existence, Oblivion Stone, Karn Liberated, Engineered Explosives, Walking Ballista, Universal Solvent, Crushing Pain, Firecannon Blast, Rough / Tumble, Unholy Heat
3 months ago
Engineered Explosives is actually quite strong right now. EE on 0 wipes rhinos and karnstructs. So many decks play aggressive 1 drops, so EE on 1 can wipe half of Hammertime's board or DRCs and Ragavan's etc.
About the card suggestions, not running 3-4x Prismatic Ending is a mistake. Right now it is one of the most important reasons to splash white in both rock decks and BR shells, along with Kaya's Guile.
Some additional new threats are Dauthi Voidwalker and Tourach, Dread Cantor.
Load more