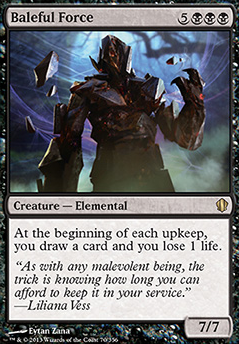 Baleful Force
Creature — Elemental
At the beginning of each upkeep, you draw a card and you lose 1 life.
Latest Decks as Commander
Baleful Force Discussion
4 months ago
Hey Walrighti, +1!
Congrats on your first deck! You have a lot of fun cards in here and it looks great! I imagine you want to tune and make it even more efficient so here are some ideas...
Add 3 categories: #Combo, #Lifegain, and #Evasion; and then sort your maybeboard the same way you've done your mainboard to easily rank your choices within a category (By "combo" I mean all your "if-then" cards like Trudge Garden that are slower and don't work by themselves). Remove #Creatures (most of them are #Combo).
Avoid most cards above 4 cmc... Willowdusk is fast and fragile, so play into that... Also, prioritize cards that can do 2 or more things or that give value on ETB... If you have pet cards that don't really fit and that hurt to cut, put them in a "I'll build that theme later" list.
...Always play at least 10 ramp spells under 3 cmc.
...Playtest and make sure Willowbark consistently makes a fatty (with evasion) before turn 6-7.
Here's another Willowdusk thread.
Happy building :)
10 months ago
Last_Laugh I see you did some quick math.
So, since you are playing Sultai, some reanimation strategies and their creatures are really useful. Reanimate and Exhume are the best in the game, alongside Animate Dead and friends. The reason why these are good is because if you manage to reanimate a big threat quickly and start cloning those threats, even if the threat is removed you probably have a million copies of it.
Grave Titan is powerful, with the potential to end games by itself if left unchecked. If you have lots of copies, however, you could win in 2-3 turns easy.
Ulamog, the Ceaseless Hunger's mill ability is very strong, even in commander. A few clones and you got the game in the bag.
Baleful Force and similar cards are very good, giving you lots of card advantage.
Sower of Temptation just gets really mean with clones. (At the same time, it gets impossible to track who stole what, or, more accurately, what stole what. Now, where's my hat?)
Cloning a Gray Merchant of Asphodel will close a game.
Avatar of Woe can prevent your opponents from playing magic, and good ol' Blightsteel Colossus is going to lose you all your friends plus one.
Gilder Bairn, Maulfist Revolutionary and proliferate cards are very good with counters, getting scary quick. Heroes' Bane is such a cool card, and it's always funny seeing someone grow their hydra into mega thicc mode. I did this, and ran out of dice. I borrowed the store's dice, but they ran out too.
Finally, Branching Evolution and Primal Vigor are must removes.
Based on the comments above, I'm sure the deck will turn out to be very good, and you might even lose a friend or two when playing magic!
1 year ago
Have you ever though about cutting Baleful Force? 8 mana is rough in a CEDH environment.
2 years ago
Suggested Cuts and Inclusions
While I tried to make cuts and suggestions relevant (e.g. replace ramp with ramp), many of them are arbitrary. Feel free to ignore or swap with other suggestions!
Other useful inclusions
Load more