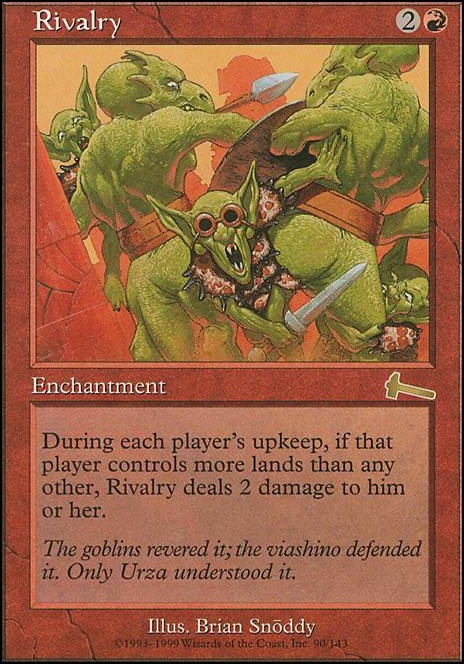 Legality
| | |
| --- | --- |
| Format | Legality |
| Tiny Leaders | Legal |
| Noble | Legal |
| Leviathan | Legal |
| Magic Duels | Legal |
| Canadian Highlander | Legal |
| Vintage | Legal |
| Penny Dreadful | Legal |
| Custom | Legal |
| Vanguard | Legal |
| Legacy | Legal |
| Archenemy | Legal |
| Planechase | Legal |
| 1v1 Commander | Legal |
| Duel Commander | Legal |
| Oathbreaker | Legal |
| Unformat | Legal |
| Casual | Legal |
| Commander / EDH | Legal |
Rivalry
Enchantment
At the beginning of each player's upkeep, if that player controls more lands than any other, Rivalry deals 2 damage to him or her.
Rivalry Discussion
2 years ago
alright, so I did some more digging - I've been kicking around a similar deck idea for a while. here's some of the stuff you might be interested in:
Pain for everyone:
Citadel of Pain, Copper Tablet, Power Surge (read the errata for this one, it makes more sense, Shadows of the Past, Pyrohemia, Pestilence, Dark Suspicions (or Bulwark, depending. kinda mutually exclusive), Rivalry, Skullcage, Wheel of Torture, Iron Maiden and Circle of Affliction
No creatures for You!
Death Pits of Rath (which couples well with Pyrohemia and Pestilence from earlier), along with Circle of Flame, Heat Stroke, Magmatic Core, Mudslide, Wave of Terror, War's Toll, Storage Matrix, and Noetic Scales.
Punishment and protection
Pia's Revolution, War's Toll, Bitter Feud (kinda a furnace of wrath - but only for those two against each other), Defense Grid.
probably some stuff in here you considered already, just figured I'd sift through this stuff and see if anything was to your liking
2 years ago
The only things I found even close to more cards like those are Tectonic Instability, Invader Parasite, Overabundance, Scald, Storm Cauldron, and Vorinclex, Voice of Hunger.
Most, if not all of those, are not exactly the type of cards that seem like they would be all that powerful in the deck you're building... However, maybe among the following cards, you might find cards you like that are close enough to that strategy: Avatar of Fury, Gift of Estates, Knight of the White Orchid, Land Tax, Oreskos Explorer, Rivalry, Surveyor's Scope, Tithe, Weathered Wayfarer, Acidic Soil, Carpet of Flowers, Ignition Team, Price of Progress, Power Surge (This one is really the only one that I really like...), and Primal Order.
3 years ago
Here are 60+ cards that affect each player. Find the ones that don't hurt your deck and give them away.
Gifts with mouse-over view Show
No data for this card yet.