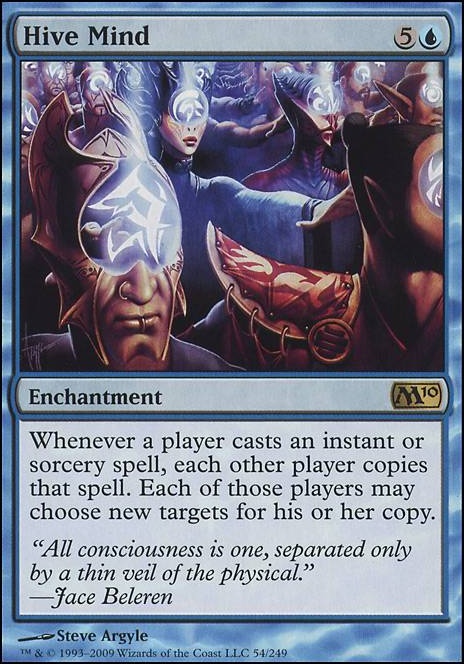 Legality
| | |
| --- | --- |
| Format | Legality |
| Noble | Legal |
| 1v1 Commander | Legal |
| Vintage | Legal |
| Modern | Legal |
| Casual | Legal |
| Vanguard | Legal |
| Legacy | Legal |
| Archenemy | Legal |
| Planechase | Legal |
| Duel Commander | Legal |
| Unformat | Legal |
| Pauper | Legal |
| Commander / EDH | Legal |
Hive Mind
Enchantment
Whenever a player casts an instant or sorcery spell, each other player copies that spell. Each of those players may choose new targets for his or her copy.
Hive Mind Discussion
2 days ago
no problem
so here we go with the others
first off seriously how come Platinum Angel isn't here? its a safety net
i notice Hive Mind is a card so this cycle should helphttp://gatherer.wizards.com/Pages/Search/Default.aspx?action=advanced&name=+%5Bpact%5D&set=%7C%5B%22Future%20Sight%22%5D
Epic struggle
Biovisionary
Laboratory Maniac
Near-Death Experience
Mayael's Aria
Chance Encounter
just one thing Krark's Thumb
Darksteel Reactor/Azor's Elocutors/Helix Pinnacle
note: only proliferate
Celestial Convergence
two things Hex Parasite and Vampire Hexmage but i want to point this out puting it to zero doesn't cause it to trigger it has to be on upkeep for the winner to be decided from this.
Felidar Sovereign/Test of Endurance
the celestial convergence win con takes this as well
Barren Glory
.
you have Banishing Light so the family members of this
Kaervek's Spite trigger just before your turn
Demonic Pact
just
Bazaar Trader
and
Zedruu the Greathearted
and theres a few more enchantments you can do the exact same thing with
Fractured Identity
but you need platinum angel for a few of them though
Triskaidekaphobia
nothing everything you need for this one is here
Approach of the Second sun
just a couple more tutors thats itlast but not least
Mechanized Production/Hellkite tyrant
the biovisonary and epic struggle stuff works if the target is a creature
welp hope this stuff helpsoh one more thing
Fractured Identity
it works with leveler just as well as phage
1 week ago
Thanks for the comments, guys.
I considered running Hypergenesis in the deck, NyanNijet, but with all the card draw I'm giving out, especially if one player had a Reliquary Tower or similar and the others didn't, it would push the game forward too fast. I never considered putting Hive Mind in. /;-)
Thanks for the comment, Toxic_Starfish. Yeah, a lot of people have forgotten (if they ever knew) that this is a game after all, and is meant to be fun, especially EDH. This deck is just a gentle reminder.
Thanks for the affectionate +1, fragarach97.
I don't know if you'd actually like to have me in your playgroup, Yesterday. I can't play this deck that often. Every day can't be Christmas or Christmas loses its magic. I get requested to play this deck more often that I am willing to play it, but pulling the hippo out once in a while is a lot of fun.
I'm looking forward to adding Fractured Identity from the Commander 2017 set when it's available. Oh the possibilities!!
2 weeks ago
A fun combo I run in my version of this deck is Hive Mind and Hypergenesis. It makes the game silly
3 weeks ago
Counterspell -> Arcane Denial, Fraying Sanity -> Hive Mind, Sphinx's Tutelage -> Spiteful Visions, Elixir of Immortality -> Time Reversal, Fog Bank -> Standstill, Magus of the Will -> Magus of the Jar, Winds of Change -> Megrim, Spellbook -> Liliana's Caress, Fate Unraveler -> Manabarbs, Sangromancer -> Bloodchief Ascension, Black Sun's Zenith -> Harsh Mentor, Fascination -> Rhystic Study
Considerations:Seizan, Perverter of Truth (probably comes in for Kami of the Crescent Moon), Smoke (more prison), Phyresis (fun card, just wins faster)
4 weeks ago
Cards I can think of right now:
(Technically giving Lands)
Those are all the cards I can think of, but I'm sure there are plenty more to choose from. Although if you want to get janky with it, throw in a Hive Mind and every ramp spell you can find.
4 weeks ago
So, Hive Mind might be a fun way to instant kill the opponent. Easily splashable. With that in play, you have 3 cards that are lethal, and another 7 cards that are potentially lethal. Once it's in play, it's not like they can stop you, you'll just copy their answer.
Load more