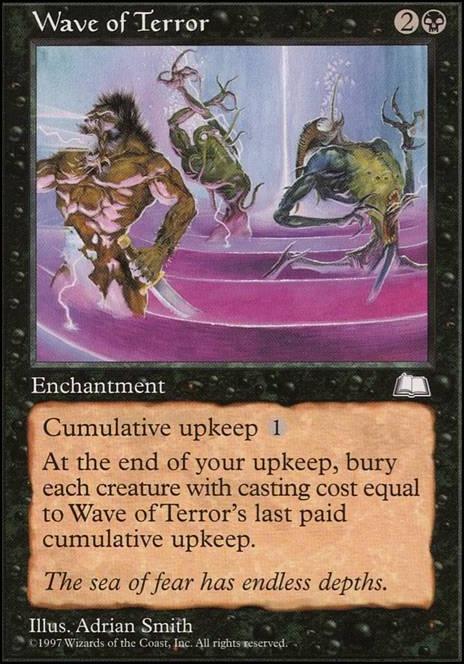 Wave of Terror
Enchantment
Cumulative upkeep (1) (At the beginning of your upkeep, put an age counter on this permanent, then sacrifice it unless you pay its upkeep cost for each age counter on it.)
At the beginning of your draw step, destroy each creature with converted mana cost equal to the number of age counters on Wave of Terror. They can't be regenerated.
Browse Alters
View at Gatherer
Legality
| | |
| --- | --- |
| Format | Legality |
| Leviathan | Legal |
| Legacy | Legal |
| Casual | Legal |
| Commander / EDH | Legal |
| Vintage | Legal |
| Limited | Legal |
| Canadian Highlander | Legal |
| Oathbreaker | Legal |
| Duel Commander | Legal |
| 1v1 Commander | Legal |
| Unformat | Legal |
| 2019-10-04 | Legal |
| Tiny Leaders | Legal |
| Highlander | Legal |
Latest Decks as Commander
Wave of Terror Discussion
3 years ago
alright, so I did some more digging - I've been kicking around a similar deck idea for a while. here's some of the stuff you might be interested in:
Pain for everyone:
Citadel of Pain, Copper Tablet, Power Surge (read the errata for this one, it makes more sense, Shadows of the Past, Pyrohemia, Pestilence, Dark Suspicions (or Bulwark, depending. kinda mutually exclusive), Rivalry, Skullcage, Wheel of Torture, Iron Maiden and Circle of Affliction
No creatures for You!
Death Pits of Rath (which couples well with Pyrohemia and Pestilence from earlier), along with Circle of Flame, Heat Stroke, Magmatic Core, Mudslide, Wave of Terror, War's Toll, Storage Matrix, and Noetic Scales.
Punishment and protection
Pia's Revolution, War's Toll, Bitter Feud (kinda a furnace of wrath - but only for those two against each other), Defense Grid.
probably some stuff in here you considered already, just figured I'd sift through this stuff and see if anything was to your liking
4 years ago
Nice deck, seems like a lot of fun to surprise people with how you're using the commander!
Some possible cards that use CMC: Accelerated Mutation, Bounteous Kirin, Cabal Conditioning, Consume the Meek, Endrek Sahr, Master Breeder, Fierce Empath, Forced March, Gaze of Granite, Hoarder's Greed, Krosan Drover, Living Destiny, Necroplasm, Recross the Paths, Seasons Past, Wave of Terror, and Woodland Guidance.