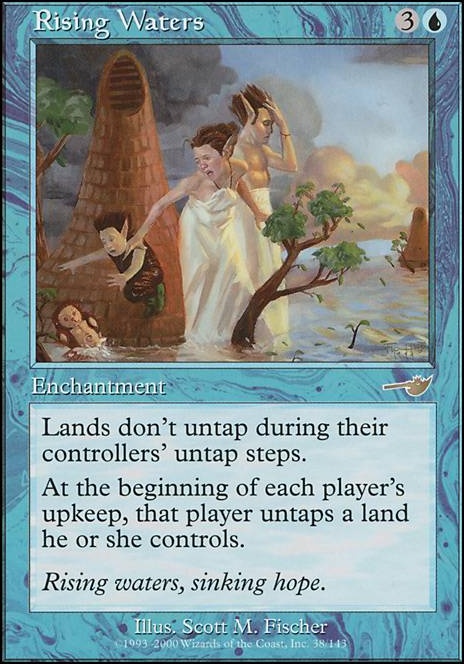 Legality
| | |
| --- | --- |
| Format | Legality |
| Noble | Legal |
| 1v1 Commander | Legal |
| Vintage | Legal |
| Casual | Legal |
| Vanguard | Legal |
| Legacy | Legal |
| Archenemy | Legal |
| Planechase | Legal |
| Duel Commander | Legal |
| Unformat | Legal |
| Pauper | Legal |
| Commander / EDH | Legal |
Related Questions
Rising Waters
Enchantment
Lands don't untap during their controllers' untap steps.
At the beginning of each player's upkeep, that player untaps a land he or she controls.
Rising Waters Discussion
2 days ago
Been a while since I commented. I'll try to respond primarily to those points that others haven't already addressed.
---
@
Emzed
:
Thought-Knot Seer
is expensive to cast and doesn't really perform a vital function in this deck, given that its abilities don't have a high impact.
---
@
Snapdisastermage
:
Stax is a challenge. This deck does have the means to outpace some stax decks by ramping extremely aggressively, but sacrifice engines in particular are effective at keeping utility creatures from having a great deal of impact. I haven't played in several years (apart from the casual 60-card game here or there), so I'm not really qualified anymore to assess how this deck competes with more modern Tier 1-Tier 2 stax decks.
---
@
Wutkeks
:
This deck would rather not play
Zendikar Resurgent
or
Mana Reflection
because they need to be hard cast and are more difficult to find.
Vorinclex, Voice of Hunger
would be a stronger choice in that respect (because it's
Tooth and Nail
able), but even then it hasn't made the cut. I leave that to players' discretion, though. Some people may find that the redundancy is important in their meta.
As a combo deck, this deck can normally outpace most noncombo aggro decks. Certain commander damage decks can pose a threat if unanswered. And don't forget that you can chump block with utility creatures if you have to. Surviving in a difficult position is preferable to being out of the game entirely.
---
@
knight611
:
I do feel that way about
Consecrated Sphinx
from time to time. Unfortunately, having not played in a true competitive multiplayer environment in a long time, I can't say with certainty whether it needs to be replaced. The mana cost is the biggest downside, but it's a powerful backup draw engine that's much less risky than Damia herself.
---
@
FLATSO99
:
Stroke of Genius
is serviceable, and there are ways to recur cards from the graveyard just as there are ways to get them back from the library. I use
Blue Sun's Zenith
because mana is not an issue by the combo turn and the win con is safer (from hate effects) in the library than in the yard.
---
@
e
n
p
c
:
Timetwister
is an interesting choice, and certainly something that becomes more potent as this deck becomes faster. I would test it.
---
@
Dark_Danda
:
Arbor Elf
ramps, but
Crop Rotation
does not. I'm not sure if they're comparable in terms of slot consumption. In some metas, the land tutor may be more important because there may be a greater dependence on cards like
Boseiju, Who Shelters All
.
Holistic Wisdom is an inefficient recursion engine in terms of mana consumption. It has increased potential in terms of the Strip Mine reusability, but that's not really a focus for this deck.
Commandeer is very expensive, even if cast for its alternate cost. I can't justify the effect for that cost. Spell Pierce is more valuable because it can win counter wars.
---
@
Cryptic_Bore
:
I don't recommend playing
Demonic Consultation
unless you're playing
Laboratory Maniac
, and I don't really think this deck wants to play either (although it could be built in such a way that they're more viable).
Demonic Consultation
presents the issue of exiling potentially necessary win conditions in order to find a combo piece, and it's never really completely safe to use. Similarly,
Tainted Pact
isn't in the deck (and is actually covered in the "Omissions" section). I don't think there are many cases where I'd so desperately need a single card that I could risk potentially exiling every other card for it.
---
@
v
i
s
h
n
a
r
g
:
It's true that
Crucible of Worlds
is a
good
card, but every card in this deck is a good card.
Crucible of Worlds
doesn't really provide
necessary
functionality to this deck, though, so I wouldn't call it one of the
best
cards and similarly wouldn't be able to justify increasing its redundancy at the expense of some other functionality.
---
@
Deckgodmaster
:
Lots of feedback there. I'll try to respond to as much as I have space for.
Rising Waters is an issue because this deck really wants to maximize its mana availability.
Future Sight was in a much earlier version of the deck, but was cut because the cost outweighed the value. Some people may prefer to run it, but I don't.
Pendrell Mists is a good stax card, but this isn't a stax deck. I'd rather keep my utility creatures at the risk of letting other people keep theirs.
Autumn's Veil has some potential. I've never really experimented with it in the 99, though.
Night's Whisper is not as preferable as a draw engine, in my opinion.
Notion Thief could be good in some cases, and I haven't actually tested it in the deck, but there weren't very many times where I think I would have (and would prefer to spend) the mana on it given its inconsistency from game to game.
Brainstorm was in an earlier version of the deck, and it could still justifiably be run given all of the fetch lands, but I prefer to spend the slot on other cards.
Baleful Strix doesn't really do enough to justify spending the mana.
Temporal Mastery is ok with cards like Mystical Tutor, but I don't think that justifies its inclusion.
Trinket Mage is a more expensive and more limited tutor than those already in the deck.
Arcane Denial is in the deck because it's a hard counter for , which I'll gladly take in the final turn.
Three Visits and Nature's Lore are important ramp cards and cannot be cut. Skyshroud Claim could potentially be cut on a cost basis, but it's very powerful and pays for half of its own cost on resolution.
Mindslaver is not something this deck needs. I don't really want to spend to control someone's turn if I could spend much less to get myself closer to actually winning. It's not good without a recursion combo or when facing multiple opponents.
Academy Ruins could be played, but I don't really need to recur any of the artifacts in this deck as much as I need access to on-color mana.
Omniscience is not necessary. My primary win con is an spell, which doesn't benefit at all from Omniscience and does benefit from an infinite mana combo (the latter of which enables just as many other cards as the former).
1 week ago
Deckgodmaster: While some of those cards would seem good, in this deck, they are not. This deck is meant to be a fast-paced competitive combo deck. Meant to win as early at T5 if the MTG gods smile upon us. That said, here are my reasons for why I wouldn't include these cards, short of Notion Thief.
Omniscience: Too slow, game should be over at this point.
Mindslaver: Not our purpose in this deck. More suited for the trips.
Rising Waters: I feel while this is a nice tax card, again, not the purpose behind this deck. Plus you'll need to use your own removal to let you combo out.
Future Sight: Too costly, not that great.
Pendrell Mists: Too costly, you lose your own creatures further delaying your own game.
Autumn's Veil: Boseiju, Who Shelters All is better as it always on the bfield until land destruction.
Night's Whisper and Notion Thief: These are too conditional. I play the latter, but I do find it mostly dead in my hand at times.
Baleful Strix and Trinket Mage: Not entirely beneficial for our needs.
Temporal Mastery: This isn't a miracles deck, so without serious manipulation, this would be cast at full cost. Not efficient again.
2 weeks ago
I honestly recommend not going for a graveyard strategy solely because if you get any graveyard hate you can get shut down. I think have a teeny bit of stuff isn't bad, but I definitely wouldn't recommend the whole "dump half my library into my GY" strategy, haha.
That being said, I am in complete support with your game plan here. Bruna can be played a few different ways, but the smoother variation is the Control/Stax shell. That's the build I made for my wife, and it is brutal...if you'd like to see her's for reference/inspiration, I'll link it here. Also, I made a budget version that shares a lot of the same cards if you'd rather see that!
Okay, so now onto the fun stuff!
This is all my opinion though, so obviously keep everything you like! I'm not trying to tell you that anything is bad or that you
have
to do anything! It's
your
deck and you should enjoy it! :)
Let me know if you have any questions or anything!
4 weeks ago
I created the rules simply to prevent people from turning this (amazing) list into a battlefield about arguing that their commander is the best, wins in the playgroup... BLAH BLAH BLAH. You are fine with what you are doing posting this list, since you are not arguing about the placement, you are simply helping this resource by providing your input, because that is the idea of the list. Even more, it may be contradictory with the rules (I might have to reword them), because the only thing I do not want is people arguing about the placement of their commander too much, but we definitely need help from people playing a certain deck if we want to optimize it, so... I will se for that but so far I think discussions are going great here with the current rules.
So, about Ezuri, Claw of Progress. It is not the first time this commander in particular is talked about. I am sure if we look through the archived comments it has been brought up a lot of times. Before Protean Hulk's unbanning, we thought it was done, but now I definitely think we need to change things around. (and I have not worked on that list sonnet666 did)
As you said, Flash + Protean Hulk could assemble the main combo available to this specific commander, being Sage of Hours with enough space left to fetch one drops to fulfill the requirements, giving us infinite turns, winning the game. Blue can easily tutor for Flash, and green can easily tutor for Protean Hulk. Now we start having some fun. Even more, all the combo pieces you mentionned are good even outside combo. Flash might be good for a big ETB effect, Protean Hulksimply is a good tutor in the deck, and Sage of Hourscould win even without being tutored like that. And togheter they become a 2 cards combo (3 if we count commander but he always is available so easier to have). The best about it is that the combo also is a lot more compact, without the need of dead cards like Memory's Journey simply to get back the combo in case of exile. I would be greatly interested in seing your list, as I think it has the potential to be much stronger than what we actually have (sorry sonnet666). You did not provided a link Erastaroth_The_Duchess_of_Hell, and I would greatly like one.
I am not sure about the inclusion of Dramatic Reversal+ Isochron Scepter though. Sure, it could help you untap all your mana dorks and go infinite in that way but... What will you do with all that mana? Your commander, unlike Thrasios, Triton Herois not a sink, so we loose that access to drawing our deck with infinite mana and winning from there. Even more, Isochron Scepter would be shut down by a card I definitely think should be in the list, Null Rod. I know I don't have your decklist yet, but I am pretty sure Paradox Enginewould be superior in the current situtation (I may be wrong, I often am).
Definitely should be an hybrid between stax and combo. We have a lot of mana dorks, so why not using them to break parity? Winter Orb (+ Gaea's Cradle to break parity even more, with the package to tutor Cradle), Null Rod, maybe things like Rising Waters, Back to Basicsif we can manage to have enough basics in the deck, usual stax like Trinisphere would be good (past the few first turn we no longer rely on casting dorks so it would be good), Thorn of Amethyst, Sphere of Resistance... The deck is running blue, so we have access to artifact tutors, which should make it easy to play the stax game with those artifacts, similar to what a mono-green Yisan, the Wanderer Bardwould be doing, but much better in our case because we actually have access to artifact tutors.
tldr; I think your idea is great, and I can't wait to see the decklist and help you out the best I can!
1 month ago
Okay, so I am going to spout off any cards that I think are cuttable, but let me stress that it is only a suggestion.
Anyway, this is what I got to suggest. Your deck is great as is, but if you are really trying to fit any extra synergy I'd take a look at these first.
Thanks for reading my second novel on your page, as always, this is only my opinion and I hope it was useful to you!
2 months ago
If you're looking for Cheap stax decks, I'd recommend Derevi, Empyrial Tactician over Narset personally, but I'll throw up a list here just in case.
Really, any card that screws with the landbase are good with commanders like Narset, and Zur. Anyway, Sorry for the long list, and good luck with your deck.
Load more