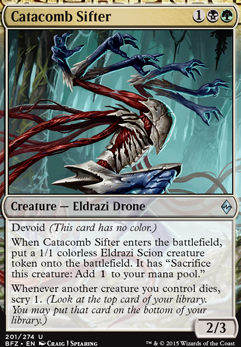 Legality
| | |
| --- | --- |
| Format | Legality |
| Tiny Leaders | Legal |
| Limited | Legal |
| Magic Duels | Legal |
| Canadian Highlander | Legal |
| Vintage | Legal |
| Modern | Legal |
| Highlander | Legal |
| Penny Dreadful | Legal |
| Block Constructed | Legal |
| Leviathan | Legal |
| Legacy | Legal |
| Frontier | Legal |
| 1v1 Commander | Legal |
| Duel Commander | Legal |
| Unformat | Legal |
| Casual | Legal |
| Commander / EDH | Legal |
Tokens
Catacomb Sifter
Creature — Eldrazi Drone
Devoid (This card has no color.)
When Catacomb Sifter enters the battlefield, put a 1/1 colorless Eldrazi Scion creature token onto the battlefield. It has "Sacrifice this creature: Add to your mana pool."
Whenever another creature you control dies, scry 1. (Look at the top card of your library. You may put that card on the bottom of your library.)
Have (14)
Tommuz , ibraJG84 , Yawkcorb , Tyrantsblood , Dsmonsta , MattN7498 ,

n

i

n

j

a

c

l

e

v

s

1

3

,

g

o

o

d

a

i

r

,

P

T

s

m

i

t

t

y

,

o

r

z

h

o

v

_

i

s

_

r

e

l

a

t

i

v

e

l

y

_

o

k

a

y

8

1

9

, Friedrice24 , frederiklw , gildan_bladeborn ,

V

a

1

m

a

r

Want (27)
Mikitta ,

A

n

t

i

h

e

r

o

F

O

R

E

V

E

R

, TwoPieceOB166 , CoreV578 , esoxxxxmtg , rickmillward , kovellen , blaze333 , Dirty_Dave , Iarila , rco , snakekill321 , OldBacon , aramlet , bluwarguy , feelfreetomockme , regnek , WaveofShadow ,

m

r

f

b

, CertainRandom , nullwraith , Intezra , nomadstan , Turtlelover73 , epic-jargon , STMS , analthunder
Latest as Commander
Catacomb Sifter Discussion
3 months ago
Ramp is super important in EDH, but Muldrotha opens up less traditional options that end out being far superior when Muldrotha is in play. Cards like Font of Fertility and Wayfarer's Bauble may be sub-optimal in most decks, but in Muldrotha decks their value increases ten fold. You can use them in the early game for ramp, then use them over and over in the late game for ramp, as they are permanent cards that Muldrotha can cast from your graveyard. Here's a few more that I use in my budget Muldrotha deck: I already mentioned Font of Fertility and Wayfarer's Bauble; Coiling Oracle, Dawntreader Elk, Diligent Farmhand, Sakura-Tribe Elder, Silverglade Pathfinder (most discarded cards can be played from the yard with Muldrotha), and most importantly Hermit Druid and Song of Freyalise. Let me explain why those are the two most important pieces of ramp for Muldrotha. Hermit Druid doesn't ramp per-say, as the basic land only goes to your hand. What it does do for you though is mill the hell out of your library if you keep your basic land count down. This means that when Muldrotha hits the battlefield, you'll essentially have a 20+ card "hand" in your graveyard. Song of Freyalise turns all your little x/1 dudes into mana rampers for two turns, then allows you to attack all out. This means every third turn all your creatures are Indestructable, Vigilance, and Trample; letting you plan around it for some crazy turns.
The same thing can be said for most aspects of the deck. Here are some great removal pieces tied to either creatures, artifacts, or enchantments: Seal of Doom, Seal of Removal, Executioner's Capsule, Bone Shredder, Merciless Executioner, Fleshbag Marauder, and sort of Baleful Strix (it has deathtouch). Here's some good artifact and enchantment removal: Seal of Primordium, Acidic Slime, Caustic Caterpillar. Here's other various good things that are re-usable from your graveyard: Diplomatic Immunity for keeping your commander safe, Swiftfoot Boots for the same reason. Elephant Grass means you can pay 1 mana per turn to have this effect in play by sac'ing it and playing it again, rather than the escalating cumulative upkeep, Mystic Remora is also great for the same reason. Lotus Petal provides re-usable free ramp. Dawnstrider gives you repeatable fogs. Siren Stormtamer is a repeatable counter to keep your team safe. Spore Frog is one of the core pieces of the deck, letting you fog every turn for 1 mana.
One thing you'll want to do with Muldrotha is make sure your creatures, artifacts, enchantments have somewhat even distribution, so you can play many cards from your graveyard per turn. A lot of these effects are tied to creatures though, so in my Muldrotha deck I like to gain additional benefit from sacrificing these creatures or permanents. Cards like Dictate of Erebos/Butcher of Malakir force all your opponents to sac a creature whenever you lose one. Since you're sac'ing for the creatures effect anyways, you get to double dip a bit. Other cards that help here are: Catacomb Sifter for scrying, Grim Haruspex for draw, It That Betrays for some fun shenanigans, Sifter of Skulls for ramp + more things to sac, Smothering Abomination for more draw and a sac outlet.
If the sacrifice route tickles your fancy, then you probably want to run some sacrifice engines. Here's some good ones for Muldrotha: Altar of Dementia is a free sac engine that fills your yard, perfect here. Skullclamp is both a sacrifice and a draw engine. Lots of creatures that are good with Muldrotha are x/1, so Skullclamp becomes crazy efficient, especially since you can replay the lost creature.Grimgrin, Corpse-Born is another free sac engine that powers himself up and lets you use his removal ability. Hell's Caretaker can sac a tiny creature to return something awesome from your yard when the commander isn't around, or if you dont have the mana to play it from the yard. Izoni, Thousand-Eyed comes into play with lots of sacrifice fodder, and for [b][g] you can sac a creature and draw a card. Jarad, Golgari Lich Lord can use his ability as a win-con, especially when paired with Grimgrin, Corpse-Born.
My absolute favorite card with sacrifice focused Muldrotha decks hands down is Mazirek, Kraul Death Priest. All your x/1 sacrifice fodder turns into a terrifying army with this guy. The best thing about him, is his ability triggers whenever you sacrifice a perminant. That means things like Executioner's Capsule and Seal of Primordium will trigger his ability, and more importantly cards like Terramorphic Expanse, Evolving Wilds, Blighted Woodland and Myriad Landscape. Everything you sac increases the power of your army, and every time you sac something you're getting a ton of value. The Gitrog Monster pairs really well with Mazirek. Sac a land every turn, draw more cards, play more lands, trigger the +1/+1 counters on all your creatures every turn. Tons of synergy.
Anyways, sorry for the wall of text. I just finished doing a ton of research for my Muldrotha deck to make it as good as I could for around $100. Hopefully some of my research will help you in your efforts :)
7 months ago
Ok, so, first thing to do is to focus on what green cards you have that let you ramp. As said: Sakura-Tribe Elder, Explore, Utopia Sprawl, Farseek, Oath of Nissa, Search for Tomorrow, Birds of Paradise, Cultivate, Rampant Growth, Beneath the Sands, Burnished Hart, Dawntreader Elk, Expedition Map, Font of Fertility, Wayfarer's Bauble, Sylvan Scrying and Harrow are good options.
Of this, you should put at least 8 cards (I suggest Sakura-Tribe Elder, Birds of Paradise, Farseek, Oath of Nissa or Sylvan Scrying). I don't really like From Beyond, Blisterpod, Catacomb Sifter, Void Attendant, Warden of Geometries and Grave Birthing, since they cost too much and they let you have only colorless mana, thing that you don't need since you are three-coloured.
Then, as said before, I'd increase Gonti, Lord of Luxury and Ashiok, Nightmare Weaver up to 2x copies and I don't really like Nightveil Specter, alternatives could be: Circu, Dimir Lobotomist, Bribery, Praetor's Grasp, Psychic Intrusion, Stolen Goods. Oblivion Sower it's a funny card, I'd put in in 1x.
Another thing: You have some big creatures and you are black-green-blue, I'd increase your land number up to 22. Remember also to choose lands that could be searched when you are ramping (if you have chosen to ramp only with cards that search for BASIC lands, well, put at least 4x basic lands of each type). Some lands you could might consider: obviously fetch lands and schocklands, Darkslick Shores, Blooming Marsh, Botanical Sanctum, Drowned Catacomb, Woodland Cemetery, Hinterland Harbor, Fetid Pools, Underground River, Llanowar Wastes, Yavimaya Coast, Sunken Ruins, Twilight Mire, Flooded Grove , Sunken Hollow. For all the rest of the cards that could enter your deck, I'll wait to see if you like the direction your deck is going and, most important thing, what types of cards you have chosen to ramp, to be your manabase and wich cards will steal your opponent's cards.
8 months ago
If you wanna lower your curve, Hornet Queen is awful top heavy for as little as it does for you. It's mostly just "go attack someone else until someone wraths." You have black, so you have better options when it comes to problem creatures.
I've always found Sheoldred, Whispering One to be a disappointment. She has two really powerful effects but both are dependent on game state; her abyss is useless if they have any fodder, and her Reya is only as strong as your graveyard on your upkeep. Both require her to survive a round.
From Beyond is just ok, and you don't have any Eldrazi to tutor for. I'd rather see Catacomb Sifter in my hand, 2 bodies is 2 turns for From Beyond and it gives you another dies trigger.
This deck would probably love Bloodghast and Victimize. I'd trade those out for Hornet Queen and Sheoldred.
9 months ago
You currently have 10 cards to cut. Here's a few I would consider ditching:
Tawnos's Wand might be worth adding.
You should also switch Mask of Avacyn for Lightning Greaves--the ability to protect your commander the turn it is played is well worth the reduction in power/toughness.
11 months ago
Cut deathreap ritual it's not a guaranteed draw, Phyrexian Arena is just better. Cut Chromatic lantern, its only good in 3 color+ decks; in this deck it's a wasted card slot.
Cut Primal Vigor, and just add Doubling Season as it doubles the amount of spore counters put on your fungus every turn.
Cut Greener Pastures, it just helps your opponents as much as you.
Cut Strength In Numbers, in this deck you are either going to combo out or swing wide with a bunch of dudes.
Cut Bile Blight and run either Black Sun's Zenith or Toxic Deluge I prefer the latter but it's on you.
Cut Evolutionary Leap, you don't have many creatures you make tokens.
Cut Life And Limb, because its gonna feel real bad when Lindsy WOGs your lands away.
Cut Costly Plunder
Cut Sprout Swarm, your commander does that for 1 mana less
Cut a tutor, I don't care which one and replace it with Natural Order to tutor up a Craterhoof Behemoth(yes you need one of these) for game.
Cards you NEED to add:
Here are some cards worth looking at, not nessecarily SHOULD go in:
Blood Funnel, Bontu the Glorified, Catacomb Sifter, Champion of Stray Souls**, and Pawn of Ulamog
11 months ago
Link to my Meren deck here: Okay, the Whole Death Thing? Minor Setback. That being said, here are some of the very best.
Targets: Acidic Slime for noncreature removal, Ravenous Chupacabra and Noxious Gearhulk are good creature removal, Primal Druid and Viridian Emissary are great ramp, Vindictive Lich and, Solemn Simulacrum Wurmcoil Engine are all fantastic.
Outlets: Champion of Stray Souls may seem odd, but really he's very useful. Sacrificing large quantities of creatures, getting the same amount back. Hell's Caretaker does the same, at a smaller scale. Disciple of Bolas is good card advantage. Killing Wave is either a board wipe or a massive burn spell. Perilous Forays is legendary ramp. Quagmire Druid is a little meta-dependent, but good. Sidisi, Undead Vizier is a tutor AND a sac. Stronghold Assassin is good removal. Vampiric Rites really pretty good card draw.
And now for the passive stuff: Catacomb Sifter, Shadows of the Past, and Reaper of the Wilds are good. Deathreap Ritual, Smothering Abomination, and Lifecrafter's Bestiary are all stellar. Savra, Queen of the Golgari and Dictate of Erebos are terrifying. And, finally, Zulaport Cutthroat, while not the greatest, is pretty subtle and drains a good amount.
Load more
Catacomb Sifter occurrence in decks from the last year
Commander / EDH:
All decks: 0.01%
Golgari: 0.12%