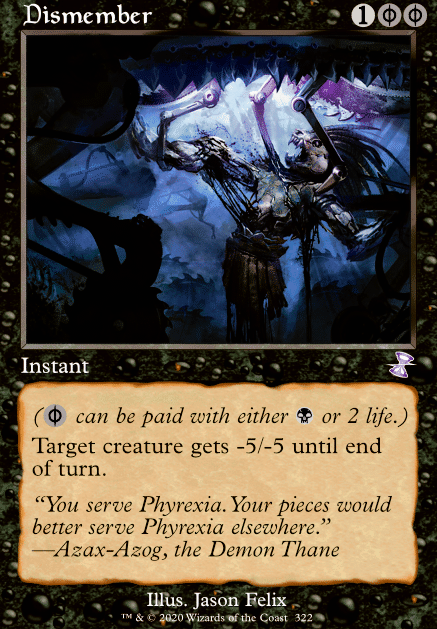 Dismember
Instant
( can be paid with either or 2 life.)
Target creature gets -5/-5 until end of turn.
Browse Alters
Trade
Legality
| | |
| --- | --- |
| Format | Legality |
| 1v1 Commander | Legal |
| Block Constructed | Legal |
| Canadian Highlander | Legal |
| Commander / EDH | Legal |
| Duel Commander | Legal |
| Highlander | Legal |
| Legacy | Legal |
| Leviathan | Legal |
| Limited | Legal |
| Modern | Legal |
| Oathbreaker | Legal |
| Tiny Leaders | Legal |
| Unformat | Legal |
| Vintage | Legal |
| Casual | Legal |
| Custom | Legal |
| Quest Magic | Legal |
Latest Decks as Commander
Dismember Discussion
1 day ago
I used to play -Eldrazi Stompy in Legacy 3-5 years ago, before switching to EDH due the LGS where I had moved to having a large EDH community (pre-lockdowns). However, I'm currently in a position where I might be able to play some Legacy events in the near-future, and I want to update my deck accordingly. But I think it's worth briefly noting the developmental-chain that led to the current decklist that I own..
Ironically enough, this deck was originally based on a "budget" Vintage list from The Mana Source (watch it to have a chuckle over how much less the Reserve List cards used to be). My original list was extremely close to this, except invert the 1:4 ratio of Chalice of the Void / Null Rod , and I (originally) ran Simian Spirit Guide ..
---

Legacy Metroid_Hybrid
SCORE: 13 | 13 COMMENTS | 3485 VIEWS | IN 7 FOLDERS
---
2 days ago
I think you might want more targets for Cabal Therapist to sacrifice, since none of the other creatures are that great for sacrificing it and having it be a dead card without bitterblossom is not good. I suggest Bloodghast . You could also lean a little more into the aristocrats theme with Village Rites .
Also, for additional removal maybe a Dismember since it synergizes with Death's Shadow?
For the sb, having 2 Leyline of the Voids doesn't seem great, since you need 3-4 to consistently mulligan for it against decks where you need it. Since you already have 4 surgicals, I'd either add more Voids or just cut them entirely.
(Also your deck has 55 cards)
1 week ago
Very Nice Aggro Edgar Markov list especially for a deck that is your first foray into commander. The Main problem I see you running into with this deck is that it is very soft to board wipes, and you will almost certainly lose the game if one resolves. I would recommend including Teferi's Protection , Flawless Maneuver , Boros Charm , Make a Stand , Unbreakable Formation , and Patriarch's Bidding . While these cards are skillful to utilize and require an understanding of your opponent's decks to know when to leave up mana to utilize them you will find you will be grateful to have them and win more often because of them.
Necropotence is an insanely strong card advantage engine especially in Edgar Markov that I would highly recommend as it allows the deck to continue to have the steam it needs going into midgame and mid-late game. In fact, when I am going for the aggressive strategy in my own deck it is the first card I tutor for if I can. Champion of Dusk , Pact of the Serpent , and Stinging Study are almost as good and serves the same purpose.
Stromkirk Condemned Is a pretty strong lord that most games you should have the land to pitch to it to boost your board, especially if you include some of the card advantage I recommended.
Reconnaissance Is also an amazing card for an aggressive strategy as it essentially gives all your creatures vigilance and you can remove any unfavorable blocks in combat.
For cards to remove to play them I will suggest cutting cards in different area's that I think have their advantages but probably benefit your decks aggro plan the least
Zealous Persecution and Vampiric Fury are not very necessary for yours deck. If you have not seen it already in time you will find that your anthem affects lords Shared Animosity , and Sanctum Seeker will be more than sufficient to win the game. Additionally, the card is quite soft to fog effects which are not too uncommon in commanders.
Anointed Procession is simply a card that is too slow for what an aggressive Edgar Markov deck wants to be doing and is much more suited to midrange aristocrat lists. Spending 4 mana for an effect that does not do anything is too slow and you would much rather want to be playing things like Sanctum Seeker , Vampire Nocturnus , and Bloodline Keeper  Flip
Abrade , Dismember , and Nameless Inversion have two main problems. For one when you are playing an aggressive Edgar Markov deck you are committing to winning the early mid-game so spending the time you need to kill your opponents interacting with their board states is not doing you any favors. Secondly, as an aggro deck the only permanents that are outright going to stop you are Magus of the Tabernacle , Windborn Muse , Propaganda , Ghostly Prison , Collective Restraint , Sphere of Safety , and Humility so if your going to play removal spells in your aggro deck the spell at a minimum should target enchantments though creatures as well can be valuable.
Obelisk of Urd Is ok but is probably to expensive on mana and you would rather be punching with creatures than using them to convoke this spell out.
Bloodcrazed Paladin is really only good when there is a board wipe and that is the last thing you want to happen to your board so would not recommend playing a creature that's only strength is to give you a measly benefit in the worst-case scenario.
Bloodthrone Vampire is not very good in aggro since you want to have as many creatures around as possible for all of your tribal payoffs and since your deck is not particularly geared towards and Edgar Markov Aristocrats Strat.
Stoneforge Mystic and Steelshaper's Gift help you get Skullclamp but you probably don't want to be looking for that card too hard especially if you play Necropotence , or Champion of Dusk as I recommended as you don't have to sacrifice your board state to get card advantage when a wide board state is exactly what you are looking for. Additionally, you are not playing too many sacrifice effects anyway so when you play a lord it effectively turns off your Skullclamp .
Those would be my additions and removals for your removals but your the one who gets to play the deck so make adjustments to suit your playgroup and what you want to get out of the deck. Feel free to check out my own Edgar Markov Deck A Vampire Storm *Primer*, not the exact same strategy as your deck, but you may find some useful advice in my section on my mindset of how I play Edgar Markov aggressively. Would be happy to hear your thoughts on my suggestions as well as what you think of my own deck.
1 week ago
Are you opposed to infect? Also, is everyone else playing on a budget? If they aren't I'd highly suggest switching to an infect strategy. Its fast, cheap green and is a very similar strategy with a much faster clock. Also, the cards/deck could span multiple formats. Things like Glistener Elf , Blight Mamba and Ichorclaw Myr are power houses in pauper...well use to be until fairies and tron got a bunch of new toys...But if you're not into that Thrun, the Last Troll has gotten stupid cheap and is a menace to anything that leans on spot removal and perhaps add in a few Dismember the phyrexian mana only hurts a little ;)
1 week ago
I always forget Drown in the Loch is your opponents graveyard, so that doesn't impact you nearly as much as I initially thought!
How often do you feel that Dismember and Fatal Push are needed? One thought I have when I look at this list is to remove 1 piece of removal and 1 Stubborn Denial to make room for 2 maindeck Counterspell . Ferocious is relatively consistent in shadow decks, but there is a chance to not have it at the right time and Counterspell combined with the hand hate can be similar to a removal spell!
2 weeks ago
+1 Cool alter
War Room > Castle - While it provides colorless, you take less damage and has a less color intensive activation cost.
Kaervek, the Spiteful - Is he tech against meta token decks or is there another reason I'm not understanding. Also note, Night of Souls' Betrayal can also work depending on your needs. Lastly, while not a serious suggestion, either of the 2 above or Massacure Wurm + Urborg + Kormus Bell = Fun times!
It seems like you need a bit more card draw, I would recommend any of the following.... Read the Bones , Night's Whisper , Sign in Blood , Syphon Mind , and Phyrexian Arena in particular. If you were to add more card draw, even though these are mostly sorcerries, you could help ensure you don't run out of gas. Moreover, it might warrant a Reliquary Tower to go with your Necropotence. Just an idea
Dismember / Defile / Go for the Throat / Hero's Downfall are all good additional kill spells that should definitely be considered.
Jet Medallion - Cost reducer
Load more