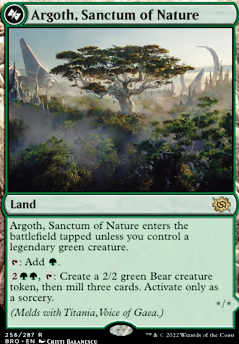 Melds with:
Titania, Voice of Gaea
Meld
Melds to:
Titania, Gaea Incarnate
Meld
Meld
Tokens
Legality
Argoth, Sanctum of Nature
Land
Argoth, Sanctum of Nature enters the battlefield tapped unless you control a legendary green creature.
: Add .
, : Create a 2/2 green Bear creature token, then mill three cards. Activate this ability only as a sorcery. (To mill a card, put the top card of your library into your graveyard.)
(Melds with Titania, Voice of Gaea.)
2 months ago
For the people lazy like me:
I think it really depends on how you build the deck but from a general perspective I might say Titania, Voice of Gaea  Meld would be more midpower as she herself doesn't pump out hella tokens. I do have a bias though I think she is the more fun commander to build. But you can always select weaker/stronger alternative cards to bring power level up/down.
As im writing this I think Titania, Voice of Gaea  Meld would actually be the stronger one. You could easily Pair her with Aetherflux Reservoir, Zuran Orb, World Shaper, Ancient Greenwarden. Not to mention her low cmc and with all the land tutors in green it won't be hard to get Argoth, Sanctum of Nature  Meld. I might build this deck myself lol.
So I guess to answer the question Titania, Protector of Argoth would be the "weaker" version. But landsmatter in general is strong so really it isn't hard to make either card broken.
4 months ago
Profet93, Sandwurm Convergence doesn't make creature land tokens. They are just wurms, however, I can confirm that the anti-air clause is actually really strong. With that being said, since you are a lands deck PickleNutz, you could instead rely on cards like Constant Mists or Glacial Chasm to stay alive until you are ready to kill the table.
Have you seen any of the new cards from Brothers War? Awaken the Woods and Titania, Voice of Gaea  Meld + Argoth, Sanctum of Nature  Meld look like great fits for this deck.
Speaking of Titania, the O.G. Titania, Protector of Argoth and Zuran Orb combination works really will with Ashaya's "creatures are lands" clause.
The same can be said for Tireless Tracker and Scute Swarm
If you need another board wipe in mono-green, Ezuri's Predation is great.
Rude Awakening is a another Sylvan Awakening that lets you tap all your lands to cast all your spells while providing a way to untap them so you can still attack. Jolrael, Empress of Beasts is the O.G. of this effect. She is an interesting consideration since you can hold an opponent at ransom with her ability. I had an old commander deck built around her where I routinely thwarted board wipes by threatening to animate peoples lands in response.
You also have huge creatures so Rishkar's Expertise and Garruk's Uprising could bolster your card draw package.
Awesome deck! +1 from me