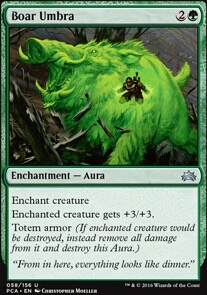 Legality
| | |
| --- | --- |
| Format | Legality |
| Tiny Leaders | Legal |
| Noble | Legal |
| Leviathan | Legal |
| Magic Duels | Legal |
| Canadian Highlander | Legal |
| Vintage | Legal |
| Modern | Legal |
| Penny Dreadful | Legal |
| Custom | Legal |
| Vanguard | Legal |
| Legacy | Legal |
| Archenemy | Legal |
| Planechase | Legal |
| 1v1 Commander | Legal |
| Duel Commander | Legal |
| Oathbreaker | Legal |
| Unformat | Legal |
| Casual | Legal |
| Commander / EDH | Legal |
Boar Umbra
Enchantment — Aura
Enchant creature
Enchanted creature gets +3/+3.
Totem armor (If enchanted creature would be destroyed, instead remove all damage from it and destroy this Aura.)
Boar Umbra Discussion
1 month ago
I also read your deck help request and I've got a few possible additions. Bear in mind though, you didn't really specify a budget, so I'm just going to aim for under $20 per card:
I have to run for now, I'll add voltron-esque cards in another comment later.
2 months ago
This deck seems to have a couple of weird things and a couple of holes in it. First off, your ramp seems to be through the roof and I don't really see why that's necessary. I would recommend cutting some of, if not all, the cluestones or maybe a sorcery speed ramp spell. Maybe consider switching one of your current sorceries for a Skyshroud Claim and probably switch Druid of the Anima for Sylvan Caryatid . Related to this is your current lack of enchantment cost-reducers. I would recommend adding one or two back in. You can switch some of your ramp for cards like Herald of the Pantheon or the new Starfield Mystic .
Next is card draw and tutors. You're not doing too bad at this, but I'm surprised you're not running Satyr Enchanter , Kor Spiritdancer , Sram, Senior Edificer or Open the Armory . Maybe even Three Dreams or Plea for Guidance are playable as well. Also, I think Harmonize deserves a spot because it can get you back in the game without any help.
Another thing you seem pretty weak on is removal. Both targeted and mass. I think Beast Within or Generous Gift or both would pretty easily fix your targeted removal. Maybe even Decimate or Qasali Pridemage . I think you ought to run at least one more board wipe. Single Combat or Divine Reckoning seem prudent. If you wanted to be able to hit more types of permanents, I'd highly recommend Tragic Arrogance .
My final category of things to add are other auras/enchantments and recursion/protection. Bear Umbra has been reprinted and it's still not here and Unquestioned Authority is also good. Also, the new Treefolk Umbra seems good enough to run. Maybe add back in Snake Umbra for card draw. Maybe On Serra's Wings or Asha's Favor for the host of abilities they grant and maybe Boar Umbra . For recursion and protection I'd say Hall of Heliod's Generosity , Umbra Mystic and Boros Charm are all cards that belong in here. Adding back in Retether seems like it would be fine and including either Eternal Witness or Auramancer or both might be good too. In general, I think this deck needs to be rebalanced a little bit.
Now, I'm sure you're thinking, "But my deck is already perfect. What am I supposed to take out?". I'm here to tell you, you're wrong and there are a few cards that seem ripe for removal. First off, Gideon's Intervention seems kinda silly in here. Really not what the deck wants to do. Maybe there are one or two cards that you really don't want to see in a game, but I think having single target removal in place of that would be better. Next off is Combat Celebrant . This guy is kinda slow, really vulnerable, and not an enchantment. If you really want this effect go with Aggravated Assault which, in concert with Bear Umbra, can give you infinite combats. Also, I think it's time for Wall of Reverence to bow out. It can gain you a bunch of life, but I don't think that it's worth the slot. As I mentioned before, the Keyrunes are easy pulls for some card draw spells, enchantment cost-reducers, and maybe another (probably basic) land or two. Maybe one or two other ramp spells (I might consider cutting Burgeoning if you don't add in more card draw) are worth cutting. I think 10-12 is a good number of ramp cards for this deck. Some of the weaker auras I'd look at are Scourge of the Nobilis , Felidar Umbra and maybe Mammoth Umbra and Burning Anger . Maybe I'm wrong about most of or all of those auras. That seems like the most difficult category to cut from.
I hope you've had fun reading all of this and that maybe a couple of my suggestions make a difference.
1 year ago
Like many green decks I see, this one has the problem of being pulled in too many different directions. Cards like Garruk's Companion, Rancor, and Leatherback Baloth hint at a very aggressive stompy strategy. Nissa, Voice of Zendikar, Essence Warden and the Wild Beastmaster + Elder of Laurels combo would be better in a dedicated go-wide token deck. Llanowar Elves, Wild Growth, Primeval Titan, and Elderscale Wurm fit better in pure ramp. I would dedicate more resources to a single one of these strategies, maybe having a second as support. This will improve synergy and consistency by lessening the chance of drawing cards that don't work optimally together. For example, if you have some 7 drop bombs in hand, you'd much rather draw Wild Growth than Boar Umbra, and the reverse would be true if you had a hand of cheap beaters.
Some cards I'd recommend for stompy are Steel Leaf Champion, Dryad Militant, Experiment One, and Strangleroot Geist. Some cards for tokens are Parallel Lives, Mycoloth, Centaur's Herald, and Call the Scions. Cards for ramp include Arbor Elf, Voyaging Satyr, Garruk Wildspeaker, and Genesis Wave. And since you're mono, Nykthos, Shrine to Nyx will almost always be great.
1 year ago
It's a really good deck but as it has been said, it struggles a lot against aggro and multicolored decks.
I really think a red splash with Ancient Grudge is kind of inevitable. You wouldn't especially need expensive dual lands as outside of Splinter all spells require only one colored mana (and the deck has 8 mana elves)
Blanchwood Armor would obviously be switched with Arcane Teachings, Boar Umbra or Elephant Guide IMO.
Load more
Boar Umbra occurrence in decks from the last year
Commander / EDH:
All decks: 0.0%