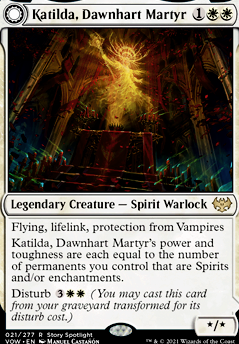 Back:
Katilda's Rising Dawn
Flip
Legality
Katilda, Dawnhart Martyr
Legendary Creature — Spirit Warlock
Flying, lifelink, protection from Vampires ((Remember the acronym debt.) This can't be damaged, enchanted, equipped, blocked or targeted by Vampires.)
This creature's power and toughness are each equal to the number of permanents you control that are either Spirits and/or enchantments.
Disturb (You may cast this from your graveyard transformed for this card's disturb cost.)