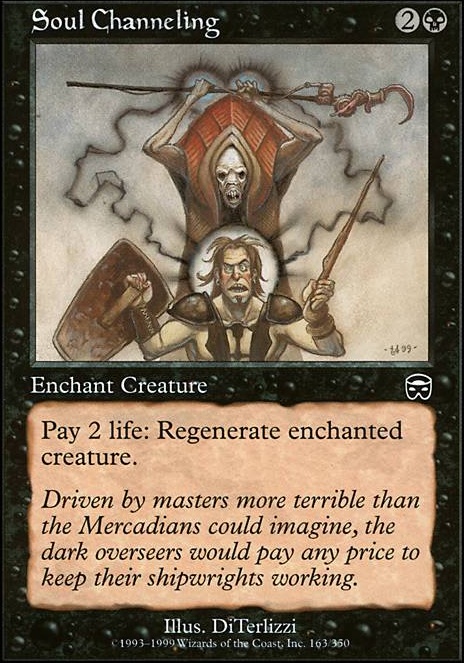 Soul Channeling
Enchantment — Aura
Enchant creature
Pay 2 life: Regenerate enchanted creature.
Browse Alters
Legality
| | |
| --- | --- |
| Format | Legality |
| 1v1 Commander | Legal |
| Canadian Highlander | Legal |
| Commander / EDH | Legal |
| Duel Commander | Legal |
| Highlander | Legal |
| Legacy | Legal |
| Leviathan | Legal |
| Limited | Legal |
| Oathbreaker | Legal |
| Pauper | Legal |
| Pauper EDH | Legal |
| Tiny Leaders | Legal |
| Unformat | Legal |
| Vintage | Legal |
| Casual | Legal |
| Custom | Legal |
| Quest Magic | Legal |
Latest Decks as Commander
Soul Channeling Discussion
2 months ago
Hey Walrighti, +1!
Congrats on your first deck! You have a lot of fun cards in here and it looks great! I imagine you want to tune and make it even more efficient so here are some ideas...
Add 3 categories: #Combo, #Lifegain, and #Evasion; and then sort your maybeboard the same way you've done your mainboard to easily rank your choices within a category (By "combo" I mean all your "if-then" cards like Trudge Garden that are slower and don't work by themselves). Remove #Creatures (most of them are #Combo).
Avoid most cards above 4 cmc... Willowdusk is fast and fragile, so play into that... Also, prioritize cards that can do 2 or more things or that give value on ETB... If you have pet cards that don't really fit and that hurt to cut, put them in a "I'll build that theme later" list.
...Always play at least 10 ramp spells under 3 cmc.
...Playtest and make sure Willowbark consistently makes a fatty (with evasion) before turn 6-7.
Here's another Willowdusk thread.
Happy building :)
3 months ago
You might like these: Blood Celebrant , Font of Agonies , Necrologia , Deepwood Ghoul , Lurking Evil , Mischievous Poltergeist , Soul Channeling , Unspeakable Symbol , Wall of Blood , Souldrinker , Vampiric Link , Banehound , Vampire of the Dire Moon , Vampire Cutthroat , Vault Skirge , Cauldron of Souls
9 months ago
Nice deck, and I loved playing Duskfang Mentor in standard in an Orzhov Lifegain Deck
I find it interesting that you aren't playing many cards that either allow you to pay life or do something when you gain life. For example, Marauding Blight-Priest and Epicure of Blood allow you to drain opponents whenever you gain life, and Blessing of Leeches and Soul Channeling protect creatures as long as you pay life, which you can usually do in monoblack lifegain.
Vampiric Link might be a good card since it basically gives lifelink without giving lifelink, so you can gain double the life off of a lifelinker, and Dragon Shadow can be nice combat evasion for a creature you've gotten bigger, then if that creature dies, you can put it on a later big creature, like an Ulamog's Crusher or whatever.
You also are by no means playing a devotion deck, so maybe a few colorless utility lands might be nice, like Radiant Fountain or Quicksand, since they decrease consistency by a miniscule amount . For Ramp, I'd recommend Everflowing Chalice, MindStone, and Bonder's Ornament as further ramp.
Just got done with a Wall of Limbs deck, so some of this stuff is still fresh in your mind, but I do like this deck.
1 year ago
Xantcha is so rad. Have you considered Heartstone? It would make it easier for everybody to use her draw ability.
These might interest you too: Revel in Riches, Unholy Indenture, Minion's Return, Blessing of Leeches, Soul Channeling, Visions of Brutality, Treacherous Link, Ragged Veins, Binding Agony, Spiteful Shadows, Unnatural Hunger, Errantry, Inner Demon, Psychotic Fury, Vampiric Link (unlike lifelink, the controller of the aura gets life, not the creature's controller)
1 year ago
Some wholesale changes after a weekend with my buddies, leaning even harder away from storm-style cards and fewer creatures overall:
In: Shadowspear, Essence Harvest, Nyx Lotus, Sangromancer, Extraplanar Lens, Phyrexian Arena, Swiftfoot Boots, Venser's Journal, Soul Channeling, Withering Boon, Tendrils of Corruption, Arcane Signet, and 22 Snow-Covered Swamps
Out: Greed, Blood Celebrant, Demon's Horn, Deathgreeter, Magus of the Coffers, Tendrils of Agony, Vampire Nighthawk, Charcoal Diamond, Haunted Crossroads, Knight of the Ebon Legion, Diabolic Intent, Spawning Pit, Crypt of Agadeem and 21 Swamps
1 year ago
Joe_Ken_: Sanguine Sacrament does seem like a good idea, and I had considered it before, but took it out in favor or Exsanguinate . However, I like the wheel idea to get a ton of mana out of Smothering Tithe . I'll probably go with Magus of the Wheel since I have a few ways to get him back, and Khorvath's Fury for the added damage option. I prefer Soul Channeling for my commander, since regenerating her doesn't make her drop all her +1/+1 counters, but some extra safety never hurt anyone. I chose Return to Dust over Utter End due to the fact that my meta doesn't seem very reliant on creatures, and I can get rid of two of them for the same price as one. Anguished Unmaking is already in, and with Font of Agonies I saw it as a less reliable, but repeatable Swords to Plowshares without giving my opponent anything in return.
Mj3913: Vedalken Orrery seems like a great addition, and can get my "win on upkeep" cards in safely. Thanks for the tip.
enpc: Most of the research I did about average CMC, lands, and ramp said to start with 40 lands, then take out 1 land for every 3 sources of ramp you have. I know I didn't follow that to a T, but not having enough mana hasn't really been an issue for me during playtesting, nor has the 3.75 aCMC. That being said, there's nothing wrong with more ramp. I'll think of some options. As for streamlining my wincon, I'm a little lost on what you think I should do exactly. Should I have more wincons that don't revolve around going sideways? Or should I narrow down my wincons and use the extra space to help me reach them?
Load more