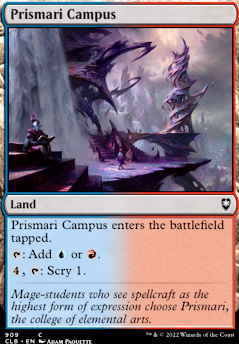 Legality
1 year ago
Great first deck but i fear you may not have the mana you need to make it work i would cut some lands like for some more basic lands and get a few more land ramps
Crucible of the Spirit Dragon for a Basic Mountain, Crucible is fine but slow as it only taps for colorless and you have to pay mana to get colored mana, this is the biggest maybe I've never like storage lands personally.
Gateway Plaza, Archway Commons and Rupture Spire one or two of these can be cut for another mountain and a Darigaaz's Caldera
I would also trade Opulent Palace for Savage Lands since Jund () are your main colors
I would also rearrange some of your basic land numbers try 5x Mountains, 4x Forests, 3x Swamps and 2x Plains and Islands and i would cut Underdark Rift, Treasure Vault, Rogue's Passage and Prismari Campus for the basic lands
Would also try to get some cheap basic ramp cards like Cultivate, Kodama's Reach, Farseek and Sword of the Animist for basic land ramp and things like Hour of Promise, Tempt with Discovery, Pir's Whim, Explore and Growth Spiral for non basic ramp.
Now that I told my thoughts on your mana here are some other cards to help your dragons not sure your budget so i categized them. These price are based off of TCGplayer.
0.1-$4.99-Favorable Winds0.40, Teneb, the Harvester$3, Lathliss, Dragon Queen $3.50, Silumgar, the Drifting Death 0.70, Kolaghan, the Storm's Fury 0.70, Eerie Ultimatum $3, Ruinous Ultimatum $5, Genesis Ultimatum $1.00,
$5-$9.99-Dragon Tempest$5, Scion of the Ur-Dragon $7, Drakuseth, Maw of Flames $5, Karrthus, Tyrant of Jund $3.50, Mirari's Wake $6, Rhythm of the Wild $6
$10-$19.99- Scalelord Reckoner $13, Vanquisher's Banner $12, Sarkhan Unbroken $15,Sarkhan, Fireblood $11,
$20 and over-Terror of the Peaks $25, Dragonlord Dromoka $25, Balefire Dragon $30, The Great Henge $50, Urza's Incubator $40, Sarkhan, Dragonsoul $27, Chromatic Orrery $20
1 year ago
Looking over the deck and playtesting it a few times I have what I consider a pretty exhaustive maybe list with some cards being worth considering and discussing and a few being real treasures! Here is the full list and if I did it right hopefully all the cards are links.