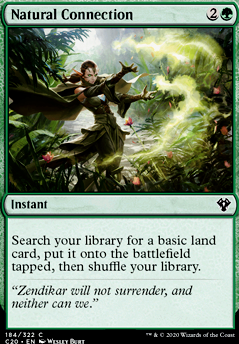 Natural Connection
Instant
Search your library for a basic land card, put it onto the battlefield tapped, then shuffle your library.
Latest Decks as Commander
Natural Connection Discussion
1 month ago
Part 2
Other Cards that you could consider cutting
Other Cards that you could consider adding
This is where the fun begins and your wallet cries
That is all I can think of at the moment. I'm sure I'll have more la
1 year ago
Hey, good upgrades of the precon. Interesting version with lots of creatures. I've been playing Kalamax on a budget since he was released and I personally prefer less creatures and more instants/sorceries. My version is very different than yours, but I have some suggestions of how you can improve your version.
Cards from the precon to consider adding:
Kessig Wolf Run is one of the better support lands with Kalamax since it can a repeatable source of trample. Getting both Run and Encampment or Settlement with Crop Rotation is nice. Run is a land upgrade for Sapseep Forest. Harrow is one of the better land ramp spells with Kalamax because you sac one land to search for four basic lands of your choice and put them onto the battlefield untapped. Getting the basic lands untapped gives you mana to cast a spell on an opponent's turn and that's really the strength of Kalamax. Harrow is better than Natural Connection.
Primal Empathy is a fine repeatable draw source since Kalamax is going to most likely be the biggest creature on the battlefield and if he isn't then put another counter on him to make him bigger. The three Bounce lands are good budget lands that are upgrades for Guildgates and Life lands (Rugged Highlands).
---
Some cards to consider adding:
Narset's Reversal is powerful with Kalamax since it can be a repeatable instant. You can return the original Reversal back to your hand with the copy of Reversal that Kalamax makes and still get a copy of opponent's or your own instant/sorcery you first copied. The repeatable interaction is nice with Guttersnipe and other creatures who ping your opponents. Reversal could replace Volcanic Geyser.
Shared Summons is an instant creature tutor that can get any two different creatures. With Kalamax it can tutor for four different creatures. Summons could replace Whiplash Trap. Wavebreak Hippocamp could replace Lunar Mystic. It's one less mana and the draw is repeatable for no mana cost. Sprite Dragon is a upgrade for Spellgorger Weird. It's one less mana and has evasion flying to take more advantage of having a lot of counters.
Paradise Druid can tap to make any color of mana and can use this mana to cast any card. Paradise is a ramp upgrade for Vodalian Arcanist. Cultivator's Caravan is an upgrade for a three drop mana rock because of crew 3 which is a repeatable way at instant speed tap Kalamax.
Good luck with your deck.
1 year ago
Hey, good version/first attempt of Kalamax and nice deck description.
With a $400 budget I think you can afford to cut some basic lands for more dual lands that ETB untapped: Stomping Ground, Cascade Bluffs, Shivan Reef, Karplusan Forest, Flooded Grove, Fire-Lit Thicket. Bluffs is very helpful since it can make or , important combinations to cast spells for Kalamax. Holdout Settlement and Survivors' Encampment are unique lands with Kalamax because like Springleaf Drum they can tap Kalamax to make mana. Best of all either one can be tutored for with Crop Rotation and are busted interaction with Kalamax and Seedborn Muse.
You've left out one of the better combos with Kalamax: Ral, Storm Conduit + Kalamax + any instant Fork. You've added a Doublecast step to the combo which you don't need to do. By copying an instant Fork with Kalamax then you make an infinite instant copy loop with the Fork which kills your opponents one at a time with damage from Ral.
Can't use Narset's Reversal as the Fork because of the "return to owner's hand" clause. Reversal can be a repeatable Fork with Kalamax which can be ridiculous value, but it's not a Fork that can make an instant copy loop. Reverberate is another instant Fork and it could replace Doublecast.
Melek, Izzet Paragon and Swarm Intelligence are not needed for six and seven mana. Could cut them for Arcane Signet and Wavebreak Hippocamp. Natural Connection is too slow ramp with not enough payoff with Kalamax. It could be cut for Nature's Lore which is two drop ramp that can get Triome, Breeding or Stomping and the Shock land can ETB untapped.
Good luck with your deck.
1 year ago
Have change Natural Connection for Living Wish giving access to the sideboard (and more but, I have build the sideboard for this card in the idea of not to be a total asshole).
1 year ago
OUT:
Bramble Sovereign, Lys Alana Huntmaster, Wirewood Hivemaster, Burgeoning, Exploration, Sandwurm Convergence, Natural Selection, Ranger's Path
IN:
Dungrove Elder, Elder Gargaroth, Garruk's Uprising, Druidic Satchel, Endless Atlas, Wave of Vitriol, Wurmcalling, Natural Connection, Migration Path
More Draw, More stability, More power, More aggressiveness.
1 year ago
Signets are beautiful mana rocks but im skipping those for land ramp in one way,shape,or form. So you are 100% correct. Just not following that philosophy in this deck.
Crop Rotation is an instant (copy able) which helps me find Survivors' Encampment orHoldout Settlement tapping the commander or Reliquary Tower. Also w the way sacrifice at cost spell, i only sac 1 land when its cast, and the copy will let me search for a 2nd land wout the sacrifice. Similar to Thrill of Possibility.
Farseek could definitely be useful to finding the tri-land, but Natural Connection is an instant so thats why its in atm.
Load more