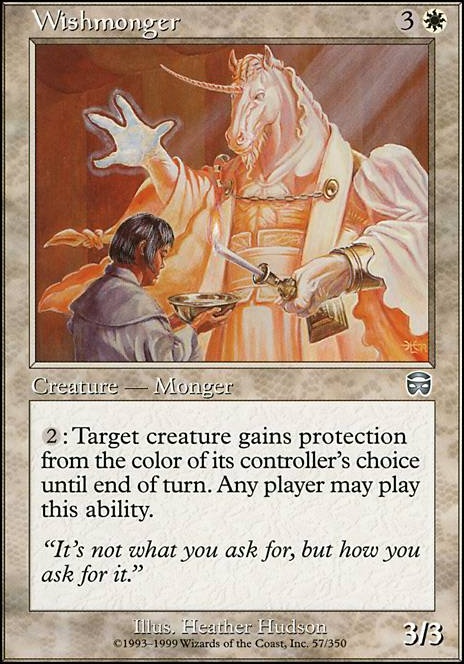 Legality
| | |
| --- | --- |
| Format | Legality |
| Legacy | Legal |
| Vintage | Legal |
| Commander / EDH | Legal |
| Duel Commander | Legal |
Wishmonger
Creature — Unicorn Monger
(2): Target creature gains protection from the color of its controller's choice until end of turn. Any player may play this ability.
Wishmonger Discussion
1 month ago
Okay, so I do realize you ask for possible cuts, but I've honestly got too many things to list option-wise to say where a cut could/should be made. Some examples of options you may have missed:
Weird Harvest, Mana Flare, Dictate of Karametra, Howling Mine, Heartwood Storyteller, Shizuko, Caller of Autumn, Skullwinder, Horn of Greed, Helm of Awakening, Spectral Searchlight, Primal Vigor, Seed the Land, Bubble Matrix, Flux, Beacon of Immortality, Dawnbreak Reclaimer, Liege of the Hollows, Ghosts of the Innocent, Pulsemage Advocate, Orzhov Advokist, Wishmonger, Tangleroot. Storm Cauldron, Grove of the Burnwillows, Mikokoro, Center of the Sea, Geier Reach Sanitarium, Arbiter of Knollridge, Dakra Mystic, Concordant Crossroads, and
(my last two to mention that I cannot believe YOU don't even mention them how could you possibly have missed these and I'm metaphorically running out of air here)
Phelddagrif and Questing Phelddagrif.
BREATHES
whew. Okay, firstly I do not do "tldr" summaries, so I'm afraid you'll have to sift through the above the slow way (which that isn' even an exhaustive list btw).
Secondly, to help you sift through the above I would ask is there a specific manner in which you are wanting to help people? Do you like seeing certain gameplans win or hate others? By example is that I can see some cards like Hive Mind being too helpful possibly towards "storm" decks, but if you're playing a catch-all type of group hug then that's no big deal.
Another idea is are you into fringe group hug effects? By which I mean playing Urborg, Tomb of Yawgmoth just to help everyone mana fix that uses black. Or even playing Ink-Treader Nephilim in tandem with say Tempt with Reflections to give everybody an extra copy of literally every creature on their board and them some. Heck, if you ran Rite of Replication you could let everyone have EVERY creature on the board. The nephilim isn't directly a group hug card here but it has the potential to hug. Kinda like Guided Passage no?
Just some food for thought. ;D
1 year ago
Exclusion Ritual, Preacher, Mask of Intolerance, Wishmonger, Crescendo of War, Contested War Zone, Guildscorn Ward, Excommunicate, Banishment Decree, False Prophet, Liar's Pendulum, False Dawn, Kami of False Hope, Icatian Moneychanger, Unruly Mob, Angry Mob, Righteous Indignation
too bad Town Gossipmonger Flip and Zealous Persecution are off-color
also bring some Cheatyfaces with you
cuts for space (mostly based on flavor:) death speakers, shifting wall, springjack shepherd, penance, story circle, pearl medallion, karmic justice