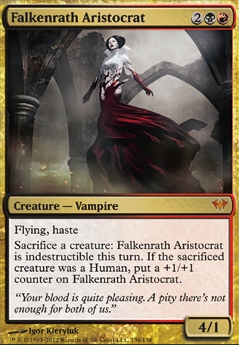 Falkenrath Aristocrat
Creature — Vampire
Flying, haste
Sacrifice a creature: Falkenrath Aristocrat is indestructible this turn. If the sacrificed creature was a Human, put a +1/+1 counter on Falkenrath Aristocrat.
Falkenrath Aristocrat Discussion
4 days ago
IDK, I'm thinking this could be better as an Aristocrats deck, personally. Smothering Abomination and Blisterpod are both good cards from BFZ, and Cartel Aristocrat, Falkenrath Aristocrat, Liliana, Heretical Healer Flip and Butcher of the Horde. And its getting better in Modern. Theres Junk and Mardu Aristocrats also.
I have a Junk aristocrat brew up if you want to look
---

---
6 days ago
Numerous reasons. First off is that I don't have any human tokens to sacrifice. And no, I'm not sacrificing anything but my tokens. Sacrificing anything else just means that I'll never get back up to where I need to be. The second reason is that she requires something else on the field to generate protection. Butcher of the Horde doesn't require that. No one runs anything but red damage wraths these days, so Butcher of the Horde gets by all of that but Falkenrath Aristocrat doesn't. Thirdly, Butcher of the Horde is more versatile. Vigilance to block and keep pressure, lifelink against aggro, and the higher power means I can trade with any X/5 in the meta, or even keep it alive with a protection grant. Finally, there are going to be plenty of times where you will drop these finishers on an empty board. Which is better on an empty board, Falkenrath Aristocrat, or Butcher of the Horde? I choose Butcher, because it doesn't die to bolt nor K-mand.
6 days ago
Forgive me, but why Butcher over Falkenrath Aristocrat? Aristocrat already has haste and it's sac ability gives it indestructible (good against wraths) and a potential +1/+1 counter or two since you run so many humans. It basically punishes your opponents for trying to clear the board. Again, sorry for the ignorance :/
1 week ago
I don't feel Falkenrath Torturer, Falkenrath Noble, Bloodsoaked Champion, Village Cannibals are carrying their weight in the theme of the deck. Replacing them with Gatekeeper of Malakir, Immortal Servitude, Nezumi Bone-Reader, Disciple of Griselbrand, Reassembling Skeleton Will do more for you I think.
Using your creatures like Bloodghast + Reassembling Skeleton to declare block, then gaining hp using Disciple of Griselbrand as an instant effect.
Nezumi Bone-Reader Becomes a 1 mana enemy hand drain. Because it doesn't tap him. So you can activate it as many times as he has cards in his hand. Gatekeeper of Malakir on the flip side is a field drain and the bane of my existence when facing a good black deck.
Finally, with these changes, Immortal Servitude goes way up in value, because everything I listed is 2 mana. You pay 5 total mana for Immortal Servitude and every creature except Falkenrath Aristocrat in your graveyard will hit the field.
Let meknow how it goes :D
2 weeks ago
Ixthinon!
Just wanted to let you know I piloted a version of your Rakdos deck wins at a modern tournament yesterday (first modern tournament) and did very well. I'll need to put some money into Goblin Guide and perhaps Blood Moon but the Falkenrath Aristocrat and Legion Loyalist took a ton of people off-guard and help me close out some tough matchups.
I didn't finish top 32 but I did end up with a 5-3 finish, which may not sound like much but I am very excited as these were my first tournament match wins ever. Anyway, this deck is a blast to play and I will continue to tweak it, hopefully leading to big things in the future.
| | |
| --- | --- |
| Power / Toughness | 4/1 |
| Cost | 2BR |
| Converted cost | 4 |
Legality
| | |
| --- | --- |
| Format | Legality |
| Legacy | Legal |
| Vintage | Legal |
| Commander / EDH | Legal |
| Modern | Legal |
| Duel Commander | Legal |
Related Questions