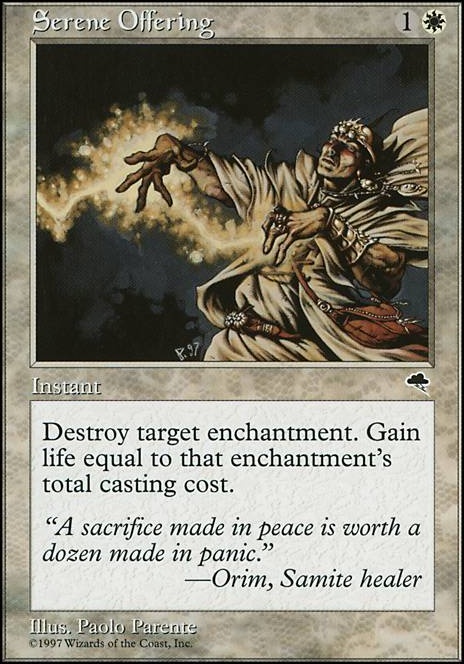 Serene Offering
Instant
Destroy target enchantment. You gain life equal to its converted mana cost.
Browse Alters
View at Gatherer
Legality
| | |
| --- | --- |
| Format | Legality |
| Tiny Leaders | Legal |
| Noble | Legal |
| Magic Duels | Legal |
| Canadian Highlander | Legal |
| Vintage | Legal |
| Highlander | Legal |
| 2019-10-04 | Legal |
| Leviathan | Legal |
| Legacy | Legal |
| 1v1 Commander | Legal |
| Duel Commander | Legal |
| Oathbreaker | Legal |
| Unformat | Legal |
| Casual | Legal |
| Commander / EDH | Legal |
Serene Offering Discussion
3 years ago
I second Nazrak's comment about your land count. I normally aim for 37-40 lands.
If you want to run a deck focused on gaining life, Karlov of the Ghost Council is fairly strong.
Cards that don't do much in your list:- Aegis of the Gods: It's possible that there are enough player-targeting effects in the format to warrant playing this card, but I'm fairly skeptical that this is the case. Even then, a 3/1 dies to way too many effects to be reliable.- Banisher Priest: I generally find that Fiend Hunter is a better choice, especially if you're running Ayli. Sacrificing the Fiend Hunter in response to the ETB trigger will mean that the targeted creature will never come back.-Corpse Hauler: 5 mana for a raise dead is 4 more mana than I'm willing to spend, even if I get a 2/1 body for a while. Victimize is a better single-use reanimation spell, and Phyrexian Reclamation is another option. Unburial Rites is also an upgrade here.Guardian Automaton: this card does nothing. Kheru Bloodsucker: you have about 6 creatures that trigger this card, and the effect is still pretty weak. Zulaport Cutthroat, Blood Artist, and Falkenrath Noble are better choices.Master of the Feast: This card is terrible. The only time you want your opponents to draw extra cards is when your deck is designed to punish them for it (or you're playing Group Hug).Pharika's Chosen: There are an absurd number of good removal spells in the Orzhov color identity. This card is not one of them. ex. Seal of Doom.Servant of Tymaret: Palace Siege does it better, and that's the worst ability on Palace Siege.Typhoid Rats: See Pharika's Chosen. ex. Go for the Throat.Bile Blight: See Pharika's Chosen. ex. Orzhov Charm.Celestial Flare: Wing Shards only works on defense, but you don't have much for trampling creatures, so it's not like Celestial Flare is going to punch much damage through.Congregate: I have no idea if this card is good or not. It could gain you an absurd amount of life, but if you don't have a way to affect the board, you're just going to lose anyway. Could be fun with Aetherflux Reservoir, though. If you do want to keep playing Congregate, you should also play Blighted Steppe.Last Breath: See Pharika's Chosen. ex. Vendetta.Pharika's Cure: See Pharika's Chosen. ex. Unmake.Ray of Dissolution: Worse than Cursebreak and Serene Offering. Unholy Hunger: See Pharika's Chosen. ex. Oblation.Chaplain's Blessing: this card does nothing.From Under the Floorboards: This card seems kinda random to me.Healing Hands: Survival Cache will usually accomplish the same goal, and Survival Cache has upside. Healing Hands might be fine, though.Macabre Waltz: See Corpse Hauler.Tyrant's Choice: this card reads "each opponent loses 4 life", which means it basically does nothing.Aspect of Gorgon: See Pharika's Chosen. ex. Attrition.Mark of the Vampire: worse than Loxodon Warhammer. Basilisk Collar also gets you lifelink if that's what you want.Marked by Honor: this card is bad enough that I don't even want to come up with a card that is a functional upgrade.Near-Death Experience: You don't have Worship, so this card does nothing.Stab Wound: See Pharika's Chosen. ex. Darksteel Mutation.Suppression Bonds: This card is okay as removal goes. I'd still suggest running Faith's Fetters instead.
3 years ago
I went through the rest of the cards in the shoebox and made the following tweaks. With the few cards I have, it looks like I can lead toward elf tribal. I should probably post this as a new deck because it's very much different.
Land:
In: Forgotten Cave, Contested Cliffs, Tranquil Thicket, 1 Forest, 1 Mountain
Creatures:
In: Clockwork Steed, Clockwork Swarm, Mobile Fort, Kelsinko Ranger, Nomad Decoy, Witch Hunter, Seasoned Marshal, Ardent Militia, Anger, Wall of Fire, Wall of Diffusion, Centaur Chieftain, Harvester Druid, Werebear, Wall of Ice, Sylvan Hierophant, Llanowar Knight, Llanowar Elves, Elvish Scrapper, Wellwisher, Wirewood Elf, Wirewood Herald, Skyshroud Elf, Fyndhorn Elder, Elvish Pathcutter, Symbiotic Elf, Heedless One
Out: Balduvian Barbarians, Centaur Rootcaster, Dire Wolves, Folk of the Pines, Horned Kavu, Hungry Mist, Ironroot Treefolk, Kavu Climber, Kei Takahashi, Krosan Tusker, Lightning Elemental, Marble Titan, Panther Warriors, Pincher Beetles, Rowan Treefolk, Ruham Djinn, Sawtooth Ogre, Soldevi Golem, Spined Wurm, Treespring Lorian, Viashino Grappler
Instants:
In: Giant Growth, Run Wild, Moment's Peace, Wirewood Pride, Shatter, Lead Astray, Shield Wall, Accelerate
Out: Alabaster Potion, Ambush, Aura Blast, Blood Lust, Death Ward, Fiery Temper, Lightning Blast, Naturalize, Second Thoughts, Serene Offering, Soothing Balm, Thunderbolt, Violent Eruption
Sorcery:
In: Defiant Stand, Sacred Nectar, Reckless Charge, Nature's Lore, Aftershock
Out: Desert Twister, Lava Axe, Nostalgic Dreams, Scorching Missile, Sizzle
Enchantments:
In: Wild Growth, Serra's Embrace, Shackles, Primal Order, Elvish Guidance
Out: Arcane Teachings, Armor of Faith, Goblin War Drums, Granite Grip, Holy Armor, Primal Frenzy, Regeneration, Seton's Desire
Artifacts:
In: Touchstone, Jade Monolith, Icy Manipulator
Out: Crown of the Ages, Thran Forge
4 years ago
My best suggestions are:
Do a bit more research on the creatures that inherently have these abilities and run playsets of the ones that have better value for their cost in comparison to what they do. Running 4X Vampire Nighthawk and cutting Shieldhide Dragon and some other ones is a PERFECT example. Hopeful Eidolon > Trained Caracal, War Oracle > Champion of Arashin, Graveblade Marauder > Ukud Cobra, Ruthless Ripper > any other 1-drop deathtouch creatures, etc.
Work on synergies a bit more. If you want to run cards like Nightmare and only have 7 Swamp, you should include cards like Urborg, Tomb of Yawgmoth to get the most value out of it. If you run cards like Blood-Cursed Knight, you should have more than 3 enchantments (Sanguine Bond + Exquisite Blood = instant win). If you can't make room for them, cut him and put in another copy of Vampire Nighthawk. Even though Ajani's Pridemate doesn't have lifelink or deathtouch, he can still get out of control in a lifegain deck because of the interactions. Hell, you could even equip him with a Basilisk Collar and go to town. On the thought of equipment, cards like Pathway Arrows that have a creature deal indirect damage to another creature, are great to have on a deathtouch creature. You ping for 1 and no matter how big the creature hit for 1 is, it will die because of deathtouch.
Removal is important and killing your opponents is more important than trying to keep yourself alive. ex. Hero's Downfall > Healing Hands.
Develop a strong sideboard. cards like Serene Offering or Solemn Offering are better in the mainboard for this deck and Fate Forgotten is better in the sideboard to bring in against decks that use cards that have/grant indestructible.
Good luck!