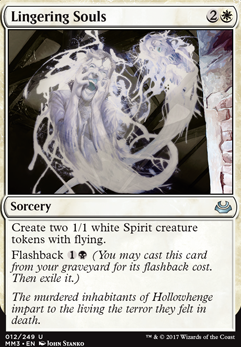 Legality
| | |
| --- | --- |
| Format | Legality |
| Tiny Leaders | Legal |
| Noble | Legal |
| Leviathan | Legal |
| Magic Duels | Legal |
| Canadian Highlander | Legal |
| Vintage | Legal |
| Modern | Legal |
| Custom | Legal |
| Vanguard | Legal |
| Legacy | Legal |
| Archenemy | Legal |
| Planechase | Legal |
| 1v1 Commander | Legal |
| Duel Commander | Legal |
| Oathbreaker | Legal |
| Unformat | Legal |
| Casual | Legal |
| Commander / EDH | Legal |
Tokens
Related Questions
Lingering Souls
Sorcery
Create two 1/1 white Spirit creature tokens with flying.
Flashback (You may cast this card from your graveyard for its flashback cost. Then exile it.)
Lingering Souls Discussion
1 day ago
Oh, I didn't realize. I would cut the 2 Authority of the Consuls , the Thalia and Kambul (you can move those to the sb if you want, Thalia's good against aggro and Kambul is probably good against that control deck), Dusk / Dawn , and 1 Sorin or Bruna.
I don't think those cards are really worth it unless you go all-in on the martyr proc plan. The big reason to play Martyr of Sands in the first place is Serra Ascendant , the two of them being the reason to play Ranger of Eos which is consequently the reason to play Thraben Inspector , and with the density of one drops there is thus a reason to play Proclamation of Rebirth as well. So without a payoff like Serra Ascendant there's not really any reason to play Ranger or Proclamation of Rebirth, and if you want to put Ranger, Thraben Inspector, and Serra Ascendant in the deck you might as well just turn it into Martyr Proc and drop all the black cards/lands (they'd take the black cards' spots). You'd have to consider whether you want to take that step at the expense of good black cards like Inquisition of Kozilek / Duress , Lingering Souls , and Gifted Aetherborn , which are some of your best cards against Control and aggro (respectively).
To actually answer your questions, Thraben Inspector is really the only card out of those three worth playing in the deck you have now unless you decided to add more 1-drops ( Serra Ascendant and Giver of Runes ) in which case Ranger of Eos and Proclamation of Rebirth would be worth it. The only cards I'd cut are the Gifted Aetherborn s, which are really good against aggro but may not be necessary given the positive matchup this deck already has against it. Those cards are not necessary since I think your deck works perfectly fine, but if you went full Martyr Proc mode you could have an objectively better deck (since you'll have Serra Ascendant as a wincon) at the cost of a worse matchup against the Control deck and maybe the other life gain deck.
1 week ago
Okay, so after looking at this deck for a while, considering its sideboard, and adding some cards that I use often for similar strategies, I've come up with a list of edits (well, actually three lists).
Before I get to those, I would like to explain what I found. Firstly, I like the idea behind the deck. Token strategies are always a great way to make a casual deck that can scale to be for optimized. I love the afterlife keyword as it lends itself to this optimization really well. But there were several less-than-savory card choices in here. The two biggest issues that I saw are ones that I see a lot (and full into too). The first of these is that many cards have a very high cost-to-value ratio. That is, there were several cards that cost too much (mana) and do too little for it. Elgaud Inquisitor is a fantastic example. While Elgaud Inquisitor is on-theme with their on-death triggered ability, that is all they have going for them. The lifelink isn't super useful, and the CMC is WAY too high. They are only a 2/2 too boot. Second off, theme isn't the same as function. I understand that there is a vorthos element to this deck, but since this deck isn't a full tribal deck, I think it's better to focus on ways to make the good parts of the theme work great.
I saw lots of cards that were life gaining cards ( Pontiff of Blight , Impassioned Orator , Riot Control , etc). This deck can make a lot of tokens which Tesya gives lifelink. You need not worry about life gain card. The strength of your creatures that make tokens when they die is that you can easily recur them in W/B. In the lists below, there are many cards that give added value to dying creature or make killing your creatures more ways to die. Lastly and most importantly, you had ZERO ramp and ALMOST NO card draw. THESE ARE THE TWO MOST FUNDAMENTAL ASSPECTS IN EDH!!! You NEED to have them!!! You can not rely solely on the one land drop and card draw. I've listed several cards that assist the main strategy and draw you cards (things like Dredge and Altar's Reap ). As for ramp, there is almost no good ramp outside of green. That only means that you have to look harder. Mana rocks are a must. I only have three in the lists, but they are absolute must-haves. Next, I put in several cards that give you mana in other ways. Most of them align themselves with the main strategy ( Ashnod's Altar , Soldevi Adnate , and Pawn of Ulamog to name a few). Similarly, I added cards that draw you cards from creatures dying. There is one card that I would like to point out in particular, Erebos . The important part of Erebos is his last ability. You pay and 2 life to draw a card. Life is a resource, and you'll be making plenty of it. Be sure to spend it. There are lots of cards that help you turn life into various things, like Bolas's Citadel (which I almost put in and still think has a place here). I would encourage you to look into them. Lastly, I would remove 6 lands. You have other ramp now and don't want to be flooded all of the time.
Here is the list of cards that I would remove:
I understand that there is a budget to this deck, so I've split my suggestions into two lists. The first is all cards that are cheap and should keep you under budget. The second list of cards is for later edits. If you want to spend more money on this deck, those are the cards that I would recommend buying.