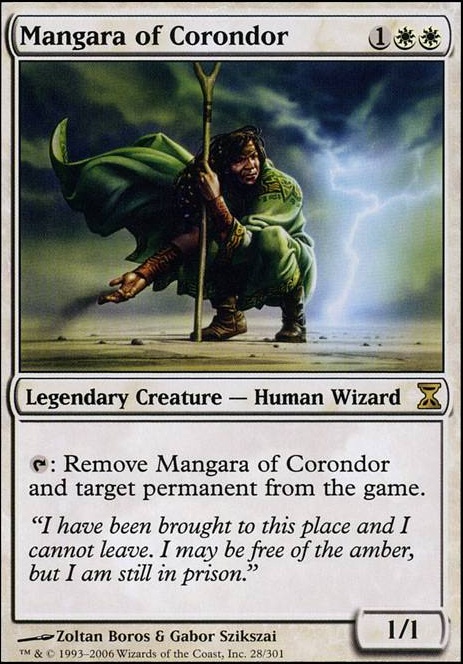 Legality
| | |
| --- | --- |
| Format | Legality |
| Vintage | Legal |
| Duel Commander | Legal |
| Commander / EDH | Legal |
| Legacy | Legal |
| Modern | Legal |
| Tiny Leaders | Legal |
Related Questions
Mangara of Corondor
Legendary Creature — Human Wizard
Tap: Remove Mangara of Corondor and target permanent from the game.
Mangara of Corondor Discussion
1 week ago
I mentioned Mangara of Corondor before, but I want to take a moment to elaborate on why this is such a good card. It's all in the wording; more specifically, cost vs effect. Most cards that die (sacrificed, exiled, etc) as a part of their ability have that in the cost. E.g.: ", sacrifice x: ability." Here, the cost is simply "." She is exiled as a part of her ability. That means, with her ability on the stack, you can untap her with Samut, then activate her again. She will resolve, exiling two permanents, and herself twice. (Or however many times you are able to untap her)
It is also worth noting that it is any permanent. This is a must have card in your deck.
1 week ago
DISCLAIMER
I am particularly hard on this deck because I know the builder in person, and he has asked for some help. This is not a comment on a random deck tearing it a new one.
2 weeks ago
Have you considered Mangara of Corondor instead of Path to Exile? I understand that he is heavier on white mana, and needs one turn to be able to tap, but on the plus side, he is searchable with any creature tutor, and can target any permanent, including planeswalkers and lands. We also have Dosan the Falling Leaf, which prevents from proper instant usage, but nothing hoses our own Mangara of Corondor's ability. And we still have Swords to Plowshares.
1 month ago
I totally agree about the 4 toughness and the fetch reason. Since you put it that way, it seems more reasonable to me. Had a funny idea btw. what do you think about Mangara of Corondor? Because his exile happens as result of the ability resolving, you could blink it in response and not lose it. Also Kiki would make it into a pretty busted removal.
Load more
Latest Commander