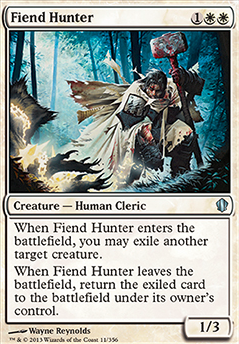 Fiend Hunter
Creature — Human Cleric
When Fiend Hunter enters the battlefield, you may exile another target creature.
When Fiend Hunter leaves the battlefield, return exiled card to the battlefield under its owner's control.
Have (14)

G

o

o

f

y

F

o

o

t

, Dark_Shadow ,

H

a

v

o

k

X

, Xathrid845 , Kylethon ,

p

s

k

i

n

n

0

1

, alphaword1283 ,

V

i

r

l

y

m

,

j

w

e

9

4

, brent29 ,

j

p

v

,

s

a

j

0

2

1

9

, spectral ,

C

l

o

k

k

w

o

r

k

Want (2)
CarbonDan ,

G

r

a

n

t

l

e

y

9

1
Fiend Hunter Discussion
1 day ago
I'm just going to throw in my two cents here in regards to Boonweaver Giant / Pattern of Rebirth / Academy Rector. I've had Pattern-Boonweaver suggested for my Saffi Eriksdotter

deck and while it's a cool combo, I don't think it's worth stacking THIS deck with cards just to enable it.
Like most graveyard combo recursion decks, the hardest part of assembling the combo is actually getting the sac outlet. While having access to

does definately help, you need to have an outlet in play to make the whole thing worthwhile. I know your commander can sac creatures however each creature sacrificed this way does cost mana, meaning the setup would be something along the lines of:
From here you gan set up the loop getting Geralf's Messenger. However this has cost 10 mana (not including the mana to get Academy Rector into play). Obviously this can be shortcutted with Viscera Seer in play, however the deck only runs 3 recurable and free sac outlets total. And at the amount of effort you have to go through (not to mention all the points you can interupt it at), Academy Rector just seems like a wasted card in the deck.
2 days ago
i like Fiend Hunter for blink decks if you blink him while his etb exile is still on he stack he first Target becomes exiled permanently
3 days ago
You started with Bant and moved to five-color! Excellent choice. I love five color. I have noticed that your deck largely lacks direction, and mainly aims to just play fun cards that seem like they're fun to play. To help you out in the future, I'll give you a rating on each card to let you know how good/bad it might be, which will help you gauge what might be the next cut.
Overall, you're well on your way to a good list. There's really not much more I can say. Hope I was able to bring some things to light that you may not have thought about. Good luck in the future.
6 days ago
Have you considered adding infinite sac/recur combos? look at Reveillark, Karmic Guide, Fiend Hunter, Saffi Eriksdotter, Sun Titan, and Body Double. The cool part about these cards is that theyre not useless on their own, but with a sac outlet, they win you the game or get you infinite mana. I should warn you that these combos can be easier to predict because its hard to pay the costs of three pieces at once, especially if youre keeping counter mana up.
1 week ago
It is meant to be a sort of easy method to gain utility or game changing cards for just one mana. The creature count should be low in this case, to facilitate an easy method of gaining things that can quickly give me the game. Orzhov Pontiff is the best card for this, while the other two are more just there to gain value in the long run. Fiend Hunter is the only other thing I can think of, and Evo gives a nice an easy method to do a perma exile should I need it instead of the body.
1 week ago
Aven Riftwatcher, Stonehorn Dignitary, Restoration Angel, Kitchen Finks, Fiend Hunter, Reveillark, Momentary Blink, Reality Acid, Blade Splicer, Wall of Omens, Archaeomancer, Sun Titan, Frost Titan, Flickerwisp, Mulldrifter, Sunblast Angel, Cloudshift, Ghostly Flicker and Ghostway are a some off the top of my head.
There are more cards that are good with Venser, the Sojourner in green as well, such as Thragtusk. Mystic Snake is also amazing with the other instant speed flicker effects.
| | |
| --- | --- |
| Power / Toughness | 1/3 |
| Color(s) | White |
| Cost | 1WW |
| Converted cost | 3 |
Legality
| | |
| --- | --- |
| Format | Legality |
| Legacy | Legal |
| Vintage | Legal |
| Commander / EDH | Legal |
| Modern | Legal |
| Duel Commander | Legal |