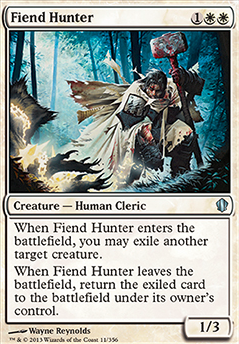 Fiend Hunter
Creature — Human Cleric
When Fiend Hunter enters the battlefield, you may exile another target creature.
When Fiend Hunter leaves the battlefield, return exiled card to the battlefield under its owner's control.
Fiend Hunter Discussion
3 days ago
I like this. I've been looking for other ways to build decks around Norin.
You might consider Impact Tremors in place of Vigilante Justice. It works on non-humans, and it only costs two mana, although you do lose the ability to target creatures. Great in multiplayer games though, as it damages all opponents at once. Purphoros, God of the Forge is also nice, twice the damage and bloody hard to get rid of.
I recently tried adding Legion's Initiative and Impact Tremors to a classic Norin / Soul Sisters deck, with some interesting results. With both cards out, blinking my army resulted in some pretty heavy direct damage from Impact Tremors, which was multiplied considerably with a Genesis Chamber or Spirit Bonds in play.
In your case, Legion's Initiative fits the blinking theme and the colors, and caries the bonus that you can use it to redirect Fiend Hunter to a different target in a pinch. Plus since you can control the order in which ETB triggers enter the stack, you can manipulate the triggers for maximum life gain when blinking soul sisters.
Downside is that your Ajani's Pridemate and Champion of the Parish lose their +1/+1 counters, but if you bring them back first the rest of the army blinking in powers them up (with at least one soul sister to add lifegain for Ajani's Pridemate. Pair this with a board wipe, and you can deal direct damage, wipe out your opponent's army and overrun your opponent with pumped up champions all on the same turn!
4 days ago
Dorotheus: Cloudstone Curio is what allows me to combo, so i cant take that out. Same with Beck. I hear where youre coming from about the others, but even Staff is a combo piece as well.
The 2 Collected Companys are only since i dont have 2 more. I play on gettinf them soon though. Fiend Hunter i greatly dislike because if i draw it, i cant cast it. Plus, its a human. E-Wit i understand why you would say it, but its not an elf :/
The sideboard plan is very interesting, the only problem is it just doesnt fit with the theme of this deck... At all. I think about this the same way you think of Garruk and the others. It seems way to cute to be viable.
4 days ago
It's fine to disagree, but Garruk, Caller of Beasts, Cloudstone Curio, Staff of Domination, Regal Force, Soul of the Harvest, Beck / Call are just all too cute to play either because their cmc is high and increases chances to brick or they are too reliant on a situation that can be difficult to craft. Beck is actually the best one of these as it is cheaper to cast for what you want it to do, but since Elves is now a streamlined competitive modern deck, due to Collected Company a lot of people have "figured it out."


Increase Collected Company to 4, add 2-3x Chord of Calling, 1-2x Elvish Champion, 1x Fiend Hunter, 1-3x Eternal Witness, and 1x Gavony Township and your deck will take off like a rocket and be more sustainable in a modern meta.


Craterhoof Behemoth is something I personally believe should be in modern Elves as a one-of, many do not actually run it however, but I am for it. I really like Coiling Oracle! It's a great addition. I don't entirely like Summoner's Pact, but it can work, I would like to see 2x Hivemind, 1x Slaughter Pact and 1x Pact of Negation in a sideboard as an alt win con in an elf deck though, it could be a great "Surprise! Got there!" against decks that aren't ready for it.
| | |
| --- | --- |
| Power / Toughness | 1/3 |
| Color(s) | White |
| Cost | 1WW |
| Converted cost | 3 |
| Avg. draft pick | 1.82 |
| Avg. cube pick | 6.3 |
Legality
| | |
| --- | --- |
| Format | Legality |
| Legacy | Legal |
| Vintage | Legal |
| Commander / EDH | Legal |
| Modern | Legal |
| Duel Commander | Legal |