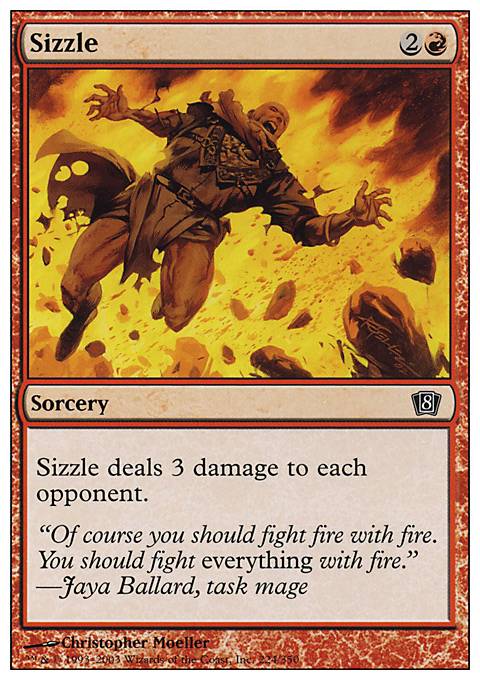 Legality
| | |
| --- | --- |
| Format | Legality |
| Tiny Leaders | Legal |
| Noble | Legal |
| Leviathan | Legal |
| Magic Duels | Legal |
| Canadian Highlander | Legal |
| Vintage | Legal |
| Modern | Legal |
| Casual | Legal |
| Pauper EDH | Legal |
| Vanguard | Legal |
| Legacy | Legal |
| Archenemy | Legal |
| Planechase | Legal |
| 1v1 Commander | Legal |
| Duel Commander | Legal |
| Unformat | Legal |
| Pauper | Legal |
| Commander / EDH | Legal |
Related Questions
Sizzle
Sorcery
Sizzle deals 3 damage to each opponent.
Sizzle Discussion
2 weeks ago
one better on Fellwar Stone would be Mind Stone. The difference between them is that fellwar will quite possibly be tapping for, essentially, colourless mana and that's it. Mind Stone, on the other hand, will tap for colourless mana AND can draw you a card if you start to flood. This cannot be done with Fellwar Stone, and since you have 36 lands that add R in some way, you're probably never going to need it to tap for ...
Also, there's a bunch of stuff in the deck that either isn't needed or there's far better substitutes -
Some cards you may want to put in the deck instead would be:
or, for a less budget-friendly approach:
So, most of these cards aren't really that exciting.
Avatar of Fury
is pretty solid, but doesn't really interact with
Purphoros
much, apart from being a creature...
Guttersnipe definitely doen't fit in. You're running 23 spells, and I'd say that you'd need to run closer to 40 spells to consider him.
Young Pyromancer is just in the list because of my own personal thoughts on him, and I don't really think he's that fantastic in a "creature etb" deck like purphoros. He does make tokens, so all your spells essentially have +2 damage to opponents, but again, there are only 23 spells in the deck. If it was something more like Zada, Hedron Grinder, where he relies on going wide with creatures, that's a little different.
Devastating Summons is also kind of dodgy in this deck. You sacrifice some lands for 2 creatures. I'd much rather sacrifice X lands for X creatures.
Now, don't get me wrong. This deck is a burn deck, but normal burn spells, such as Sizzle are not very good. This is commander, where each player gets 40 life. Burning with 3 damage from such effects will take ages, and there's only so many unique ones. You're best off replacing it with something that will further your gamestate, such as kiki-jiki, Panharmonicon or Impact Tremors.
Mass Mutiny is kind of fine. The problem with it is that it's only one creature, when you could take every creature, without targetting. This means that your opponent can't protect their creatures from getting stolen without using countermagic. Also, stated above, Insurrection + Mogg Infestation is an almost guaranteed game-winning play, which can't really be done with just 3 more creatures.
Scour from Existence is unconditional removal that gets past Avacyn, but is really quite expensive - 7 mana to exile a creature. If it really requires this to get rid of it, you've messed something up...
Conjurer's Closet is kind of alright, but it's really not that fantastic. You would be best taking it out for a tutor, such as Goblin Matron, Imperial Recruiter or Gamble. These cards will help you find more stuff, like kiki-jiki, SG Commander or others that will be just as, if not more, effective than whoever is already in play.
Endless Atlas is fine, if you want to pay so much mana just to draw a couple of cards. I use Mind's Eye, which may be more expensive to cast, but it's cheaper to draw, and also can draw more than just 1 card each turn.
Madblind Mountain is interesting, but not necessary. It does let you shuffle your library (for whatever reason), but apart from that, it's just a slowland. You can tutor it up with a panorama, but what does it actually contribute to?
3 weeks ago
@ThaneGarrus Including Neheb himself, there's only 9 creatures in my deck. Things that affect multiple creatures aren't as great as you think for me. The only creature that really matters is Neheb, and turning him into a 6/7 causes him to generate a lot more mana and he becomes a tad tougher to kill through blocking. If I had to make a swap, I'd probably run Lightning Greaves before Fervor for the added protection. As for Heartless Hidetsugu, I don't think he's actually that great of a card. I run him more because he's a lot of fun and causes a lot of havoc. I also yearn to live the 1-shot dream with a damage-doubler in play, but he's never lived that long :(
@Skydra2 I actually don't think there's enough instant/sorcery cards to benefit Past in Flames. I've tested it out in the past and at least half of the time, you draw into Past in Flames without enough graveyard fuel. It ends up being a dead card much too often. The Looting effects are mainly to loot past excess lands when I'm going off; not to discard spells to be recurred later. I'm looting to dig for gas, not for any additional graveyard value.
@Driemer84 Mox Amber is a relatively new inclusion. I find myself wanting slightly more mana after playing Neheb and I'm testing to see is Amber can help me with that. The goal of the deck is to cast Neheb ASAP, so Amber would be online most of the time in theory. I wanted a permanent source of mana for the mid-game rather than something temporary like Desperate Ritual. I don't have a Mox Diamond because I can't afford one haha. If Amber doesn't work out, I'll probably swap it with my budget $4 Lotus Petal.
Personally, I really like AoE Burn spells that can deal with small utility creatures. I used to run dudes like Guttersnipe, but things like Earthquake, Rolling Earthquake, Slagstorm, Pyrohemia, Flamebreak, Fiery Confluence, and Chandra's Ignition always kill everything smaller than Neheb. I found that my utility pingers kept dying to my own firestorms and weren't generating all that much value. I'm sure your Firebrand Archer and Magus of the Moon would be more beneficial if you ran other things like Sizzle and Fanatic of Mogis instead. Nothing like shutting off your own Blood Moon lock by killing it yourself. Aside from Neheb and Artifacts, I don't generally have a lot of permanents for Fanatic to benefit from. If your build focused on more utility pingers and creatures/enchantments, he'd probably be more useful. However, for a 4-mana burn spell, you'd want him to be on the level of Fiery Confluence with the amount of mana he generates.
If you want to view a build that is more utility-based, Cobblepott's Artifact Storm is a better representation of what that might look like without the Earthquakes. Firebrand Archer gets much stronger the more cheap Artifacts you run.
Combustible Gearhulk was fine, alongside Chandra Torch. You can't really abuse Gearhulk's flip like a Daretti, Scrap Savant deck could, even if you run Past in Flames. It's generally not smart to give the Mono-Red player cards, so don't expect people to give you that often. Gearhulk didn't feel consistent enough for me. Chandra Torch only generates 6 mana whereas Flamebreak generates 9 mana for 1 less CMC. I tried her for a long while, only removing her today in fact, and I personally didn't feel like she ever did enough. She's another card in the fine category where it's personal preference, but I wasn't that impressed, unlike the All-Star Koth of the Hammer.
Neheb generates strictly Red Mana and can't pay for the <><> in new-Kozilek's CMC. I find that drawing 4 cards with a remaining Annihilator 4 body in play on old-Kozi has worked well enough.
More experienced players tend to let your burn spells resolve, holding their mana to counter your huge Comet Storm instead. I've never had a player attempt to counter a Flame Rift. If they did, it's because that alone was going to kill them. I've got plenty of more burn spells where that one came from.
2 months ago
I like what I see so far. The land count seems right. I see many staples that I'd like to see. I'd like to see Path of Ancestry, Darksteel Pendant, Reclaim, Entourage of Trest, Mutant's Prey, Hunt the Weak, the two green cycle lands, Explorer's Scope, Village Elder, Crown-Hunter Hireling.
To make room I would look at the following to take out: Sizzle, Welder Automaton, Wrap in Vigor, Withstand Death, Blinding Fog, Jolrael's Favor, Nature's Panoply, Might Beyond Reason, Saddleback Lagac, Dragonscale Boon.
It's always nice to see new faces in our community :) Welcome!
6 months ago
Take what you want. I am making a Firesong Sunspeaker deck too Burn Alive if you want more ideas.
8 months ago
adds Slagstorm, Flame Rift, Tormenting Voice, Wild Guess, Chaos Warp, Strionic Resonator, Thermo-Alchemist, Faultline, Staff of Nin, Worn Powerstone, Commander's Sphere, Sensei's Divining Top, Rogue's Passage, Ramunap Ruins,
potential adds Recoup, Fork, Chandra, Flamecaller, Runehorn Hellkite, Knollspine Dragon, Past in Flames, Molten Psyche, Cryptolith Fragment Flip, Fanatic of Mogis, Charmbreaker Devils, Firebrand Archer, Wild Ricochet, Sizzle, Flamebreak, Breath of Darigaaz, By Force, Ruination, Darksteel Plate, Sword of Fire and Ice, Sword of War and Peace, Sword of Feast and Famine, Magebane Armor, Blood Moon,
cuts Mizzium Mortars, Rolling Earthquake, Solemn Simulacrum, Burnished Hart, Extraplanar Lens, Outpost Siege, Sulfuric Vortex, Magma Jet, Ravaging Blaze, Skullcrack, Starstorm, Thunderous Wrath, Scrying Sheets, Terrain Generator, and a Mountain, switch to basics.
8 months ago
Yeah Neheb is the best! Poster child for mono red EDH.
Your deck is for sure faster than mine. Looks like you like to win turns 5, 6, 7... mine is much better equipped to go into the long game, but with a god-hand still able to pop off turn 5. You seem weak to interaction-anyone messing with you-which mono red has a problem with already. But on the other hand, your speed probably takes people by surprise, especially those who underestimate mono red, getting you wins. My meta has stopped underestimating me and Neheb so I've had to make mine more sustainable. Pros and cons to both strategies I suppose :)
Shivan Gorge is honestly lackluster, it's true. I still run it because we sometimes play 8-player games haha! The Throne and Arch are for sure backup plans. They'll keep you going in the late game in the cases where people messed with you early on and you've burnt out. Since they only take up land slot(and you don't run many utility lands anyways), you can toss them in the deck and never worry about them hurting your mana or taking up spell slots.
Sad about poor Grenzo :( I always love him when I can turn 2 him.
Cave-In is cool, hadn't seen it until I saw your list. It's definitely a part of the win faster philosophy, as you can tap out for Neheb and still cast it, and maybe pop off right then and there. Not really suited for my deck, and I'm concerned about the card disadvantage. I'd rather just play a Sizzle. with 3 opponents Sizzle Nets you 6 mana for the cost of one card, whereas Cave-in nets you 6 mana at the cost of 2 cards. The ratio only get worse for Cave-in as you increase the number of opponents. So it's only more powerful than normal damage spells at certain times.
Also, one last shout out to my boy Generator Servant. Definitely give it a try.
Load more