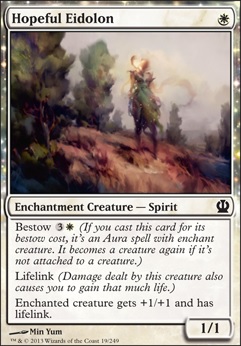 Hopeful Eidolon
Enchantment Creature — Spirit
Bestow 3W (If you cast this card for its bestow cost, it's an Aura spell with enchant creature. It becomes a creature again if it's not attached to a creature.
Lifelink
Enchanted creature gets +1/+1 and has lifelink.
Have (22)

C

o

m

i

c

a

l

f

l

o

p

, nakayama , the3rdH0kage , Excrempus ,

J

I

V

_

I

V

, GureiSeion , ricadam , lucyfarrell , TheFlish , Dr__zed , ADalton28 ,

j

w

e

9

4

, BurritoBrain , Fatred , Timocalypse ,

a

g

t

b

u

b

b

l

e

z

7

4

,

B

r

a

x

l

y

o

n

,

E

p

o

c

h

a

l

y

p

t

i

k

, hahmlet , Vox_ , srn23 , saj0219
Want (1)
Myogenesis
Hopeful Eidolon Discussion
4 days ago
Thanks for the input, although I really like how the white weenie has been working for me. I really want to get my hands on an Elspeth, Sun's Champion, but no such luck. I think that I could easily put at least few of those soulshift cards in, it could end up interesting. I could get 4 lives out of my Hopeful Eidolon. Just a comment on the Kormus Bell issue you brought up. First of all, with the number of Swamps in my deck, it alone would make boardwipes worse for o[opponents than me, playtesting I rarely have more than two. But if I have that and Urborg, Tomb of Yawgmoth, I will be sure to have ready to play with the Bell, a Loss of Profit / Loss, or another one-sided boardwipe. Kormus Bell only comes out along with a board wipe and Urborg. Thanks for the suggestions, though.
1 week ago
I see, thanks for the responses. I have been thinking how to improve the deck, but it is pretty good as is. I would just suggest some cards to add if you deem them fit:
Drift of Phantasms - 1 to two of them to fetch various things such as drogskol.
Azorius Herald - vs aggro, keeps you alive and is unblockable.
Hopeful Eidolon - perhaps for the SB for aggresive decks.
Kira, Great Glass-Spinner - protection for drogskol and other dudes.
2 weeks ago
...I think I'm in love with this deck. I'm running a slightly modified version of it on MTGO (details below) and holy cow, is it fun to play! I often find myself laughing out loud - not out of spite for my opponents or something like that, but because of how incredibly well everything goes all the time. Card interaction is simply ridiculous in this thing - kudos to you for putting it all together!
Seriously, I wish I could see people's faces when I cast an Ordeal of Heliod on a fully pumped up Phalanx Leader and it resolves immediately, while a Sunbond-equipped Fabled Hero is already on the field, just waiting for those eleven +1/+1 counters to come his way... oh, and playing an Abzan Falconer on turn 4~5 tends to cause people to concede right away. I recommend you put at least 2 Falconers in there - which brings me to those changes I mentioned earlier. Besides the Falconers, I added/sideboarded the following cards:
Erase x2 / Devouring Light x2: I'm not a fan of Banishing Light, personally. The fact whatever threat I exiled with it can come back to bite me in the ass at any moment kinda scares me, so instead of 4 nonland permanent removal spells, I'd rather have 2 for creatures and 2 for enchantments (not to mention they're instants, and cost up to 2 less to cast).

Gods Willing x2: from my experience, the biggest threat to this deck is early removal. Having only 4x Feat of Resistance is too little to keep your chumps safe while they're still chumps, IMO, so I added in my favorite leave-my-kids-alone instant from the Theros block. Someone suggested you replace some Hopeful Eidolons with them, but instead, I...

Removed both Eidolon of Countless Battles: because they never seemed to make much of a difference, honestly. This deck is based around having a few extremely powerful creatures in play, not an army of weaker ones - which is the kind of situation the Eidolon is best for. Great card for token spamming decks, not so much for this one.
And I guess that's it. Needless to say, you get a +1 from me. Now let's see how I do in the next tournament...
| | |
| --- | --- |
| Power / Toughness | 1/1 |
| Color(s) | White |
| Cost | W |
| Converted cost | 1 |
| Avg. draft pick | 8.06 |
| Avg. cube pick | 9.1 |
Legality
| | |
| --- | --- |
| Format | Legality |
| Standard | Legal |
| Legacy | Legal |
| Vintage | Legal |
| Commander / EDH | Legal |
| Modern | Legal |
| Duel Commander | Legal |
Related Questions