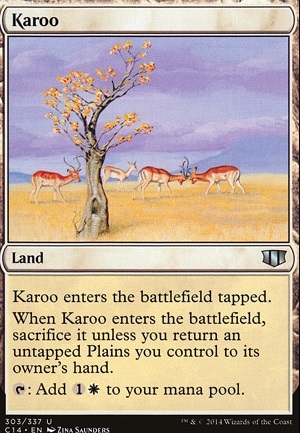 Legality
| | |
| --- | --- |
| Format | Legality |
| Tiny Leaders | Legal |
| Noble | Legal |
| Leviathan | Legal |
| Magic Duels | Legal |
| Canadian Highlander | Legal |
| Vintage | Legal |
| Custom | Legal |
| Vanguard | Legal |
| Legacy | Legal |
| Archenemy | Legal |
| Planechase | Legal |
| 1v1 Commander | Legal |
| Duel Commander | Legal |
| Oathbreaker | Legal |
| Unformat | Legal |
| Casual | Legal |
| Commander / EDH | Legal |
Karoo
Land
Karoo enters the battlefield tapped.
When Karoo enters the battlefield, sacrifice it unless you return an untapped Plains you control to its owner's hand.
Tap: Add (1)(White) to your mana pool.
Karoo Discussion
3 months ago
Commenting here rather than on your page.
I don't mean to sound so overbearingly critical, but your deck is overall lacking in substantial board presence. Oathbreaker is a format in which you want to protect your Planeswalker at all viable costs. You have four creatures. That does not make for a very strong base. I'm going to rip into this deck, but I am also going to offer you suggestions on how to greatly improve upon it :) I hope that you don't take offense to anything I am saying, but I felt like I can do you some good here.
As for a win condition outside of Form of the Dragon , there is also Martial Coup . Since you are snuffing out all of your opponent's lands anyway, as well as their creatures, why not create a literal army of tokens that now stand unopposed?
There is also Curse of Bloodletting , which makes your Form of the Dragon deal 10 damage instead.
You may also want to consider replacing Mudhole with something more viable. Perhaps Lightning Helix ? It burns and gets you life. Acts as another win condition, makes it harder for your opponent to win in the process as your life totals grow farther and farther apart, and plays nicely with the aforementioned Dawn of Hope .
This took me like 40 minutes, so I hope it helps.
7 months ago
I never understood why so many people build Karametra as an enchantress deck. Her strength is clearly Creatures and Landfall! So I'm glad you are running Courser of Kruphix , Lotus Cobra , Emeria Shepherd , Emeria Angel , Rampaging Baloths , Admonition Angel , Tireless Tracker , and Avenger of Zendikar .
But in a deck that takes so much advantage of landfall, why only 1 fetchland? If you added more fetchlands, and then Azusa, Lost but Seeking , Ramunap Excavator . . . suddenly your Lotus Cobra is getting you 6 mana per turn completely for free, Rampaging Baloths is dropping 6 beast tokens per turn completely for free. Plus the extras you'll get for playing creatures and triggering Karametra.
Obviously fetchlands plus Karametra/Creatures triggers will run you out of basics to fetch. But when that happens you should be so far ahead that you can find a wincon.
If you put in Quirion Ranger , Scryb Ranger , Jungle Basin , and Karoo , and you don't even need lands in your deck to keep getting the land drop triggers.
If you wanted even more land drops you could of course run Wayward Swordtooth , Oracle of Mul Daya , Llanowar Scout , Sakura-Tribe Scout , Walking Atlas , probably others I can't think of off the top of my head.
More ways to take advantage of so much landfall: Retreat to Kazandu , Grazing Gladehart , Oran-Rief Hydra , Retreat to Emeria , Stone-Seeder Hierophant (toss in a Wild Growth , Utopia Sprawl , or Overgrowth and watch what Stoneseeder can do in this deck!)
Fetchlands Available to G/W: Terramorphic Expanse Evolving Wilds Myriad Landscape Flooded Strand Bloodstained Mire Wooded Foothills Blighted Woodland Bant Panorama Esper Panorama Grixis Panorama Jund Panorama Naya Panorama Marsh Flats Verdant Catacombs Arid Mesa Misty Rainforest Terminal Moraine Thawing Glaciers
8 months ago
I've seen this card in a lot of EDH decks under the "Help" section. It makes me angry that Wizards keeps putting this trap into precons, so I'm going to lay out why Temple of the False God is bad. Ask yourself these questions:
Do I want a 4-mana rock in this deck?
Am I already running Thran Dynamo ?
Would I run a second Dynamo?
Does my deck have exactly zero Karoo lands?
Am I playing less than 3 colors?
Am I not playing green, with the exception of Azusa, Lost but Seeking ?
Does a major part of my game plan involve getting out a 6-drop ahead of curve?
Do I have ways to draw out of an opening hand with 2 lands and a Temple?
Am I okay being stuck on 4 lands for a turn?
Is my deck redundant enough that I can afford to regularly waste a mulligan?
Is what I am doing in the first two turns of the game important enough that I wouldn't be happier to see 2-3 lands and a Fractured Powerstone over Temple in my opening hand?
If you answered "no" to any of these questions, DUMP THAT FLAMING GARBAGE RIGHT NOW.
1 year ago
Kiora's Follower is super good, since it says "permanent". Synergizes well with Karoo lands.
I put Elgaud Shieldmate in a non-negligible amount of decks, since my meta is heavier on spot removal than board wipes. I also love Canopy Cover and Alpha Authority for these reasons.
Varolz, the Scar-Striped is a great card if you want to be the first to recover from a board wipe.
Colorless cards I love are anything that grants hexproof/regenerate (Ring of Xathrid, etc), Hedron Archive and other dual-purpose ramp, etc.
But I actually, apart from the colorless ramp, tend to not run "staples", so that each of my decks feels fresh and unique...
Also, check out Plaxcaster Frogling and Simic Charm for hexproof at instant speed. The Simic colors are really good at that.
1 year ago
Karmic Justice is cool, but for a $9 card, I would say it's not worth it considering how many creatures you have. Karoo and Damping Sphere conflict, but this is the only conflict I could find like this, otherwise, dampening sphere is a pretty cool budget pick, even if it's a dollar. Day of Judgment is expensive for a Wrath of God type card, i'd recommend End Hostilities or something like that, although you would lose Swiftfoot Boots if you had it out attached, there are other cards that do this. Solemn Simulacrum is nice, but not essential. It's a good card, but if you want to go even further budget you can drop it. I agree that Sol Ring is essential, and any other ramp cards you can get your hands on would be nice if you have them, but most are expensive, so don't bother if you can't. First turn soul ring is just infamous though, and it's funny even if it's not effective that turn, although it often is. Teysa, Envoy of Ghosts is a cheaper version of your commander, with the added benefit of being black as well, albeit with a higher mana cost. Grand Arbiter Augustin IV is about the same price as your commander, and would be better if you'd rather play taxes, but it's probably worse for diplomacy if that's how you want to play. Try checking scryfall aswell, it's a magic website that will let you search for cards you might like or want in your deck.
1 year ago
Welcome to Tapped Out!

It isn't quite Modern, due to Breath of Life(7th Edition), Karoo(Visions/Commander 2014) and Longbow Archer(7th Edition). You probably want to adjust the format to Casual or change those three cards out for something that at least from 8th Edition forward on to make it modern legal and you're short one card, you have 59. Emeria, The Sky Ruin and Grand Abolisher would be a nice addition and maybe some Silences.

Samurai of the Pale Curtain is my personal favorite samurai of the Kamigawa block.
1 year ago
I would recommend adding in a Nykthos, Shrine to Nyx and maybe a Karoo. All of your creatures have 2 or more white mana symbols, so your devotion to white is always going to be high enough to make use of Nykthos. and Karoo is a nice double mana option in white.
Gilded Lotus might also be a decent mana rock, if a little expensive. however, it can easily pay for the colored cost of all your angels. for a bit more flavor, Akroma's Vengeance is another nice wrath effect!
overall, a nice looking deck! I love angels as a tribe, and love seeing what people do with it!
Load more
Karoo occurrence in decks from the last year
Commander / EDH:
All decks: 0.01%
White: 0.34%