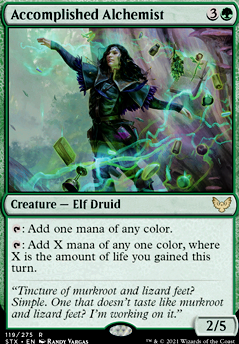 Accomplished Alchemist
Creature — Elf Druid
: Gain one mana of any colour.
: Gain X aman of any one colour, where X is the amount of life you gained this turn.
Latest Decks as Commander
Accomplished Alchemist Discussion
3 months ago
Aight so we've got some cuts to make! So I think a good benchmark to shoot for off the bat is 36 lands and 64 non-lands, though with the sheer number of transform lands you have you might be fine at 34 or 35 - I would NOT recommend going that low until you've played a respectable number of games or playtest hands (probably at least 4 games and 30 playtest hands) and you have a solid understanding of how consistently you come in with too few lands.
As far as the cuts, I'd say drop: Rushed Rebirth , Ecological Appreciation , Vona, Butcher of Magan , Silent Sentinel , Resolute Archangel , Aegis of the Gods , Path of Discovery , Shapers' Sanctuary , Springleaf Drum , Perpetual Timepiece , Accomplished Alchemist , Call for Unity OR Collective Blessing (probably the latter), Rune-Tail, Kitsune Ascendant / Rune-Tail's Essence , Elixir of Immortality , Heliod, God of the Sun , Huatli, Radiant Champion . I can give you my rationale one-by-one if you like.
Then add three lands, possibly modal spell-lands like Agadeem's Awakening  Flip. Ideally, more of your lands should be multiple colours, as you have a large colour cost burden in black and white especially (lots of cards that need two or three of the same colour). The cheapest options are the snow taplands, guildgates, refuge lands (give 1 life when they enter the battlefield), and the showlands from Shadows over Innistrad and Strixhaven. There are definitely some mid-range lands that you can pick up for less than $10 that should be a high priority for you: Sunpetal Grove and Godless Shrine to fill out your buddy and shockland sets, the three scrylands a la Temple of Malady , Murmuring Bosk , Canopy Vista , and Scattered Groves . Since your deck doesn't currently have many ways to fetch basic lands, you really shouldn't have many since your colour demands are so high. Also definitely be on the lookout for legendary lands that fit into the deck well! Those will be sweet.