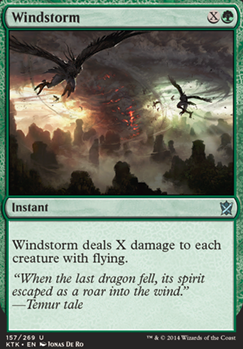 Windstorm
Instant
Windstorm deals X damage to each creature with flying.
Browse Alters
View at Gatherer
Legality
| | |
| --- | --- |
| Format | Legality |
| Modern | Legal |
| Block Constructed | Legal |
| Oathbreaker | Legal |
| 2019-10-04 | Legal |
| 1v1 Commander | Legal |
| Canadian Highlander | Legal |
| Casual | Legal |
| Pioneer | Legal |
| Vintage | Legal |
| Leviathan | Legal |
| Legacy | Legal |
| Limited | Legal |
| Duel Commander | Legal |
| Highlander | Legal |
| Commander / EDH | Legal |
| Tiny Leaders | Legal |
| Unformat | Legal |
Latest Decks as Commander
Windstorm Discussion
1 week ago
Interesting deck +1
What is your meta like?
Proud Wildbonder - Seems too unimpactful for 4 mana
Essence Warden - Whats the purpose of this?
Beast Whisperer - Seems cool, I tried him in my build. Does he get a chance to stick around long enough to draw you atleast 2-3 cards?
Ravager Wurm - Is this meta against maze of ith?
Shivan Wurm - Reusing ETB effects or something I'm missing? Seems weak
Voracious Cobra - Gosh this card brings back memories from my childhood. Curious how it's been for you, seems like a card they need to burn removal on if they want a chance of attacking you unless they go wide
Windstorm - Meta?
Fog - Meta, if so, why not get the new green fog that came out recently?
Soul's Might - Return of the Wildspeaker would better serve you as you can draw cards in response to removal rather than your creature getting removed in response to might being cast.
Ancient Tomb , Castle Garenbrig are ramp
Goreclaw, Terror of Qal Sisma - Trample and ramp
Heroic Intervention - Protection
Selvala, Heart of the Wilds - Ramp and draw
The Great Henge , Somberwald Sage, Shaman of Forgotten Ways are all good ramp
Inferno Titan - Removal
Kogla, the Titan Ape - Removal
Deflecting Swat - Utility! Counter counterspells, redirect targetted removal/draw/extra turns. Very powerful
Rishkar's Expertise, Bonders' Enclave, Elder Gargaroth, Greater Good, Life's Legacy, are all amazing card draw options, especially greater good. Seriously, don't sleep on greater good
I hope the suggestions werent too overwhelming, I just didn't see that much draw and I figured that adding more never hurts.
8 months ago
Somthing that is often overlooked is flying hate with things like Windstorm... could be good tech against spirits.
10 months ago
I like it! If you're looking for suggestions I would possibly recommend:
Deck is looking real good though! +1 for Helix Pinnacle, that card looks W I L D.
11 months ago
Hi,
We would like to recommend:
Some additional walls we would consider:
Bye!
Mrs. and Mr. NV_1980
2 years ago
Nice deck! Here are some additional ideas:
Hope any of this makes sense. Happy gaming! And should you have the time and inclination, I would appreciate feedback on one of my EDH decks. Thanks.
Regards,
NV_1980
2 years ago
Windstorm is good against lingering souls..:) or them trample as well.. :)
2 years ago
Hello there! I don't see anything huge you're missing (other than lands), but I definitely think you should at least consider Sol Ring, Cultivate, Kodama's Reach, Eternal Witness, Mystical Tutor, Plasm Capture, Counterspell, and probably Blue Sun's Zenith and Stroke of Genius as well. If you're looking for cards to cut to make room for lands, I would start with the following. A lot of those cards are for what appears to be an Edric subtheme; I'd stick to just one plan, making a lot of mana and killing your opponents with it.
In any case, good luck! Feel free to let me know if you want some more suggestions!
Load more