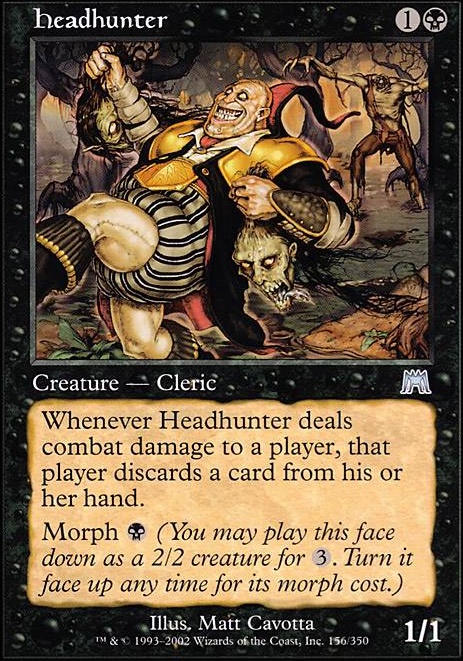 Headhunter
Creature — Human Cleric
Whenever Headhunter deals combat damage to a player, that player discards a card.
Morph (Black) (You may play this face down as a 2/2 creature for (3). Turn it face up any time for its morph cost.)
Browse Alters
View at Gatherer
Tokens
Legality
| | |
| --- | --- |
| Format | Legality |
| Vintage | Legal |
| Commander / EDH | Legal |
| Tiny Leaders | Legal |
| Highlander | Legal |
| Limited | Legal |
| Leviathan | Legal |
| 1v1 Commander | Legal |
| Oathbreaker | Legal |
| Canadian Highlander | Legal |
| Duel Commander | Legal |
| Casual | Legal |
| Unformat | Legal |
| 2019-10-04 | Legal |
| Legacy | Legal |
Latest Decks as Commander
Headhunter Discussion
1 week ago
This Commander looks dope! Personally, my favorite part about him is his ability that makes all your other creatures have Deathtouch. My take-away is now, your opponents never get to have creatures or yours get through their defenses unblocked! I looked in to some cards that fit the new 'party' mechanic in Zendikar to help your Commander come out.
Rogues:
Clerics:
Warriors:
Wizards:
2 years ago
Hi Zeviander
This is a really cool deck and I appreciate your concept of old border cards. Because I wasn't totally familier with the old-border cards myself, i've had to look a bunch of cards. Below you'll find list of cards, you might consider. Regarding the "nightmare" level these cards will give your opponent, thats for you to decide.
Suggestions of likewise cards to your currect configuration:Skeletal Scrying -- Card draw by exiling cards in your graveyard. It can also function as mana dumb.Greed -- Serves the same function as Skeletal Scrying. Instead, you pay 2 life and to draw a card.Gangrenous Goliath -- Another way of utilizing Clerics able to tap for an effect.Headhunter -- Another Cleric with a discard trigger and morph.Restless Dreams -- Allows you to get rid of unwanted cards or cards you want in your graveyard and could return the cheaper or needed Clerics to your hand.
Other lands you might consider:Pine Barrens -- Slow pain-land.Tainted Wood -- Can make both and , as long you have a Swamp.Ebon Stronghold/Peat Bog -- Can sacrifices for . Peat Bog will do this twice, before its sacrificed.Cabal Coffers -- Will ramp your into Scion of Darkness faster.
I hope some of these cards, will make your decks more nightmare-ish for your opponents.
Regardsmagicthe